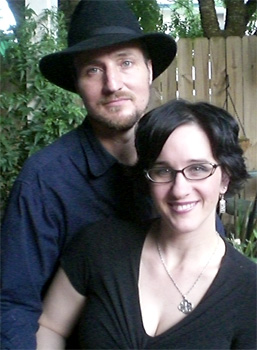 Christine and Ethan Rose are the authors of Rowan of the Wood, a YA fantasy novel and winner of the Indie Excellence 2009 Award and a National Best Books 2008 Awards Finalist. After reading Rowan of the Wood for myself, I had a few questions, and Christine was gracious enough to spend some time answering them for me.

Kelly Melcher: For those out there who haven't heard about your book Rowan of the Wood, can you give a brief introduction?
Christine Rose: Rowan of the Wood is about a boy who finds a magic wand buried in the redwood forest. He soon discovers that an ancient wizard was trapped in that wand for the past 1400 years, and now he's trapped in Cullen!
KM: How did Rowan of the Wood first start — whose idea was it?
CR: The initial idea was mine. I got the idea on a plane ride from Texas to Oregon, and I was so excited about it, I started scribbling notes on the air sick bags. I had nothing else to write on!
KM: What were your influences and inspirations for the book?
CR: A lifetime of reading, really. I've always been very drawn to Celtic mythology and history, so that was a huge influence. Whedon's storytelling, definitely. He's sadistic in his love stories, and I've learned a thing or two from him. The Chronicles of Narnia & The Hobbit as well… More recently, the Harry Potter series truly brought magic back into my life during a dark time. Many people see similarities in our book to Harry Potter, but our orphan hero and his predicament is actually based on Ethan's childhood. He grew up in foster care in the redwood forest with a less-than-ideal family situation.
As for Ethan, aside from the Celtic mythology, his biggest influence for this book was Alexander's Prydain Chronicles. Ethan never stops reading. That's another thing Cullen got from him, his love of reading.
KM: Describe your writing process — co-authorship has so many more intricacies than solo authorship.
CR: For Rowan of the Wood, I wrote the first draft, getting the basic story down. Then Ethan took that draft and introduced some subplots and characters. I got it for the third draft, etc. We have very different writing processes, so we compose separately. Near the end of the revision process, we sit down and read it cover to cover together.
KM: Cullen reminds me a lot of myself when I was just about his age. How much of him comes from personal experience?
CR: Cullen is loosely based on Ethan's childhood. Cullen's foster family is pretty horrible, much worse than Ethan's actual experience in foster care. I wanted to write a story for all the kids out there in such a miserable situation, to let them know that they're not alone.
KM: Rowan is the first of five books, and I am personally on the edge of my seat for the next one! Is there anything you can tell me to satisfy my curiosity?
CR: Oooh! Witch on the Water, the sequel to Rowan, is due out this September or October! Exact date to be set very soon! You can join our monthly newsletter over at www.rowanofthewood.com to get sequel updates! It's been through its first round of readers, and the reactions are good!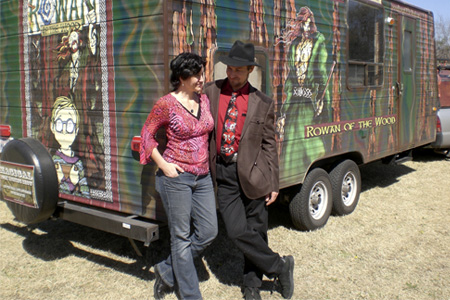 KM: What is the Geekalicious Grand Book Tour, and where should we expect to find you guys in the near future?
CR: The Geekalicous Grand Book Tour is a year-long tour around the US promoting our book. We drive around in the Geekalicious Gypsy Caravan (pictured on our site) with three dogs and a cat. On weekends we do Celtic Festivals and Renaissance Faires (as Ethan and I do artwork inspired from our book as well), and during the week we visit libraries, schools, and bookstores. We'd love to come to your town!
KM: How do you find time to write while you're traveling?
CR: It's very difficult, especially with all the promotion! We just have to make it a priority and set goals. I'm a very goal-oriented person.
KM: What has been your most interesting experience on the tour to date?
CR: The most interesting experience happened yesterday. While parked in an RV park, a woman came and knocked on our trailer door to buy two books! That was awesome!
KM: Now to a few interview standards: Rowan of the Wood draws heavily on Celtic myth and the fantasy genre. Would you consider writing in other genres in the future, and if so, which ones?
CR: Ethan and I are both serious fantasy fans, so we'll likely stick with fantasy! I might be interested in writing horror, though.
KM: Would you continue co-authorship if you did decide to branch out?
CR: Ethan has a book he's been working on for over a decade, so that will be his next project. My mind is so filled with Rowan right now (and we still have three more books to write), I can't really see outside of that yet.
KM: Fandomania is a blog by fans for the fans, about subjects we're, well, fans of. That being said, we like to askL what books, comics, movies, etc. are you fans of?
CR: We're HUGE Buffy the Vampire Slayer/Angel/Firefly fans. All things Whedon, really. Harry Potter… I'm counting down to the next movie (and I just recorded a silly retro-diva karaoke-style spoof of Madonna's "Borderline" dressed as Bellatrix Lestrange :-D Terry Pratchett! I love the Terminator stories, but Ethan doesn't as much. He's a big Moomin and Muppets fan!