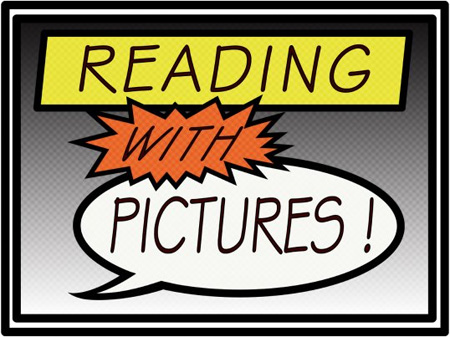 Early childhood literacy is a subject I am really passionate about. Not having any children myself, I rarely get the opportunity to discuss the topic; however, today I will get to share with you an organization that is at least as passionate as I am. There is almost no skill more important than being able to read, and for many kids reading can be difficult. The pressure to read is coming at a younger age, and with that pressure, reading becomes less of an escape and more of a punishment.
Reading with Pictures is an organization that supports early childhood literacy through comic books. Their goal, according to founder Josh Elder, is to "bring comics into every classroom from kindergarten through college." Over the years, comic books have been seen as less noble than the novel, but its merit as a tool to get kids reading cannot be denied. What is more fascinating when you're young than superheroes and exciting adventures? Sure, there are pictures, but if a child can be pulled in by the pictures, they will usually want to know what the words mean. Comic books are not only aesthetically pleasing, but can spark the imagination, making reading enjoyable. Nothing is more essential to early childhood literacy, in my opinion, than teaching a child not just how to read, but how to enjoy reading.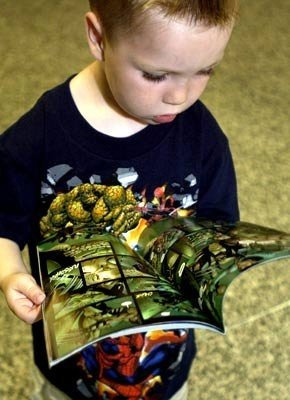 While Fandomania has talked to Reading with Pictures before, I wanted to take this opportunity with the Geeks Give back series to tell you that this organization needs your help. I had the opportunity to ask Josh Elder a few questions about his organization, and I also want to share with you what you can do to help them continue working towards getting comics into the hands of children.
Kelly Melcher: First, I would like to know how Reading with Pictures got its start?
Josh Elder: The genesis of Reading With Pictures came out of my cartooning workshops at schools across the country. Over the course of the last several years, I've visited dozens of schools, spoken before thousands of students and interacted with hundreds of teachers. Over time, a pattern began to emerge: Teachers by and large saw the value of using graphic novels in the classroom but were stymied in their efforts by a number of systemic, institutionalized barriers.
The first was that teachers simply didn't know which books to use or how to make the best use of them. The second was that there was no significant body of academic research that provided empirical proof of the value of comics in the scholastic environment, thus making it next to impossible to win over skeptical (and rightly so, given the stakes) administrators, school boards, and parents. Third, because school procurement policies were biased against graphic novels, publishers had a clear economic incentive not to put money into producing quality material for that market, because the market wouldn't pay for it.
I then realized that I would have to go beyond grassroots comics evangelism in order to truly effect positive change. I would have to build an organization filled with people smarter and more capable than myself, an organization with significant resources and institutional credibility. I would have to create Reading With Pictures.
And on a personal note, I learned to read — and learned to love reading — from comics, and want to share that experience with every child I possibly can. A story I relate more fully here.
KM: What are your plans for Reading with Children in the near future and further down the road?
JE: Right now I'm focused on getting our 501(c)3 status in place and getting the anthology to print. Beyond that, we plan to begin working with RWP board member Prof. David Rapp of Northwestern University on a major research project that will delve into how comics best function in the classroom. It's going to be exciting and transformative stuff, and that's just the beginning.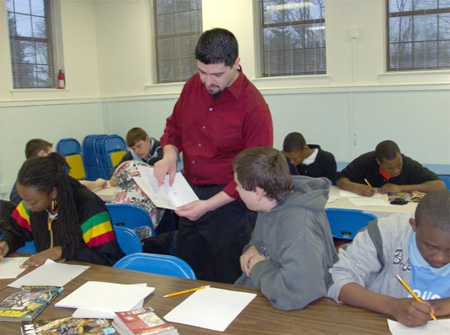 We're going to be facilitating other research projects, creating innovative new resources for teachers to help teach them how to teach using comics and providing publishers with the tools to create better comics for the classroom. We also plan to develop a speaker's bureau for cartoonists and to help spread Comic Studies courses to colleges throughout the country.
KM: How can we help Reading with Pictures?
JE: [Right now Reading with Pictures is having a fundraiser, and] the goal is to raise $2,000 by December 31st to provide seed money and pay the filing fees [needed] to apply for official 501(c)3 non-profit and tax-exempt status with the IRS. Acquiring 501(c)3 status is absolutely essential if Reading With Pictures is to achieve its goals. Without it, we can't receive funding through government grants, and our private or corporate donors can't claim their contributions as charitable donations on their tax returns.
I know that budgets are always tight this time of year — especially during a recession — but any contribution you can make at this stage will have a huge impact. So if you believe in bringing comics to the classroom, use this PayPal link provided or send a check to:
Josh Elder
3300 W. Irving Park Rd, Unit A3
Chicago, IL 60618
As an added incentive, donors who give $25 or more will receive their choice of the following (all of which would make great last minute Christmas gifts) so long as supplies last:
Signed and personalized copies of Mail Order Ninja Vols. 1 and 2
A signed and personalized copy of StarCraft: Frontline Vol. 1
A copy of Tiny Tyrant Vol. 1 (courtesy of First Second Books) and the SpongeBob SquarePants Magazine (courtesy of Nickelodeon)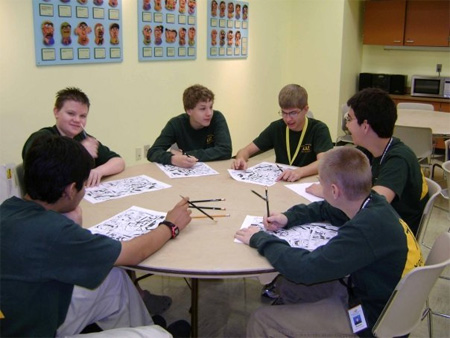 KM: What can I do to help out Reading with Pictures if I can't donate now?
JE: Starting in February, we'll begin taking pre-orders for the Reading With Pictures anthology on Kickstarter.com. It's going to be our primary funding source for the 2010 fiscal year and is shaping up to be an incredible all-ages book featuring all-new stories by Jill Thompson, Jim Gownley, Ray Friesen, Raina Telgemeier, Fred Van Lente, the Fillbach Bros., Ryan Dunlavey, and yours truly among many, many others. So when the time comes, we're going to need an army of guerrilla marketers to help spread the word about this amazing anthology and the worthwhile cause it supports.
In the meantime, interested folks can follow us on Facebook and Twitter and join our mailing list by sending a blank email to mailing-list-subscribe@readingwithpictures.org.
---
When I asked Josh what the most rewarding aspect of Reading with Pictures was, he told me: "I would say the reaction that we've received from the creative and educational communities. People believe in this idea, and they're willing to work to make it a reality. I can't put into words how rewarding that truly is." I know this is an idea that I believe in. I think children should feel that they want to read, not that they have to read. Just because convention says they must read "See Spot Run" books and the like, doesn't mean that's the only option available.
Supporting and fostering early childhood literacy is easy. Find out what kids like and let them read it. Why not comics? If you have a chance this month, please think about donating to Reading with Pictures. Even a small donation will help put comic books in the hands of kids, and that's just one step towards a future of reading that they will enjoy, not hate. Give the gift of literacy this holiday season.