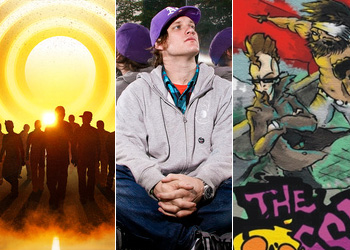 Once again, the number of releases has piled up to the point where it's necessary to lump a bunch of reviews together. Since my last roundup in April, several nerdy artists have put out albums (some of them may technically have been released before April, but I didn't discover them till after that). This time there are even more (some artists have been quite prolific; I combined a couple of releases together in some cases) so I've decided to divide the list into three parts; the next part should go up sometime next week. The final part will feature all Scrub Club artists. (Note that most of the albums below contain explicit lyrics, including some of the videos).
First, full disclosure: I was provided a copy of this one in order to write up a review, although I'd actually already downloaded it after Jesse Dangerously sent an email about it. Even had I not been given a copy, I would have put up a positive review. It's really good. The album features sixteen rappers, seven producers, and one DJ, including: Fresh Kils, Wordburglar, Timbuktu, More Or Les, Uncle Fes, Ghettosocks, Chokeules, Jesse Dangerously, Jay Bizzy, Thesis Sahib, Beatmason, Frank Deluxe, Dexter Doolittle, Psybo, Ambition, Johnny Hardcore, Manalive, Ginzu333, and Mister E. They're all pretty clearly Canadian as is shown in their references (e.g., hockey, Canadian provinces / towns, and famous Canadians). As I'd expect from a group that includes Jesse Dangerously, this one's more on the true underground hip-hop side with nerdy references (including the record label: Hand'Solo Records). A few favorites are "Nothin' Friendly," "Show of Hands," and the title track, "Heatwave." I'll be checking out more of these artists' solo stuff for sure, but in the meantime I'll be enjoying this one thoroughly.
I really dig Adam WarRock. His raps have a smooth flow, and his vocals tend to be laid back and mellow. He's primarily known for his various comic-book related mix tapes. This EP does feature a couple of comic-book tracks ("Marvel vs. DC" and "Sad Ultron"), but it's "Nerd Corps" that really stands out. It's a nerd anthem with two different versions. The first features WarRock solo while the second also incorporates verses by Int80 from DualCore as well as Beefy. In this way it very much reminds me of MC Frontalot's "Nerdcore Rising" in which various other nerdcore rappers have performed their own verses.
It's been a couple of years since I've actually played Magic: the Gathering, but that has more to do with lack of people to play it with than anything else. When I found out that there was going to be an album of raps about MtG, I knew I'd have to check it out. It's enjoyable, although the rapping isn't the best. The lyrics are fun, though, and the enthusiasm for the game of the members of Tha Gatherin' (Pro Tour veteran Patrick Chapin and Bill Boulden aka Spruke) shows through. They're perhaps a bit obsessed with the Planeswalker Jace Beleren, but as someone who has an affinity for control decks with plenty of blue cards, I can sympathize. It's worth checking out if you're a fan of MtG.
MC Lars is back again with two new albums. There's some overlap of tracks that are on both albums; I'm pretty sure Lars Attacks! is the main release with Indie Rocket Science serving as a sort of appetizer. Both feature multiple collaborations, including KRS-One, mc chris, Random, MC Frontalot, and Scroobius Pip. Lars continues his combination of silly songs ("Lars Attacks!," "History's Greatest Assholes") with ones that make commentary on society in some way ("What Is Hip-Hop?" / "The Gospel of Hip-Hop," "Black and Yellow T-Shirts" (which is called "Captains of Industry" on MC Frontalot's Solved)). On Lars Attacks!, there are a couple of weirdly religious references and tracks (the end of "Venomous Box Jellyfish," "Judas Priest") leading me to wonder if Lars found religion or something. It was a bit jarring to me, but perhaps that's just my atheistic bias showing through. Regardless, I enjoy both albums and would recommend them highly.
The Bossfights' debut album brings together several familiar names in nerd / geek music: ZeaLouS1, Dr. Awkward, Bishop, Kevonious, and Juggernaut. Unsurprisingly, it's a tight collaboration; they feel like they've been playing together for a long time. The music is a mix of rap, rock, metal, and funk, featuring the rap stylings of both Z and Doc Awk. On several tracks, both of them sing as well ("Shatterhand" is a great example), and they're quite good. Bishop's guitar shredding shines on this album; I'm only marginally familiar with his work, but I'll be checking out more. Appropriately for the band's name, the video game based tracks "The Cake Is a Lie" and "Left for Dead" prove that this is a band to watch for in the future. I suspect their collaboration will last for some time. I certainly hope it does!