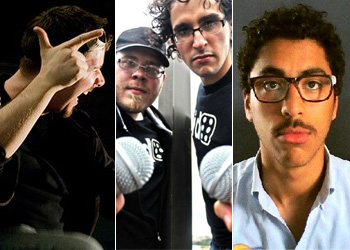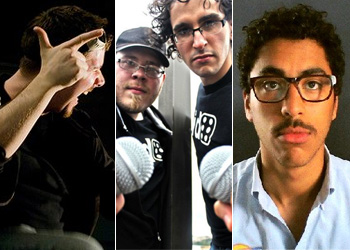 And now back to your regularly scheduled columns. In Part Two of this introduction to the next generation of nerdcore, I feature several artists that are new to me. Most of them I discovered while putting together this article, in fact. For this reason, and because these artists are not yet as prolific as the artists in Part One, the descriptions will necessarily be a bit shorter. There are, however, more artists featured this time. Unfortunately, there are no women on the list, only because I don't know of any new female nerdcore rappers. (Warning: expect explicit lyrics ahead!).
Recommended Songs: "Gamer Chic," "This Is Not a Track" (feat. Check Minus)
At times on You Wouldn't Think, Zilla Persona's vocals remind me of MC Lars. Unlike Lars, Zilla seems fine with the nerdcore label. His new album, Unfair Advantage, will be released soon. There are currently four preview tracks on his web page. Interestingly, I really don't hear any influence of MC Lars on them. If, however, the rest of the album is like these four tracks, and his first release indicates that's likely, it should be really good.
Recommended Songs: "Bounce," "You're Not Geek Enough for Me," "The Sound of Nerdcore"
Death*Star are on the more comic side of nerd rap, a bit like the Illbotz. "Band Practice – Freestyle," for example, is a particularly funny sketch. They also pay homage to their predecessors in songs like "Bounce," a tribute to other nerdcore artists, geeks, and anime, and "The Sound of Nerdcore." Clearly they are proud to carry on the movement started by MC Frontalot. I do have one criticism of some of their songs: they do play into the sexism typical of a lot of hip-hop, calling women "bitches" and talking about their "big titties." It's not necessarily a deal breaker, although maybe it should be. I admit I have become more sensitive to that sort of language lately, but I'm not sure that it means I'm going to boycott music that uses it.
Recommended Songs: "Bar Hoppin'," "Hall of Famers," "Mind Elevation"
The latest release by Dedicated Servers, Samurai Servers, is based on beats from the Samurai Champloo anime. I haven't seen it, but the music is quite good. And the Dedicated Servers rapping over it is also well done. Some of the tracks remind me of the jazzy, smooth hip-hop of Digable Planets (e.g., "Why Not?," "Imperfections"). Their own beats aren't quite up to the same level of musicality, but they are good nonetheless. I'm looking forward to more from these two.
Recommended Songs: "Envision Your Love Being Devoured by a Fat Man in a Gravy Stained Shirt," "Shitku… Hadouuuuuuuuken"
2d6 is another comedy rap group, fronted by MC Cliff B, who also performs solo. I have to say that MC Cliff B's partner in rap, DJ Stuck Down a Mineshaft (With A Broken Leg), has quite possibly the best DJ name in all of rap. One of my favorite songs has to be "Shitku… Hadouuuuuuuuken" which, despite the title, has nothing to do with Street Fighter 2. Actually, it's about NPR. They brag about how great they are by using radio personalities and show names as comparisons, integrating an absurd number of NPR shows. It's a pretty clever idea. Unfortunately, they're not always consistent lyrically or musically. There are a couple of tracks on the album, Pat Benatar Told Us to Stop Doing This, that I don't much care for. "F**k That, Imma Chill" and "Reignbough Trauwt" are both a bit too juvenile for my tastes. Nevertheless, the album is worth a listen.
Recommended Songs: "The Thief of Always," "Backpacker's Sermon from Mount Jansport," "Behold! There Appeared a Chariot of Fire"
Milo is far more philosophical and political than any other nerdcore rapper. His songs are more poetical and personal as well. In some ways, I Wish My Brother Rob Was Here reminds me of Childish Gambino's Camp, in that it's about Milo's childhood. Unlike Gambino, however, Milo's music is laid back and mellow. It's also not peppered with curse words and NSFW comparisons. Actually, of all of the rappers on this list, Milo would have to be my favorite and the one I'm most likely to listen to repeatedly.