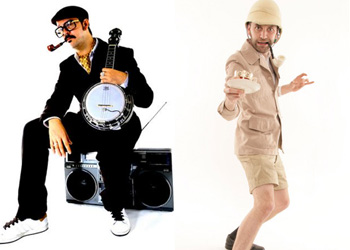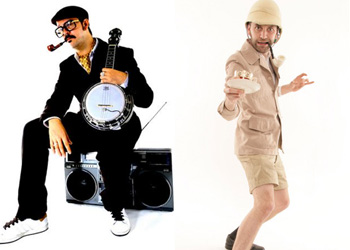 Teacore or chap-hop? Mr. B, the Gentleman Rhymer or Professor Elemental? Yup, that's right, it's a genuine rap battle in the nerdcore world. The battle has officially begun with Professor Elemental's recent release of the video for his Mr. B diss, "Fighting Trousers." I'll pit them against each other in a battle royale of six different categories and then decide on a winner (all due respect must go to Jack Mangan for his Duel of the Fates podcast. Without that, this column would not exist. And my "battle" is meant to be taken no more seriously than his). It's on like Donkey Kong (Nintendo hasn't trademarked that yet, have they?)!
Who Came First?
I first became aware of this subgenre of nerdcore a couple of years ago when Elemental's "Cup of Brown Joy" was released (Mar. 17, 2008). At the time, I wasn't into nerdcore so I didn't really pay attention except to laugh and move on. Last year, I discovered Mr. B via his songs "Straight Outta Surrey" (July 18, 2008) and "Chap Hop History" (Oct. 21, 2009). The dates would seem to favor Elemental, but according to Wikipedia, Mr. B has been rapping since late 2007. Elemental has no Wikipedia page, so I'll have to rely on the date of the posting of his video.
Winner: Mr. B
Who has more views? (as of Nov. 20, 2010)
Elemental
"Cup of Brown Joy": 796,961
"Fighting Trousers": 163,752
Mr. B
"Straight Outta Surrey": 176,575
"Chap Hop History": 320,132
Winner: Elemental
Who has the better look?
Ahh, a touchy subject, this. Pith helmet or bowler (or fedora or ivy cap)? Moustache or no? Calabash pipe or Peterson? Safari gear or three-piece suit? Steampunk or high society gentleman? I suppose it all boils down to a preference, of course, but as someone who appreciates the finer dress style of the Victorians and Edwardians, I'm going to have to award this one to Mr. B.
Winner: Mr. B
Who is the better gentleman?
Another touchy one. Although his more popular songs are about gentlemanly pursuits, many of Elemental's other songs from his album Rebel Without Applause are not. In fact, some of them are downright lower class. How beastly! Mr. B, however, is more in keeping with the spirit of a high society rhymer, with his songs about cricket, sherry, and smoking pipes.
Winner: Mr. B
Who is the better rapper?
That's a tough one. On the one hand, there's something endearing about the RP rhymes of Mr. B. On the other, Elemental sounds more like traditional hip-hop. That, plus the fact that Mr. B calls himself a rhymer, not a rapper, edges Elemental out over his posh rival.
Winner: Elemental
Who would win in a fight?
Professor Elemental owns fighting trousers. Although Mr. B wields a cricket bat, he doesn't seem the type who knows how to wield it in a fight. Regardless, anyone who wears a pith helmet has to be pretty tough.
Winner: Elemental
Tie-Breaker
Well, it's come down to a tie-breaker. I'm a teacher, so I'll just add in some extra credit. Mr. B has a Wikipedia page and has appeared on MC Frontalot's album, Zero Day. He also plays the banjolele. I'm going to have to award some points for all that.
Winner: Mr. B
So, Mr. B wins the first geek music debate, breaking the tie with some last-minute extra credit. Elemental may have fired the first salvo, but I don't think we can count out the Gentleman Rhymer just yet. I have a feeling we may hear a response on his upcoming release, I Say.