This month we get a couple of EPs from podcast guests, more Pokémon Go and Stranger Things, and some other tributes as well.
The first EP from Oranga Tanga shows off their eclectic musical influences as well as their sense of humor and geeky sides. The opener is a strange journey into a "Blackhole," and three of the tracks are about animals. My favorite of the bunch is probably "City Rat." The chorus is just so catchy and silly that it frequently pops into my head at weird moments. Check 'em out, and get dancing in your living room. Oh, and if you missed their appearance on the podcast, give it a listen as well.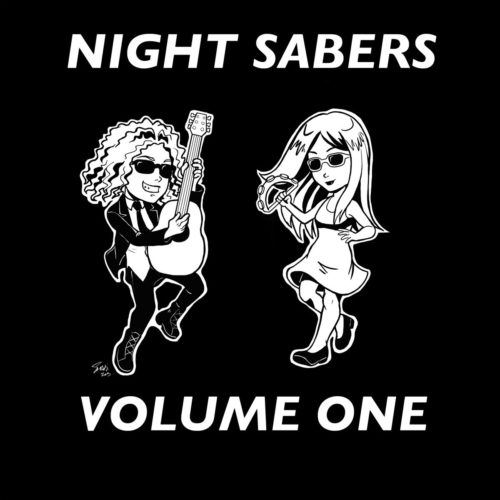 Night Sabers are another band that I discovered because they sent me their music. A weird thing happened along the way, however, because the singer on this EP (which is mostly about Adventure Time) has already been replaced with another singer. It seems the previous one went on to become the greatest Pokémon trainer in the world (I somehow think that that might not actually be true in reality, but, hey, ya never know…). Interestingly, they've documented the process in a couple of videos. I like their style, and I'm hoping to hear more from them in the future. Don't forget to check out their recent podcast episode as well.
D&D Sluggers – "Radio"
Poor Barb. No one listens to her, even when she's in the Upside Down….
Dr. Chorizo – "R.I.P. Barb"
Speaking of Barb… Here's hoping she'll rest in peace and not end up possessed by a Demogorgon… (Shout out to Fandomania's own Celeste for bringing this one to my attention.)
Mega Ran and Maculate – "Stranger Things (Part One)"
One last Stranger Things song for this time, this one by none other than Mega Ran! I'm gonna go ahead and guess that Part Two will be about Season Two, but I suppose we'll have to see. In the meantime, I'll be enjoying this one in heavy rotation.
Mega Ran & K-Murdock – "Go Save the World"
And speaking of Mega Ran, he also has a Pokémon Go song. With all the negativity in the world, maybe something that brings us together outside is exactly what we need. I have a feeling you'll recognize a number of faces in this video as well.
Sci-Fried – "A Tall Ship"
In honor of the 50th anniversary of Star Trek, Sci-Fried brings us another tribute to the show, complete with some awesome pix and video clips from various Trek conventions through the years. Good stuff as always!
Bonecage (with vocals by Willow Malone) – "Drop the Bomb"
Bonecage is working on an album of music about Overwatch for each of the characters. Here's the first one, about Tracer. Man, I really need to start playing it. Soon, I hope…
Meri Amber – "Stone Cold" By Demi Lovato Parody ("Pancake Soup")
I haven't heard the original of this, but I strongly suspect it's not about pancakes. Such passion! So humorous!
Ultra Magnus and DJ SLAM! – "Thirst Trap" (Explicit)
OK, let's finish out with a nice indie hip-hop track that's not at all geeky (well, there's a reference to the Bat Cave), but comes to us from the always great Hand'Solo Records. And I'll think you'll recognize at least one of the cameos in the video as well. Great song!