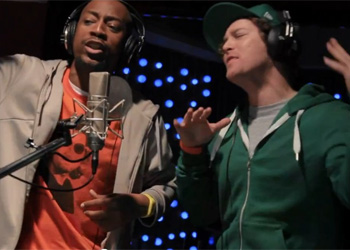 In anticipation of Wordburglar's upcoming album, 3rdburglar, 'Burg has released a video for the single, "Rhyme O'Clock." I'm only familiar with Wordburglar from Backburner's Heatwave album, so I'm looking forward to hearing this album (yes, I realize he has other releases out there; I'll check those out, too). This track really whets my appetite.
Here's what the press release has to say about the song: "'Rhyme O'Clock'" is a perfect combination of b-boy braggadocio and nerd swagger, mixing breaking on street corners and rapping at Rancho Relaxo with a DJ-driven Millennium Falcon and Robocop nemesis ED-209. Also features guest appearances from Grandpa Funnybook and children's entertainer Bramwell Morrison (of Sharon, Lois, and Bram fame)."
Wordburglar and More or Les trade verses over turntable work by the highly talented Uncle Fes and beats by Juno-nominated Fresh Kils. Like you'd expect, 'Burg seamlessly weaves nerdy ("We meld minds like Spock") and Canadian references into his indie hip-hop flow. And then there's the video. There's a scene where the aforementioned Millennium Falcon actually destroys that ED-209. I'm not sure I need to say more than that in order to convince you to watch it. And if I do, then you probably won't like the song anyway. So what are you waiting for? Check it out now!
Oh, and if you happen to be in the Toronto area, be sure to go to the album release party at El Mocambo on May 11, 2012 for only $10. It also features performances from Ghettosocks, More Or Les, Timbuktu & Choke, and Dream Jefferson. Or if you're near Halifax, Wordburglar will be launching his CD with an in-store performance at Taz Records (1593 Market St) on April 27. I'd be there if I could!