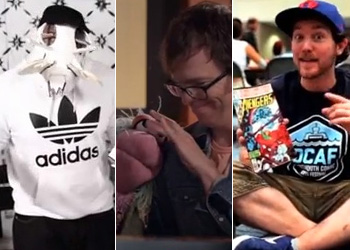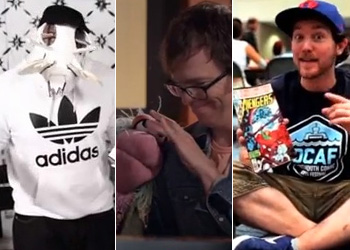 Been saving up some good videos for a little while now, so it's time once again to publish a list of recent nerdy videos. This one features an artist that I don't get to mention often enough, Ben Folds Five. If you haven't yet checked out their new album, it's well worth it.
Soup or Villainz – "Packing for Mars"
Inspired by Star Talk Radio with Neil deGrasse Tyson, Soup or Villainz released this video just in time for the recent landing of the Mars Curiosity rover. Pretty cool!
Random (aka Mega Ran) – "Buggin' (The Metamorphosis)"
From Volume One of Language Arts, this song is, obviously, about Kafka's "The Metamorphosis." I love the way the video follows the story of the novella / song. I also love the stylistic choice of making all the colors black and white. It gives it a really cool feeling, slightly unworldly, which makes sense for what happens in the story.
Dr. Noise – "Gallifrey"
The Doctor's lament about his home planet's loss. Another great trock track from Dr. Noise. Also, after checking out this video, be sure to check out the Dr. Noise interactive game. It's not long, but it's fun.
Kirby Krackle – "Another Castle"
Ah, Mario, your princess is in another castle. Could she be avoiding you? Or are the mushroom heads just there to torture you? I guess you'll just have to keep searching.
Ben Folds Five – "Do It Anyway"
As I said before, it's not often I get to mention Ben Folds on here, but Ben Folds Five recently got back together for a new album. They then worked with Chris Hardwick and The Jim Henson Company to produce a video for the first single, "Do It Anyway." With Fraggles. And a couple of other cool cameos. I'm pretty sure that qualifies this as a geeky video. Oh, and you must check out the behind the scenesvideo, too. So worth it!
"Simon and Garfunkel" – "Sound of Cylons"
I'm not quite sure who to credit for this. The YouTube channel says "Saul Tigh," and the video notes actually credit Simon and Garfunkel. Regardless, this is brilliantly done. I love parodies that incorporate original lyrics, but tweak them just slightly to fit the new song. So good!
the great Luke Ski – "Smeg Head"
Now that the tenth season of Red Dwarfis airing on Dave, the great Luke Ski has released this video as a celebration. It kinda makes me want to be a smeg head, actually.
MC Wreckshin (feat. Benjamin Bear) – "Clean Swag Shine"
You wouldn't necessarily think that cleaning a house could become a homoerotic adventure, but with two members of The Money Boys involved, it should come as no surprise that it can. Needless to say, this one is decidedly NSFW.
Random (aka MegaRan) – "Zombie High"
http://www.youtube.com/watch?v=qulM_Ood6rA&feature=youtu.be Here's another one from Random, this one from Language Arts, Volume 2. Mr. J's kids have started acting like zombies because of the game "KillCount." His colleagues won't help, but he has to find a way to get through to them.
Wordburglar – "Drawings with Words"
What a perfect idea to film the video for a song about comic books at FanExpo Canada. Plenty of cool cameos and cosplay, plus tons of comics that are mentioned in the song. Very cool stuff!
X-Faction – "Weapon X"
X-Faction put together a really great song and video all about everyone's favorite X-Man, Wolverine. This definitely deserves way more views than it currently has. (I should also give credit to Thomas Quinlan from Hand'Solo records for his column at Nerdcore Nowfor this one. There's also an interview with Jesse Dangerously and several more videos and albums to check out).
Dr. Noise – "Nerdfighter Anthem"
The whole nerdfighter thing is something I'm only tangentially familiar with, but it's certainly an idea I support. I even have a DFTBA("Don't Forget to Be Awesome") sticker on my laptop.
Unwoman – "Black Magic"
This is a pretty simple video, but it's worth it for the music. This one's from the recent The Fires I Started release from the Kickstarter.
Ben Folds
,
dr. noise
,
Kirby Krackle
,
mc wrecksin
,
Mega Ran aka Random
,
music-
,
soup or villainz
,
the great Luke Ski
,
Unwoman
,
wordburglar
,
x-faction