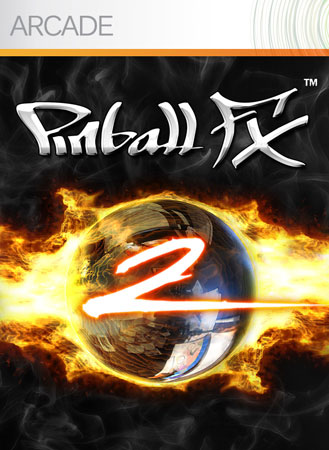 Game: Pinball FX 2
Platform: Xbox Live Arcade
Developer: Zen Studios
Publisher: Microsoft Game Studios
Release Date: October 27, 2010
Rated: E – for Everyone
Last week I reviewed ZEN Pinball and its newest downloadable table. This week the folks at ZEN are back in action with Pinball FX 2, released as part of Microsoft's Game Feast promotion on the Xbox Live Arcade. I had a chance to play through the game this week and found a lot of similarities to the PlayStation 3 game but also some key differences, all of which guarantee lots of addictive fun.
The Platform
At its core, Pinball FX 2 is a platform rather than a game. It's a free download for the Xbox 360 and will give you the shell from which you can launch a variety of pinball tables. The tables themselves will cost you some Microsoft points, but I really like the way the game lets you pick and choose which ones you want to add in and doesn't force any turkeys upon you. Additionally, folks who already own the original Pinball FX can import all the tables they used in that game into this new one for free, including any optional DLC they've purchased. The tables all have been updated for Pinball FX 2, making the free import a nice way of thanking previous players for their loyalty.
The pinball platform itself is remarkably full-featured, and everything about it looks gorgeous. From the start you'll be able to look at loads of stats and leaderboards, and you'll also have a handy menu screen for selecting the table you want to play with. Tables you already own will be lit up, and ones you don't yet have will be greyed out, offering you a chance to play a trial version and possible purchase the table.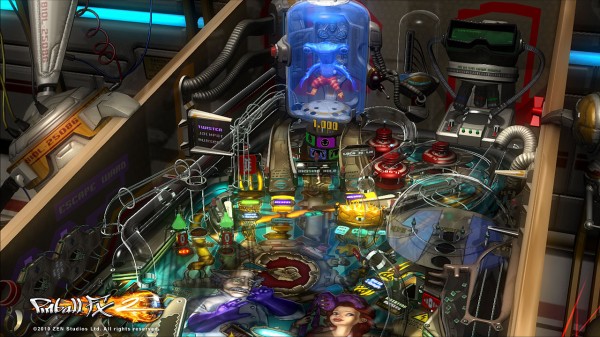 The physics and controls feel and work well on every table. You can launch the pinball using either the A button (for a full force launch) or by pulling back and releasing the right thumbstick to give the launch a custom touch. The flippers are controller with the left and right triggers as well as the shoulder buttons, and you can jolt the table with the left thumbstick. Jolt it too many times or too hard, and you'll end up tilting and losing immediately. The graphics and sound are fantastic as well. The lighting is particularly convincing as different parts of tables illuminate, flash, and blink while spinners, bumpers, and tabs make all the great dings, whirrs, and smacks of a real table.
Outside of the individual tables, Pinball FX 2 makes outstanding use of the robust Xbox Live community and of your particular friends list. The game has a leaderboard for just about everything you could think to track, and it makes great use of your high scores on each table. You'll be ranked next to your friends, and your Xbox Avatar even gets to show up and wear a crown if you've bested your friends. You'll also earn a Superscore that is an accumulated score that spans your play across all your pinball tables. Your Superscore combines with those of your friends who also have played the game to create a Wizard Score. Both of these numbers are used to rank you as a player in the overall community.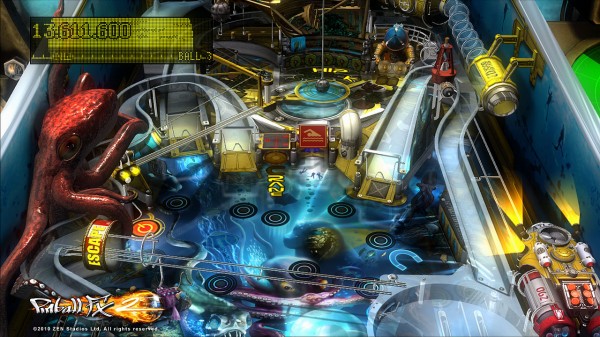 The Tables
Even with a deep platform like Pinball FX 2 provides, the game would be nothing without a good and engaging selection of cool tables. Fortunately, this is where the game really shines. All the tables featured here are fantastically animated and involved ones, often featuring mini-games and sub-goals beyond just keeping your pinball rolling and racking up high scores. At launch, four brand new tables are available in a pack costing 800 Microsoft Points, and eight more tables are importable from the previous Pinball FX or are purchasable for use in either game. Here's a quick rundown of all the tables, by collection:
Core Collection (the four new tables, priced at 800 Points for the pack):
Pasha – a Persian table with genies, serpents, and caravans, themed after Arabian legends
Rome – themed after ancient Rome, complete with chariots and legionnaires
BioLab – a mad science table with lots of experiments going awry and cute creatures on the loose
Secrets of the Deep – an awesomely detailed undersea table filled with fish, treasure, and sunken ships
Classic Collection (three tables from the original game, priced at 800 Points for the pack):
Agents – spy-themed with a wide open layout and fun sub-missions
Extreme – a mixture of skating, extreme sports, and hip hop themes
Speed Machine – muscle cars and racing theme this table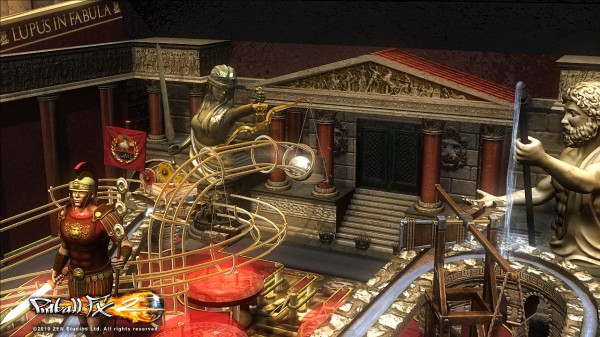 Individual DLC Tables (one-off tables that are downloadable for either game, priced at 240 Points each):
Nightmare Mansion – a spooky haunted house table with ghoulish features aplenty
Rocky & Bullwinkle – a licensed table featuring the cartoon duo and their associates
Street Fighter II – another licensed table, this time sporting characters from Capcom's fighting franchise
Earth Defense – an alien invasion themed table with a battle against the evil Flip-Bot
Excalibur – themed after Arthurian legends, complete with jousting and the Round Table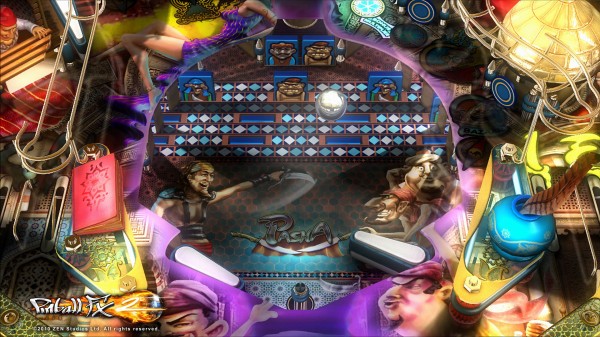 Conclusion
ZEN Studios has proven themselves to be masters of video game pinball, and Pinball FX 2 is the newest iteration. If you already have Pinball FX and some tables for it, there's no reason not to grab the free download to import your old tables for an upgrade and for more achievements. And if you don't already have a pinball game you've been playing obsessively, this one could fill the void for you. It's great for marathon sessions or for quick games when you just have a few minutes to play. Pinball FX 2 has supplanted Geometry Wars 2 as my go-to game for 5-minute gaming sessions, and it's well worth checking out.