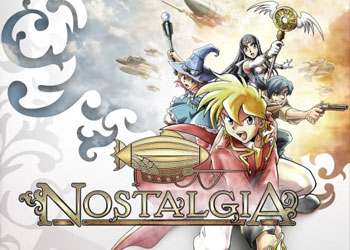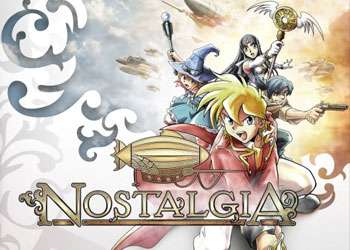 Airship battles, tomb raiding, wizards, and reanimated skeletons! These are a few of the things you'll encounter in Nostalgia, the new Japanese RPG releasing today on the Nintendo DS. Ignition Entertainment, the game's domestic publisher, sent us an advance copy to check out, and after many an hour of battling and looting I can attest that the game lives up to its name.
My own bit of nostalgia came pretty soon after I popped the game into my DS. From the music to the style to the story to the basic gameplay, Nostalgia feels like a classic J-RPG in every way. It's developed by the same folks who brought Final Fantasy III and IV to the DS, so it's no wonder that the game feels more than a little similar. Make no mistake, I draw this parallel in an entirely complimentary way. I spent oh so many long nights of misspent youth tangled in elemental random encounter battles with slimes, monstrous flowers, and wolves, and that spirit is present here in spades.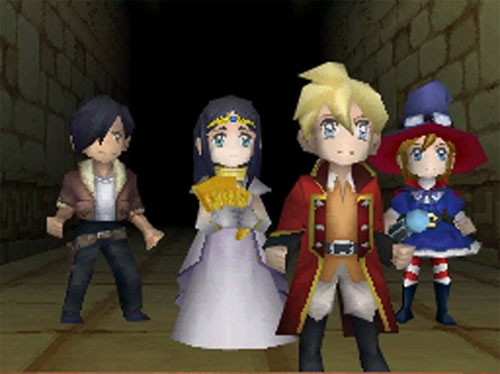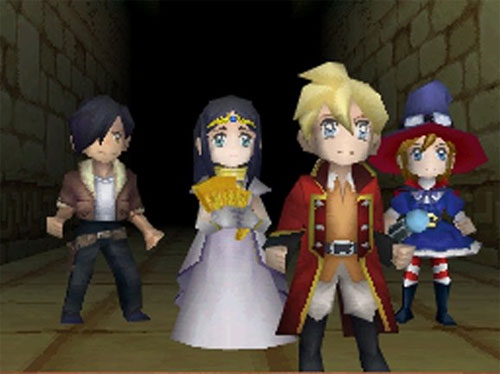 The game operates on the tried and true standard J-RPG model: You explore the world and talk to strangers while randomly encountering monsters on your world-spanning quest. The battles are classic turn-based affairs that will be instantly familiar to anyone who has ever fired up a Japanese RPG. Your adventure party stands in a line across from a lineup of bad guys, and everyone takes a turn attacking. Each character has a unique set of skills that can be used in fights, and all characters have standard "Attack" options as well. Using the skills spends MP, this game's equivalent to mana. The skills range from special sword moves to full-on magic spells. There's a good variety in what you can unleash on your enemies, and you can add new skills and increase your characters' potency between battles by spending skill points (SP) in a skill map interface.
Nostalgia's story is a familiar one for this sort of game as well. Your main hero, Eddie, is the son of a world famous explorer who has gone missing. The heir to the adventuring mantle, Eddie sets out to search the world over to find out what happened to his old man. Along the way he grows in skill and worldliness as he encounters and befriends three others who join his adventuring party. Along with his dad's legacy of exploration, Eddie also inherits his father's airship, the Maverick, about an hour into the game. That's when things really pick up as you're able to traverse the world and explore varied cities and surroundings.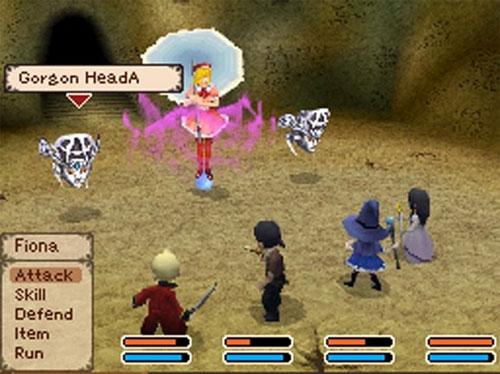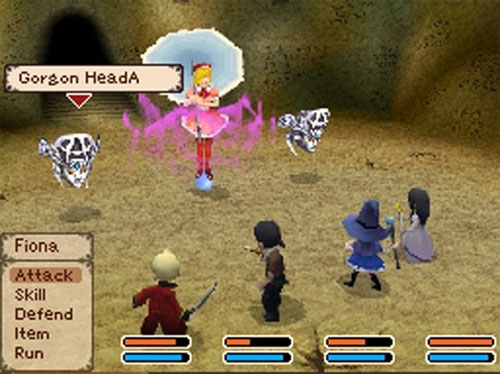 Airships are no strangers to J-RPGs, having appeared in everything from Skies of Arcadia to Final Fantasy VII (Cid Highwind, anybody?), but they nevertheless feel fresh and exciting here. The airships act as more than just a non-Chocobo way to get from point A to point B, though. In addition to the standard combat system, there's also a separate air battle system that will pit you against sky pirates, giant birds, and more wicked denizens of the skies. The battle itself is fairly similar to the land battles with the exception that you will have enemies coming in from the front and both sides of your airship, and you'll need to plan your attacks accordingly to take advantage of positioning. Characters in your party will man the various weapons on the ship, including a giant blade, machine guns, a cannon, and magical orbs. While you level up your characters' skills, you'll also be leveling up the airship abilities in a similar map interface.
The second battle system isn't the only thing that makes Nostalgia stand out from the crowd of J-RPGs. The setting really is what won me over. Nostalgia drops you into an alternate 19th century history, in which adventurers traverse the world in their great zeppelin-like airships and magic flows freely through the lands. Having the game set in the past of our own world, as opposed to in an original fantasy setting, allowed the developers to take an intriguing approach to the genre. While the questing and slaying and looting might seem familiar, doing it in a pyramid near Cairo or in the sewers of London make it seem just a little more special. On top of the alternate history is a bit of steampunk as well. Steampunk is a very "in" setting right now, but it's not overplayed here. There's just enough Victorian-retro anachronism to keep things interesting.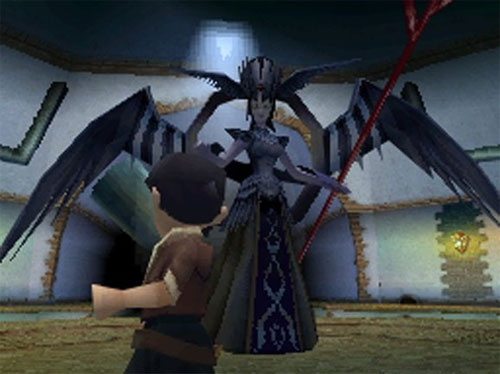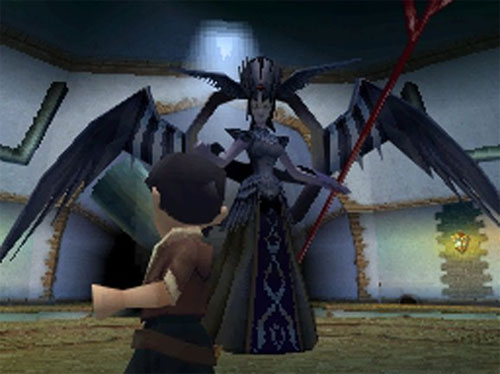 As with any great RPG, you'll miss some of the best gaming if you just plow straight through the main story. There are plenty of opportunities for side quests that fill out the backstories of the major characters, and there's also a big meta-quest that will send you treasure hunting all over the map for fifty "World Treasures." The side stories and optional quests bulk out what turns out to be a very enjoyable and robust role-playing experience. I particularly like that you don't have to worry about missing something your first time through. Once you finish the main quest, you'll be able to go back and catch any side quests you might have missed. Additionally, some extra content opens up that you can only do after the main story is finished.
Nostalgia is a great addition to the DS's growing library of Japanese RPGs, and it'll feel like visiting an old friend if you've been away from the genre for a while. I am still playing this game, even after finishing my review, and that alone should be a testament to the game's fun and addictiveness.
Rating: 4.5 / 5 Stars