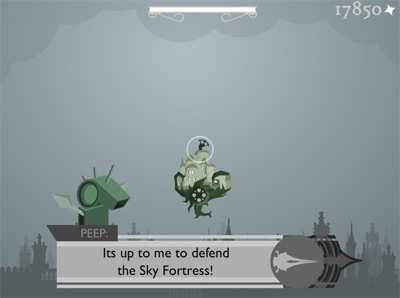 The Arrow of Time is the new game offering from The Super Flash Brothers. Released on May 2 by Armor Games, you can find it under the "Shooting Games" area. In it, you are Peep, the last of the Whistleheads, and your mission is to protect The Arrow of Time at all costs from enemy forces. Standing in your Sky Fortress and armed with a not-so-simple bow and arrow, you must repel wave after wave of enemies to protect The Arrow. Click within Peep's white arrow and drag back to set the power of a shot and to aim it and then let your shots fly. As you kill enemies, you gain points which can be used to buy better arrows, Sky Fortress fortifications, and combo keys (although I never bought these and never saw the point). You play through many different eras until you manage to defeat the final boss and save The Arrow of Time once and for all.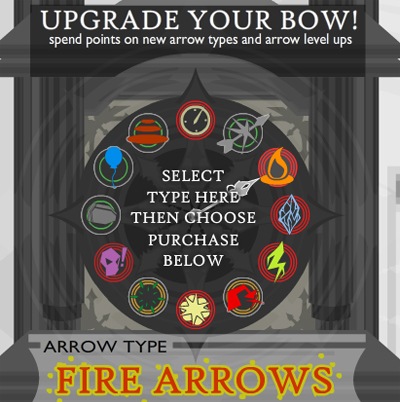 Completing the first stage will allow you to combine different types of arrows to cause more trouble for your enemies. For instance, Fire Arrows will set them on fire, causing damage over time, and Ice Arrows will slow them down. These are the pretty normal arrow options, though. There are also Time Arrows, Helium Arrows, and Traitor Arrows. Discovering just what they all do and how they work is a lot of the fun of the game. My suggestion is to not give up on any arrows until you have maxed out the power ups on it. Homing Arrows, for instance, took me a long time to understand. If you shoot them full power, they may curve a little and fly away. If you shoot them lightly in the direction of an enemy, they will curve to hit it, curve to hit another, and so on until they time out. Experimentation is the key.
The game could be considered repetitive if not for the different times and the different choices of arrows that you can use to make the game totally varied. The story is a familiar one — the last of his kind must save the world — but the creatively designed characters make it fun. The art is excellent; each time period is captured well. The defenses are more than helpful; in fact, I'd go so far as to say they were necessary (at least for me) in some stretches.
The only real negative I can come up with is that the game is too short. I played through it from beginning to end in about 40 minutes, and I was taking my time. I'd also like to see some more use for the really interesting arrows. As it was, I found that Fire+Explosive was pretty devastating. The combo keys were a nice thought, but when you can click on the menu button, pause, and change your arrows around to your heart's content, I think the feature was superfluous. It doesn't harm the game in any way, I just found no use for it. I have gone back to the game to play with other arrows and combinations since I finished and I still enjoy playing. When you give it a go, be on the lookout for the dinosaurs!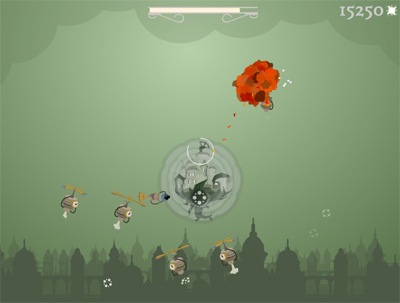 I give The Arrow of Time a solid 8.5. It's well made, but I'd like to see a little more from it.