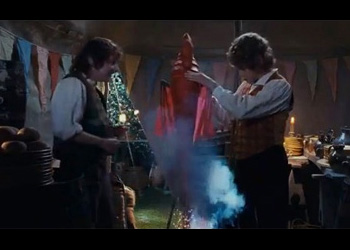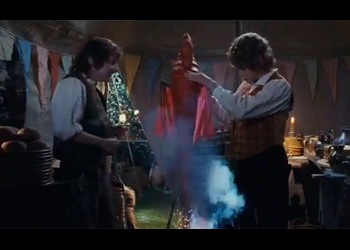 Here in the United States, people are gearing up to celebrate Independence Day on July 4th, and for many (myself included), the holiday isn't complete until they've seen fireworks somewhere. Fireworks aren't limited to the 4th of July, however. Here are five great fireworks displays from the world of Science Fiction and Fantasy movies for you to "Oooh!" and "Aaah!" over.
1. The Coneheads
Sporting events are a popular place to see fireworks any time of year. In this clip from the 1993 comedy, Beldar Conehead (Dan Aykroyd) attempts to impress the crowd at a high school football game:
2. The Lord of the Rings: The Fellowship of the Ring
Of course, the starting idea for this article was the fireworks display created by Gandalf for Bilbo's Eleventy-First birthday party, which turns out to be even more spectacular when a certain pair of nosy young hobbits become involved…
3. Harry Potter and the Order of the Phoenix
In the fifth installment in the Harry Potter series, our intrepid heroes must take their Ordinary Wizarding Levels under the watchful eye of the horrid Dolores Umbridge, who has made life hell for the Hogwarts students all year long. She gets her comeuppance when the Weasley twins provide a much-needed break from testing, ending with a dragon that definitely rivals Gandalf's pyrotechnic version of Smaug:
4. V for Vendetta
Fireworks are a popular way for the English to celebrate Guy Fawkes Day, which commemorates the failed Gunpowder Plot of 1604. Appropriately, in the 2006 film based on Alan Moore's and David Lloyd's graphic novel, V, whose signature look is a Guy Fawkes mask, provides two spectacular pyrotechnic displays for the November 5th holiday. The first, at the beginning of the movie, involves London's Old Bailey (the main court building), while the second, which takes place a year later, quite literally brings down the house(s of Parliament).
5. Return of the Jedi
What better way to celebrate the successful conclusion to a revolt against an oppressive, tyrannical empire than with fireworks? No, I'm not talking about the American Revolution here, I'm talking about the ending of the original Star Wars trilogy. I was afraid that I would have to resort to the awful new ending that shows the celebrations on Coruscant, Naboo, Cloud City, and elsewhere in order to find some fireworks. Happily, my YouTube search brought up a clip from the original 1983 movie that does, in fact, show fireworks over the forest moon of Endor while still allowing you to listen to the cool Ewok song!
---
Have a happy fourth of July, everyone, whether you are celebrating a holiday or not!