If there were an award for Best Shirtless Scene on TV, Stephen Amell would win it, hands down. Wait, doesn't the Teen Choice Awards have something along those lines? Nevertheless, Amell isn't just a handsome face on top of a chiseled Greek-like body. He's the star of one of the best superhero shows on TV. I'm being 100% biased because Arrow is the only superhero show I watch.
Amell as Oliver Queen is almost perfection. Now those shirtless scenes — those are more than immaculate. His six-pack isn't the only reason he was one of the first names I jotted down when it came time to do round two of this series, but I mean — they did play a part in helping him remain on the list when it came to making cuts. Perfect pecs aside, Stephen Amell is loved for other reasons. I just have to figure them out before I get to that part of this piece…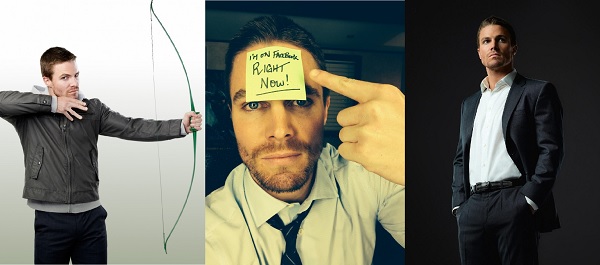 Name: Stephen Amell
Birthday: May 8, 1981
Place of Birth: Toronto, Canada
Twitter: @amellywood
Best Known For
Even if you'd never heard of this guy before, by now you know him as Oliver Queen on the über-popular CW series Arrow. Before he was the hot guy in a hood, he was like any run-of-the-mill actor doing small parts to try and make his presence known. In 2004 he started to get in the door. Being from Canada, he played eye catching characters like "Spinning Instructor" and "Doorman" on Queer as Folk and Degrassi. Then, like 90% of actors, he was in an episode or two of CSI and NCIS in 2010. He stepped it up the following year in New Girl and Hung. Then, instead of playing someone viewers would likely forget by the next episode, he had a real part time job on Private Practice in 2012. That same year he stepped into the hood and soon he'll step away from the small screen for a second to take on the role of Casey Jones in next year's Teenage Mutant Ninja Turtles 2.
5 Quick Stephen Amell Facts
No wonder he got that spinning instructor role. He was one before he decided to give acting a try.
He has a way with words. He's really into vocabulary.
He knows about smiling with his eyes like Tyra Banks. Well not really, but he did marry an America's Next Top Model contestant in 2012.
His cousin, Robbie Amell, plays Firestorm on The Flash.
Stephen has a little girl named Mavi Alexandra Jean Amell, aw!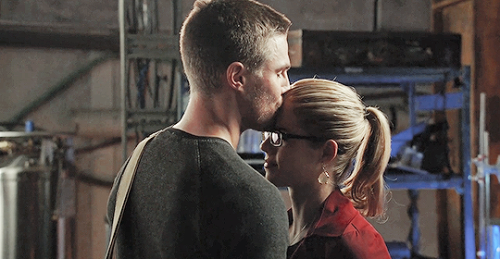 Reasons You Love Stephen Amell
Like with many actors we cover here who have one or two signature roles on their resume so far, Stephen is mostly loved for his superhero ways and that's it. Maybe two of you are hardcore when it comes to Queer as Folk and recognized him as the instructor, or for some reason watched a show called Rent-a-Goalie about a decade ago and have followed his career since then. If you are, you deserve a medal because the rest of us just latched onto him after he was in the green hood.
In a second we'll talk about my attachment to the character of Oliver Queen, played amazingly by Amell, but first: why do you guys love him? We all get he's attractive and are quite impressed with his archery skills. However, Queen is loved by many because of his heart. He just wants to do what's right by the ones he loves and in reality, Stephen does too. Oliver's biological family continues to dwindle, but the family he's created for himself has grown each season and every time he lets someone in on the secret and into the lair, you can't help but smile. You see that in the man behind him as well. Every day you're checking to see what cute shots of his little family he'll post next. Both Stephen and Oliver are family oriented and that hits your soft spot like no other.
So we're going to stick with Oliver for a second. I mean, Stephen plays him — so love him, love the actor, right? Anyways, what fan doesn't tune in for the whirlwind that is Olicity? The fandom that surrounds Oliver and his adorable assistant Felicity may be as big as the one that supports the show. You can't help but root for that smart, techy girl to get a the guy who could be mistaken for an Abercrombie model.
The handful of you who've followed Stephen for over a decade know what's up, the rest of you love him for his role as Oliver Queen — the family man with one of the best ships on TV.

Reasons I Love Stephen Amell
We've talked extensively here and on Fandomanual that comics and superhero things have never been something I've been super into. Then once upon a time I landed a writing gig with MTV Geek (it's sadly not around to employ me anymore), and my job was to watch this show called Arrow and give my opinion about it. Great, I thought. It was midway through the first season and it took only three or four episodes for me to admit that I was actually into a show on The CW. I'd spent years making fun of that channel, and now here I was absolutely enthralled with one of their shows — and a superhero based one on top of that.
I'd be lying if I said that Stephen Amell's shirtless scenes weren't in the top 10 reasons that show is and continues to be a must-watch, and I'm no liar. The real reason I think I fell for it was that it was based around the idea of Robin Hood, who so happens to be my favorite fictional character. Being from a not-so-ritzy area of the world, the idea that someone would risk hell and high water to defend the poor has always made my heart swell. I mean, I grew up with Disney's foxy version and as an adult just happened to fall into this. Had someone told me about this Arrow fellow earlier, I may have given his comics a chance — or maybe not. Reading, even comics, is hard (for me).
So while Amell has been on two of my favorite shows ever — Queer as Folk and Degrassi — I can't say that's why I love him. I can't even remember him on those. I do, however, recall his characters on Private Practice and New Girl. I know what you're thinking: how much TV do you watch, Kendra? The answer is a lot. In the end Stephen Amell's glorious body and good intentions as the Arrow are forever the reasons I miss week after week and then binge three or four episodes in a row, texting my poor friend who's been caught up with my shock and dismay every step of the way.