It was a MARVELous night for television.
With Agents of S.H.I.E.L.D. debuting on ABC and Fangasm premiering on SyFy, it was a great night to be a geek on TV. Or at least sitting on the couch in your mom's basement watching TV. Or in my case, alone with a tub of ice cream surrounded by 5 cats. I don't judge.
Agents, because I just can't call it Shield, or S.H.I.E.L.D, because it lacks Michael Chiklis and that is one hell of an acronym to type out each week, had its weak points. Overall it was a fun show, and I'll continue watching for no other reason than Lola. I mean Coulson. Clark Gregg is an astounding actor and he and Colby will carry that show until the rest of us are comfortable with this fledgling cast.
Fangasm, on the other hand, was absolutely charming. The whole concept of the show sticks seven people in a house (you know, like Real World), but with a geek twist — they are interning at Stan Lee's Comikaze convention. Initially I thought the show was going to be a nerdy Celebrity Apprentice, with daily challenges and rife with backstabbing drama. No one was voted off the island at the end of the day. It's all about seeing how the team of interns works together to meet a goal, and the zany antics they get up to in between work hours.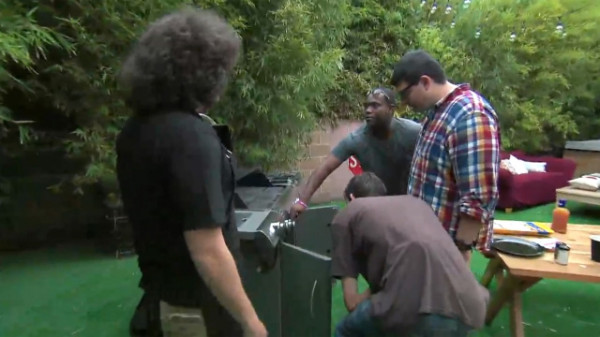 The show opens with an introduction to each cast member and getting a look at their inner geek. It doesn't take long before they are tossed in a (super rad) house together and we start to get a feel for what we're dealing with. I wouldn't say any one person fills a stereotype of geek — while some like Star Trek over Star Wars and Mike and Molly get into the Marvel versus DC debate, everyone is pretty excited for the opportunity to work with Stan Lee's convention and to meet people who love the same nerdy things they do. After some mishap with the grill (it's okay, we all can't be geeky grill masters), we find out about the first challenge! The crew is tasked with getting signatures in support of Geek Pride Day. I'm not exactly sure what Geek Pride Day is, other than it's on the same day that A New Hope was released in 1977. But almost all the Star Wars fans I know prefer May the Fourth. Anyways, the gang finds a bar celebrating their own geek independence, and off they go to rally up support!
After some mishaps in book keeping, the cast sits down to enjoy dinner and a show. Out walks a bunch of girls in sexy comic book costumes, paying homage to Geek Pride in some weird nerdy twerk off. Molly McIssac was having none of that and made a point to let everyone know how demeaning this was to her fellow nerds. Allowing Molly to be the spokesperson for the sexualization of female geeks was a strong choice for Fangasm. She's a strong and confident girl, who seems pretty upfront about her sexuality — as in she owns it like a boss. It outlines one of the bigger issues female fans, especially cosplayers, deal with on a constant basis.
It also opened up a great bit of dialogue from the guys' perspective, when they don't necessarily see the difference between paid models in Halloween-store-bought sexy costumes and girls who cosplay, or even just may wear a tight dress. I kinda hope Molly and Andrew get into it at some point down the line. They both seem to have strong opinions on the subject, and it would lend to a good debate.
Back at the house, we are treated to some real fun scenes of the crew getting to know each other. Watching the cast talk about their ideal super powers was just like a regular Friday night at my house. Sure, the show is rife with nerdy references, quotes, and quips, but it's kinda how our everyday nerd lives are. In fact, a lot of the scenarios were just like my life — though even I know how to operate a grill!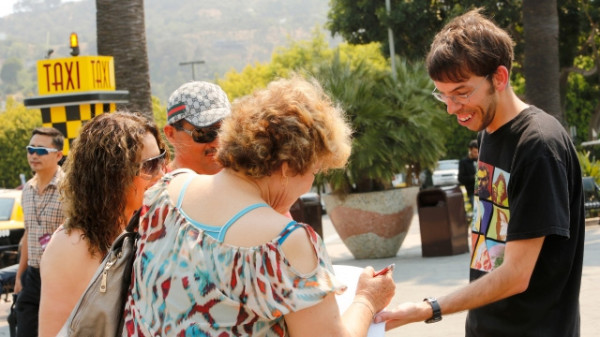 Another spot that took center stage was Molly's monologue on how cosplaying gave her the confidence to go forward in her life, and it made me cry. It's a story all too personal for me, and I've been lucky enough to read Molly's thoughts on the subject before, and it's inspiring to anyone who has ever battled with their own self worth. She is a great representation of the hobby, and now she gets the national attention she deserves.
Obviously, it's a reality show and a lot of scenes are set up. It feels a little forced at times (George Takei Day) but when you look past what the production needs to do to move the show forward, you just get lost along the ride with the interns. You can't doubt for an instant any one of them is any less a nerd than you or I. No fake nerds here.
Fangasm was super rad and the entire cast reminded me of my own crew (well, okay, Mike IS a friend of mine from back in Florida, so it was like hanging out with my baby Green Lantern all over again!). I like that it's not a purely competition show. They have challenges and tasks to complete, but it's focused around the internship. The competition comes in this week with some of the housemates trying to win a dinner date with George Takei, sponsored by a local comic shop Dream World. I wont spoil who wins, but the meeting is so heartwarming. Any time you have the chance to meet with a personal hero, and in such an intimate setting as a one-on-one dinner, is an opportunity of a life time. This moment right here defines the heart of being a fan, and sets Fangasm apart from other reality shows that take a look into our subculture.
I can't wait to see what the interns get into next week!
Also, can we just discuss how awesome Kristen's Captain Marvel dress was? Because, really. I want to consult her as my personal stylist!