Parents constantly remind you of what you were like before you developed a sense of memory. I apparently as really into Betty Boop, once called my mom's friend a word that starts with a "w" and rhymes with boar because I'd overheard her say it, and whenever my dad came to visit I'd run up to him with a book in hand. He continues to resent 101 Dalmatians. I have no recollection of any of these, but I do remember that my first encounter with books was due to Dr. Seuss.
If I had recognized the genius that was Seuss when I was a mere five years old, I'm pretty sure I would've been considered way smarter, skipped ahead some grades, and in an actual career right now. Instead I just giggled at the silly wording and went about thinking There's a Wocket in My Pocket was hilarious. As I grew older I took a grand lesson from the Dr.: if something doesn't exist, create it. I mean, what the hell is a wocket?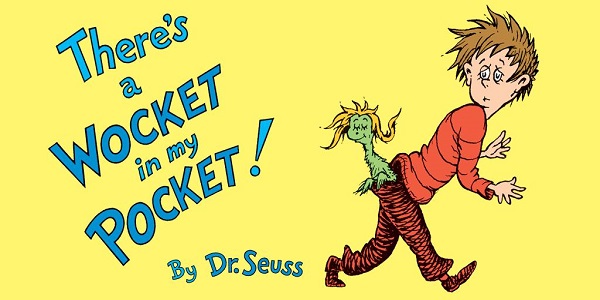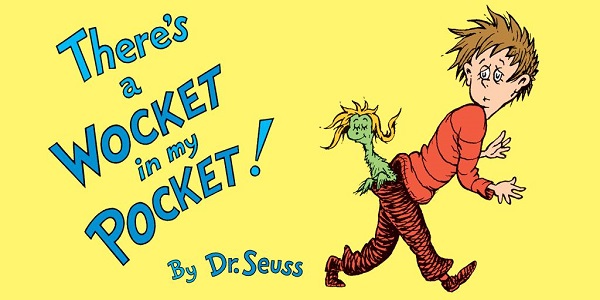 My love of him and his kooky ways and ideas led me to Shel Silverstein and, while I'll never understand or attach myself to the so called classics you're forced to learn like Dickinson and Cummings, I will always appreciate titles from my main poetry-writing man like "The Land of Happy" and "My Beard."
Those two sparked my fascination with words, along with evenings with Wheel of Fortune, but it wasn't until a couple of series that I knew what it was like to be obsessed with reading. Goosebumps and The Baby-Sitters Club entered my life around the same time and each caused hysteria not only for myself but for a lot of kids at that time. For those who were old enough then, remember the feeding frenzy that were book fairs?
I got caught up in the whirlwind of these two for very different reasons. Goosebumps was just a fun read. I didn't grow up and enter the horror realm so it's obvious that my relationship with R.L. Stine was clearly for entertainment purposes. Now, BSC, that is a whole other story — here you followed a cast of characters throughout their adolescence and each was so defined that you had to see yourself mirrored in at least one.
For me it was two. I wasn't fashionable like Stacey, I wasn't artsy like Claudia, nor did I dance like Jessi. I was a quiet tomboy so of course I saw myself partly as Kristy but more like her shy BFF Mary Anne. Am I still mad at my mom for making me donate those collections to charity because I was "too old?" Yes, she knows this and is made quite aware of it.
In between all of that I read a lot of Judy Blume and V.C. Andrews, and I even note on many Tumblr posts that the latter's Heaven is a book I hold too close to my heart and if I ever find a hard copy of that coming of age soap opera, I will be a happy camper. My appreciation of stories about growing up spawned from Ann M. Martin's Stoneybrook scenarios, and these books added to that. From that point on, coming of age tales became the only ones that really sparked my interest — well, those and serial killer accounts, but that's another story for another day.
Reading for leisure took a backseat once I hit college, maybe even in high school, because I got more into music and started going to shows. Plus, college, you know how that goes — read this to learn, not to enjoy. Thinking back there wasn't a book that struck a chord with me until I was done with formal education. Oddly enough it wasn't about a young 20-something taking on the world, making a name for herself and finding "the one." It was about a boy with a misfit group of friends and a horrendous past who took to writing.
The Perks of Being a Wallflower would've been a miracle worker had I read it in 1999, but alas, I didn't buy a busted copy off Amazon until one of my favorite actresses was cast in the movie adaptation. A few months before the film was released I got it in the mail and within a day or so I'd reached the last page and was drained. I've talked on here about my connection to the characters thanks to the big screen portrayals of Charlie and Sam, but before the movie I was strictly taken aback by only the lead.
Everyone's past is riddled with things they'd like to forget, but most aren't lucky enough to have selective memory. We're forever plagued by our histories, but without them who would we be in the present, right? As I devoured each page and things started to be uncovered, my connection to Charlie grew stronger. We're both people who take to writing over talking, we're spectators of reality, and we have pasts that we can only hope don't hold onto us forever, but rather allow us to move on.
Today my parents would tell you my favorite book is 101 Dalmatians because parentals will always see you at your most innocent stage — or, rather, when you weren't a pain. They might remember my stacks of Seuss or that I have the stump from The Giving Tree tattooed on my foot but I doubt that. In the end I went from those collections of imaginative creativity into Scholastic trends and slowly turned to anecdotes about growing up and all the highs and lows of what that entails.