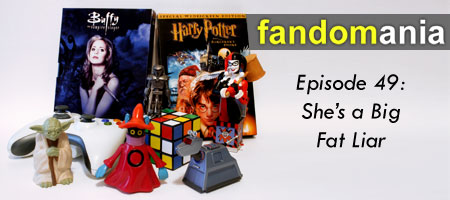 [audio:http://media.libsyn.com/media/fandomania/Episode_0049_-_Shes_a_Big_Fat_Liar.mp3]
In this week's episode:
00:00:16 – Episode Intro
00:00:26 – Celeste is about to have her remaining wisdom teeth vaporized.
00:01:24 – We revisit the story of the Belgian girl with 56 facial tattoos (spoiler: she's a big fat liar).
00:03:04 – I'm getting excited about this year's Halloween Horror Nights at Universal Studios.
TV Talk
00:06:52 – True Blood 2.03: Scratches (spoilers!)
00:13:46 – We talk about the upcoming TV shows that are about to start or return.
Gaming Talk
00:16:35 – China puts the kibosh on virtual sales for real money (here's looking at you, gold farmers). Thanks for the tip, Hilory!
00:20:07 – Australia puts the kibosh on pretty much everything interesting.
00:27:10 – Celeste and I both are still playing through Red Faction: Guerrilla and discuss the upcoming DLC.
00:30:50 – We talk about the interesting way in which Fable 3's production was accidentally confirmed.
00:33:00 – Episode Closing
You can write to us at podcast@fandomania.com.