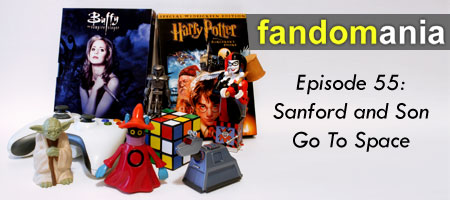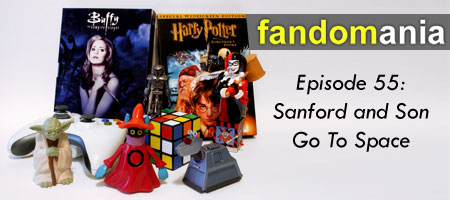 [audio:http://media.libsyn.com/media/fandomania/Episode_0055_-_Sanford_and_Son_Go_to_Space.mp3]
In this week's episode:
00:00:16 – Episode Opening
00:01:15 – We have a new contest this week, all about the upcoming animated film 9.
Movie Talk:
00:02:25 – I correct something I said last week about the GI Joe movie. Oops! And we talk about the awesome "Ballad of GI Joe" video on FunnyOrDie.
00:05:33 – We talk about the new Battlestar Galactica reboot that appears to be coming from Brian Singer and Universal.
00:12:47 – We review District 9 (spoilers!).
Comics Talk:
00:27:10 – Ultimate Comics Avengers #1
TV Talk:
00:28:47 – We discuss Frank Darabont's recently announced Walking Dead series for AMC, as well as ponder the fate of the Preacher adaptation.
00:32:00 – Celeste brings up the Green Arrow Supermax movie that's been talked about in the past.
00:38:32 – True Blood: Timebomb (spoilers!)
00:43:49 – Warehouse 13: Burnout (spoilers!)
Game Talk:
00:47:00 – I finally finished Prototype, with help from Celeste.
00:49:53 – I talk about the awesomeness of Splosion Man.
00:53:22 – We discuss the new DLC for Red Faction: Guerrilla.
Comics Revisited:
00:55:14 – Celeste gives her very plausible theory about the true identity of Twilight in the Buffy comics (potential spoilers!).
00:58:53 – Episode Closing