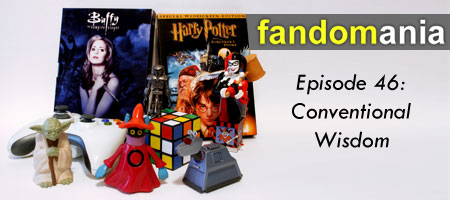 [audio:http://media.libsyn.com/media/fandomania/Episode_0046_-_Conventional_Wisdom.mp3]
In this week's episode:
00:00:17 – Episode Opening
00:00:21 – Celeste and I both have family visiting for a wedding shower.
00:01:22 – We had one seriously bizarre chef experience at a Japanese restaurant.
00:05:09 – We talk about the insanity that was the Facebook username landgrab.
Gaming Talk
00:07:53 – I correct my pronunciation of Project Natal, and we discuss the possibility of a new Xbox in 2010.
00:10:24 – We divert to talk about digital media.
00:14:16 – Celeste has been playing the new Saint's Row 2 DLC, I've been playing Resident Evil 4, and we both are hooked on Peggle for the iPhone.
TV Talk
00:16:21 – We discuss the series finale of Pushing Daisies (spoiler alert!).
00:24:53 – Convention Special: Celeste and I discuss our experiences at sci fi and anime conventions and lend some advice to newcomers.
00:57:14 – Episode Closing
You can e-mail us at podcast@fandomania.com.