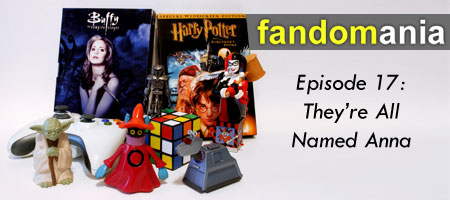 [audio:http://media.libsyn.com/media/fandomania/Episode_0017_-_Theyre_All_Named_Anna.mp3]
In this week's episode:
We talk a little about the film Nobel Son that's opening in limited release in December.
Celeste and I recount some of our adventures from the past week, including her birthday, MuggleCon, and house hunting.
Celeste, fresh off having finished the Twilight books, gives her thoughts about book four.
We lament the end of Pushing Daisies.
I spew wrath upon the garbage that is Heroes, and we have no faith in Tim Kring.
We talk about enjoying this week's Chuck and possibilities surrounding the announcement that Chuck's Josh Schwartz is writing the new X-Men movie.
Celeste and I delve into the rest of our TV for the week: Dexter, Robot Chicken, Terminator, Fringe, and True Blood.
Celeste makes an observation about the actresses in many of the shows we're watching.
I give my review of Mirror's Edge after having finished the story mode.
Celeste likes her new XBox avatar, and we talk a little about the newly released NXE.
I send some praise to the new XBox Live Arcade game, A Kingdom for Keflings, as well as to the new James Bond Quantum of Solace game.
You can e-mail us (and should!) at podcast@fandomania.com.