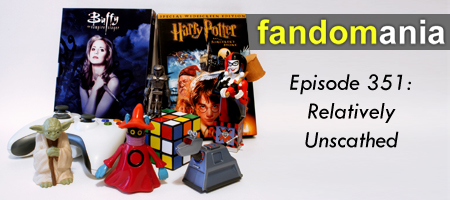 [audio:http://traffic.libsyn.com/fandomania/Episode_0351_-_Relatively_Unscathed.mp3]
Star Wars Celebration happened this weekend, and we also talk about Daredevil, Spider-Man, SMITE, and more!
00:00:29 – Episode Opening
00:00:33 – We talk about this year's Star Wars Celebration.
00:09:19 – Kevin Feige talked about the new Spider-Man movie this past week.
00:14:06 – We started watching Netflix's Daredevil series this week.
00:16:48 – The lead role in the Preacher TV series has been cast.
00:17:59 – Jason played Crypt of the Necrodancer.
00:21:11 – He also checked out the closed beta of SMITE on Xbox One.
00:26:14 – Episode Closing
You can send email to us at podcast@fandomania.com, and you can subscribe to the Fandomania Podcast at iTunes.