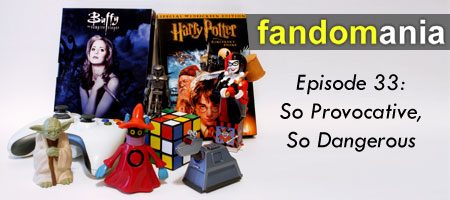 [audio:http://media.libsyn.com/media/fandomania/Episode_0033_-_So_Provocative_So_Dangerous.mp3]
On this week's episode:
I realize there's more to know about SXSW.
Celeste and I talk about the state of Watchmen at the box office (hint: Race to Witch Mountain beat it).
Celeste is all caught up on Buffy comics, so we discuss the newest hilarious issue.
Chris Claremont, legendary X-Men writer, joins us from Megacon to talk about his upcoming return to the X-Men comics, among other things.
We analyze, criticize, praise, and demolish the week in TV: Chuck, 24, Castle, Heroes, Reaper, Terminator, Dollhouse, Battlestar Galactica, and Wolverine & The X-Men.
Celeste and I talk about some of our gaming from the past week: Burnout Revenge (nope, not Paradise!), Peggle, Fable 2, Tomb Raider Anniversary, and Braid.
You can contact us at podcast@fandomania.com and add us on Twitter (JasonTD and xstarsprinklesx).
24
,
battlestar galactica
,
Braid
,
burnout
,
castle
,
chuck
,
comics-
,
dollhouse
,
fable 2
,
heroes
,
reaper
,
terminator the sarah connor chronicles
,
tomb raider
,
watchmen
,
wolverine and the x-men