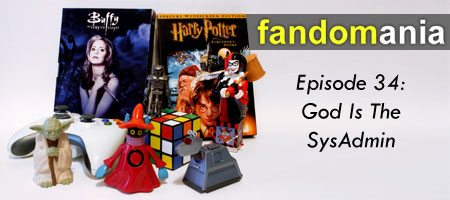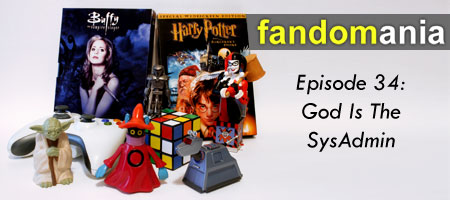 [audio:http://media.libsyn.com/media/fandomania/Episode_0034_-_God_Is_The_SysAdmin.mp3]
On this week's episode:
SciFi becomes SyFy and annoys the world.
We answer some Twitter mail from Brandon about comic books.
Celeste and I go in depth to discuss the Battlestar Galactica series finale.
We cover all the rest of the TV we watched throughout the week: Kings, 24, Castle, Reaper, Better Off Ted, Lost, Terminator, and Dollhouse.
We talk about, praise, and rant about video games: Fieldrunners and other iPhone games, Hasbro Family Game Night, Burnout Revenge, Fable 2, WiiFit, Sonic's Ultimate Genesis Collection, and the new Raptr social network.
You can send us listener mail at podcast@fandomania.com.
24
,
battlestar galactica
,
burnout
,
castle
,
dollhouse
,
fable 2
,
kings
,
lost
,
reaper
,
terminator
,
TV
,
video games
,
wiifit