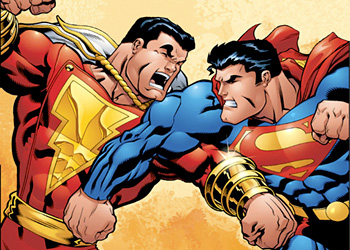 It's The World's Mightiest Mortal versus The Man of Steel in this super-marvelous edition of Fandom Deathmatch!
Sup's got super speed, super strength, super breath, super hair… the guy is super. He can travel faster than a speeding bullet, and — depending on whether you are talking about the Golden age, or the Silver age, or the post-Crisis on Infinite Earths age Superman — he's even faster than light. He's also got a lot of wisdom, having been raised by Midwestern farmers with good old-fashioned common sense.
Plus he's got other stuff you wouldn't expect, like X-ray vision. But he only has those powers under the influence of our yellow sun, and he has a nasty habit of nearly dying whenever anyone pulls out some Kryptonite. Plus he is susceptible to magic.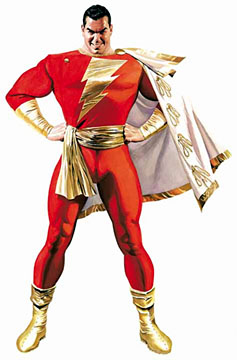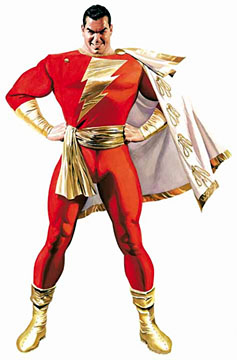 The Big Red Cheese, on the other hand, has the Wisdom of Solomon, Strength of Hercules, Stamina of Atlas, Power of Zeus (including use of the lightning bolt, and resistance to magic), the Courage of Achilles, and the Speed of Mercury (which also grants him some control over magic). He's a total butt-kicker, except that he has to say "SHAZAM" in order to transform into Captain Marvel. He's also a bit naïve, since his alter ego is a 12-year-old boy. Of course, nowadays kids grow up so fast, you know? So that might not be so bad.
Before we get to Fandomania's opinion on the subject, let's see how the guys over at Justice League Unlimited handled it:
The fun thing is that, whenever there is a Captain Marvel vs. Superman scenario, it always becomes a metaphor for the lawsuit. You didn't know there was a lawsuit? Here's the deal:
On the one hand, Superman came first. And also — on that same hand — Captain Marvel was created when one of Fawcett Comics's executives told his staff to create a Superman, but with a 10 or 12-year-old boy for his alter ego. This was back in the early 40s.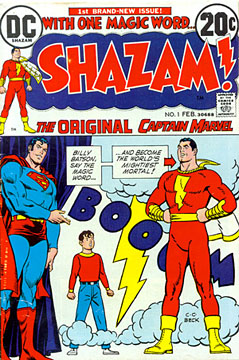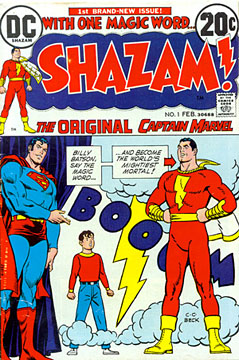 On the other hand, Superman's arch nemesis Lex Luthor (a bald evil-genius mad scientist) conveniently showed up after Captain Marvel's arch-nemesis Dr. Sivana (a bald evil-genius mad scientist) proved popular with Cap's fans. Plus — on that same other hand — Superman didn't get some of his cooler powers, such as flying, until after Captain Marvel had shown that such powers were totally awesome!
Nevertheless, Superman and Captain Marvel existed side by side in peace — albeit one in the D.C. Universe and one in the Fawcett Comics Universe. At least, they lived in peace until Captain Marvel outsold Superman. In fact, Captain Marvel (and spin-offs) outsold every other superhero comic book then in existence. So D.C. Comics (then Detective Comics) did what any red-blooded American company would do: they sued. And after 12 years in court, D.C. won. No more Captain Marvel. At least, not until D.C. Comics did the next logical thing that any red blooded American company would do: they bought the rights and treated him like they had owned him all along.  It inspired a Mad Magazine spoof in which Superduperman and Captain Marbles have a death match of their own: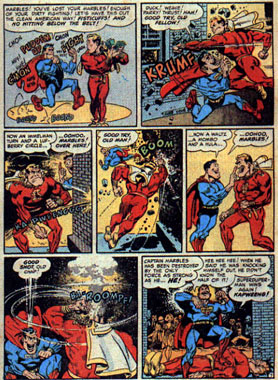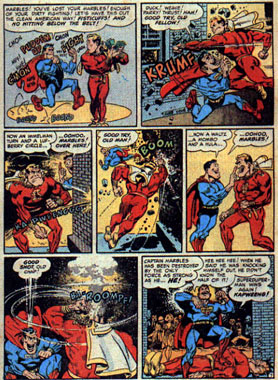 But forget all that! This is Fandomania, and we want to know who would win in a fight to THE DEATH! First of all, the above scene from Justice League Unlimited is not the only authority on the issue. Captain Marvel and Superman have tangled before, such as the 1996 Kingdom Come miniseries, or the 2006 Superman/Shazam!: First Thunder.
If Captain Marvel truly is the World's Mightiest mortal, that pretty much seals the deal, since Superman, for all his power, is mortal. However, Superman is not from our world — he's from Krypton, so he's still in the fight. Also, he's got things like X-ray vision, so he could hang out from a distance and patiently try to melt off Cap's face.
But wait! Captain Marvel has the powers of the gods! Yeah, right — you say — but he isn't actually a god. He's just borrowing the powers of the gods.
However, think about it this way: If my neighbor lends me his tricked-out Porsche 911 Turbo 997 (it could happen), I'll still win a race against my wife in the family Toyota Corolla. Not to say Sup's a Toyota Corolla. He's definitely hot rod material. But the analogy still holds (and yes, I drive a Toyota Corolla, but that's by choice, man! It gets good mileage).
The point is that if the Big Red Cheese can maneuver the fight into a blow for blow, toe-to-toe contest, he would win. But that's a big if. The one power that Captain Marvel's got that's not a god's power is his wisdom – the wisdom of Solomon. That's pretty darn wise, but it isn't god-like wisdom. Also, he has the little kid thing going on, which makes it tough to out-smart (or out-wisdomize) a rock solid Midwestern farmer with good old-fashioned horse-sense.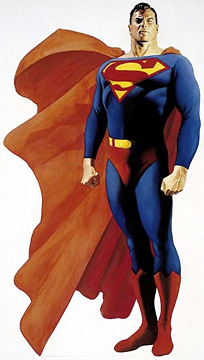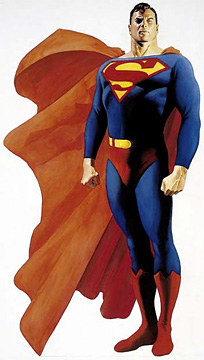 That, plus Superman is the anchor hero of the D.C. Comics universe. So, Superman wins, but just barely.