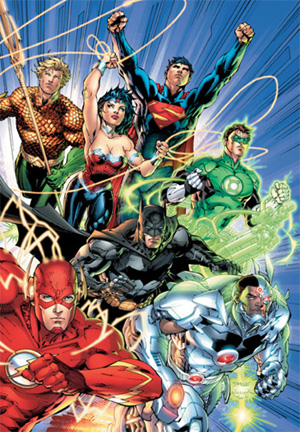 Issue: Justice League #1
Release Date: August 31, 2011
Writer: Geoff Johns
Art: Jim Lee & Scott Williams
Colors: Alex Sinclair
Letters: Patrick Brosseau
Publisher: DC Comics
Sometimes you're waiting so long for a thing to happen that you start to convince yourself that it never will. That's the way I was feeling about the launch of the new Justice League book, and the start of the roll out of the New 52.
After all of the information and speculation, whining and expectations, covers and character sketches, final issues and truncated storylines, the day has finally arrived. Justice League #1 has been released, and at last I have a copy of it in front of me. Well, I have an iPad in front of me with a digital copy of Justice League on the screen. But it's the same thing, pretty much.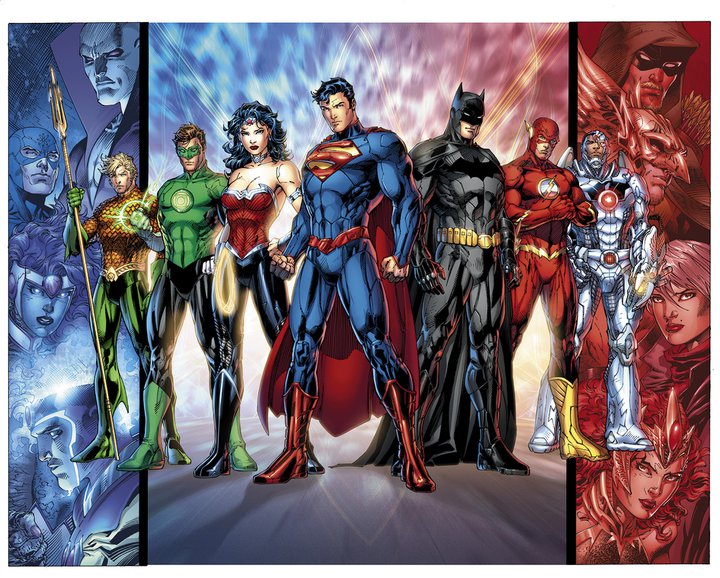 It'd be easy to get lost in the minutiae surrounding this first issue of the new Justice League. A lot has been made of the validity of the Flashpoint event, of Day-And-Date digital releases, of younger characters, of the character designs, and even of the age of the New DCU itself. But these are all subjects for a different day.
HERE THERE BE SPOILERS!!
The issue kicks off, as we knew from the previews, with the first meeting of Batman and Green Lantern. We are told that this happened "Five Years Ago" so it's safe to assume that Bats and GL have had plenty of wacky adventures before they meet. We've been told previously that the New DCU is five years old, which led to a lot of speculation. Obviously, it's the formation of the League that's five years old and that certain characters such as Batman (and at least one Robin) were around before then. In a move that's not really typical of Geoff Johns, we're given the name of the story's main villain pretty early. It's some dude named Darkseid. But the villain isn't really important to this story, the heroes are.

On a visual level, it's hard not to look at the interaction between Batman and GL and not think of the issue of All-Star Batman & Robin that GL guested in. Don't get me wrong, the two characters are drawn totally differently in age and manner, but Jim Lee's art will always be Jim Lee's art. The scenes between GL and Batman are very well done, with Green Lantern being as confident and brash as all hell. This… isn't how Batman likes to work. The only reason that GL and Batman even crossed paths is because GL was alerted to the presence of a Parademon in Gotham. That said, Batman does know all about Green Lantern and has read about his works and conflicts with the military in Coast City. They both know of Superman but have never encountered him. But, given the fact that the Parademon is an alien and Superman is an alien, a little bit of research might be a good thing to do. So Batman and Green Lantern decide to fly to Metropolis to confront Superman. They fly there in a big glowing green jet. Green Lantern is not a subtle man, and he has a fierce habit of referring to himself in the third person.
On the way to Metropolis, they fly over a football game where one of the players is Vic Stone. Though it's not explicitly stated, Vic plays for a team called The Titans. He doesn't have a good relationship with his father. And oh yeah… he's still fully human. One other thing that we do find out about Vic is that his father "studies them," which I think is going to come to full bear in a later issue and be the cause of Vic's transformation.
But that's for a later issue. For now, Batman and GL have arrived in Metropolis and tracked Superman to a LexCorp building. Green Lantern talks about himself in the third person a little bit more and traps Batman outside the building before heading in to confront Superman. He doesn't get far though, as GL and Batman are both knocked out by a red and blue bolt that turns out to be our Superman, who's seemingly ready for a fight!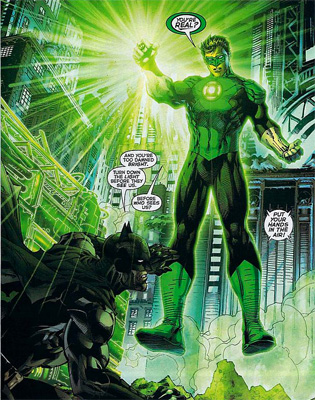 I have to admit, I really enjoyed this issue. I'm glad that Johns spilled the Darkseid secret so early, so we know that all we have to focus on is how these disparate characters end up becoming The World's Greatest Heroes. In Issue 2, we're going to get a Superman vs. Batman Guest Starring Green Lantern brawl where I imagine Superman and Batman will come to an understanding and GL will talk about himself in the third person again. Whether he spends too much time on Facebook or is just a huge Bob Dole fan, I don't know. But it's a quirk of this brash new hero that I actually kind of like.
As the months roll on and we see more of this fledgling New DCU, I hope there's a lot more to like, big and small.