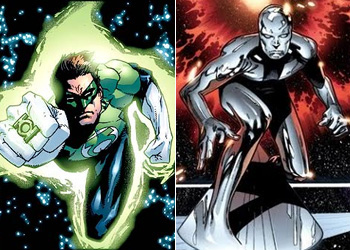 Space travel, intergalactic super powers, and colors in their names — with that much in common, it was only a matter of time before Silver Surfer and Green Lantern faced each other in the ultimate contest: Fandom Deathmatch!
Silver Surfer has the Power Cosmic, a loosely-defined ability to travel faster than light, manipulate energy and matter, live in extreme conditions (such as the vacuum of space or inside an active star), and make things sound more official by putting the superlative before the noun it modifies. The Surfer got this amorphous power from Galactus, a super-powerful being from the beginning of time who devours planets like a fat kid with a plate full of cookie dough.
Green Lantern's source of power is his ring. The ring's source of power is a green lantern. The lantern's source of power is a giant generator that runs off willpower located deep below the surface of a planet in the center of the universe. The generator was created by immortal all-powerful short bald guys with bad tempers.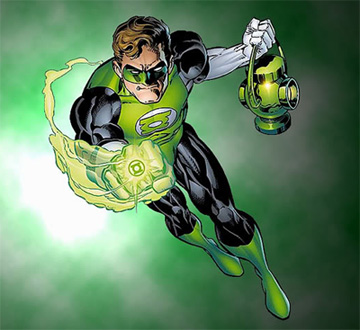 The ring gives Green Lantern a protective force field that, like the Surfer, allows him to survive in extreme conditions. It doesn't manipulate matter and energy like the Surfer's Power Cosmic, but it does create energy fields that create whatever weapon or device the ring bearer can imagine.
So far, they seem to be even. Of course, Green Lantern is a law enforcement and peacekeeping Corps, not a person, so before we go any further we need to specify which Green Lantern would face off against the Surfer. It has to be Hal Jordan. He's had the longest run. Plus, he's the one they're going to make the movie about.
Hal knows no fear, was a test pilot before the ring found him, and has a grotesquely large amount of willpower. Silver Surfer, on the other hand, was a cosmologist, and spent the first couple decades after his transformation into the Surfer as a mindless drone.
However, since reasserting his free will, Silver Surfer likes to refer to his righteousness and goes around pondering the deeper philosophical questions of life. Being created as a character during the '60s, he's basically an intergalactic hippie with a cool ride.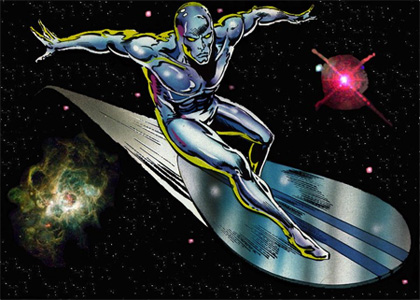 Hal, on the other hand, has discipline. He's a second-generation military pilot. He was created as a character in the '60s too, but he's the other side of the '60s coin. The anti-hippie.
A Fandom Deathmatch between these two means interstellar chase scenes, mind-blowing energy blasts, and the destruction of countless asteroids and other stray celestial bodies. Jordan manifests a giant fly swatter and smacks Surfer across the solar system. Surfer recovers and shoots a massive energy blast from his hands. Jordan creates a giant trampoline and bounces that energy back at the Surfer, who raises the nose of his surfboard and absorbs the energy into nothingness. It's exciting for a time, but after a while the stalemate is annoying. Let's skip ahead a bit.
The match will be decided not by powers, but by who can use his powers most effectively. The Surfer would eventually outlast Jordan because, although the ring is powerful, Jordan is still human and needs to do things like eat or sleep. As Jordan tires, and can't last any longer, he hits upon a solution. Summoning all his willpower, he creates an enormous green tidal wave. The surfer, being a surfer dude hippie at heart, can't resist and tries to ride the wave like Patrick Swayze in Point Break. Victory: Green Lantern.