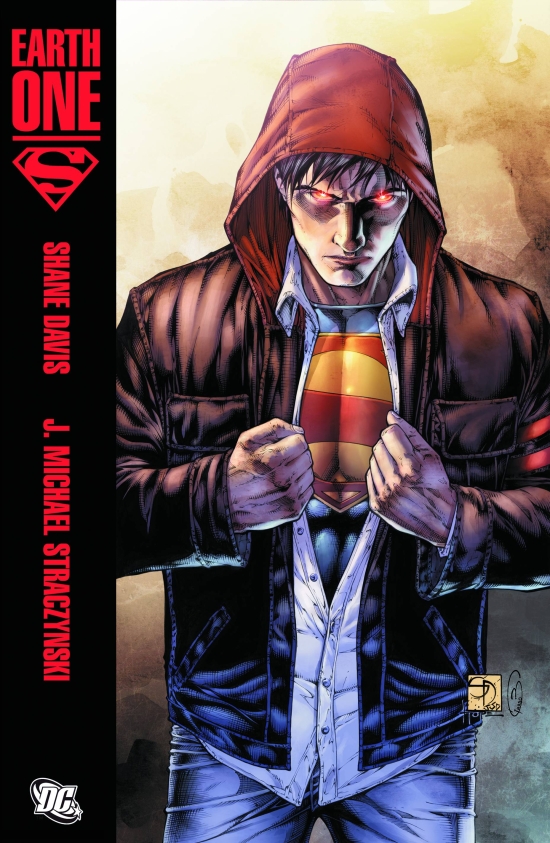 Issue: Superman: Earth One
Release Date: October 27, 2010
Writer: J. Michael Straczynski
Pencils: Shane Davis
Inks: Sandra Hope
Colors: Barbara Ciardo
Letters: Rob Leigh
Cover: Shane Davis
Publisher: DC Comics
Joseph Michael Straczynski once gave an interview in which he said that he'd crawl naked through broken glass and monkey vomit for the chance to write Superman. At the time, it didn't seem like it would ever be possible for JMS to write Superman, so apart from the fact that it was a lovely quote and applicable to many of the totally implausible things that we want in our lives, it wasn't something that I gave much heed to. I certainly wasn't about to start sourcing prices on nauseous monkeys and panes of glass, and I'd bet good money that JMS didn't do that either.
But here and now, I have to wonder what JMS would have done not only for the chance to write Superman, but the chance to launch a new version of Superman and design new aspects of the character and the world from the ground up. Maybe it involved a really big monkey?
Before I start to say too much about Straczynski's new Superman book, Superman: Earth One, I should probably come clean about something in the interest of transparency. There was almost no chance in the world that I wasn't going to like this book. If Straczynski had written a book that consisted solely of Superman and his supporting characters sitting around all day delivering speeches about how much they hate me, I almost certainly would have given the book the thumbs up. For me, the pairing of one of my favourite characters with one of my favourite writers and the addition of a fantastic artist like Shane Davis seemed like it was destined to be the perfect Superman book. And in a lot of ways, it actually was.
Unless you've never read a Superman comic or seen a Superman show or movie in your life, you're going to have some certain expectations of what a Superman origin story should contain. Superman: Earth One, and the Batman book that will follow it, has the advantage of existing outside of established DC Comics continuity, this is the first time we've seen this multiverse's Earth One, so JMS had the advantage of being able to keep what he liked, and change up what he didn't like. But even with the freedom that an entirely new universe may bring, it's still hard to read the book without comparing it to John Byrne's Man of Steel, Mark Waid's underrated Superman: Birthright, and most recently to Geoff Johns's Superman: Secret Origin. But one thing that JMS was given freedom to do which none of the other creators were was to write the origin story as if it were happening in today's modern world. Some folk who prefer Marvel Comics over DC Comics may say (perhaps correctly) that DC have finally given in and launched their own version of the Ultimate line of comics. Whatever the rationale behind Earth One was, it's given us something that we've never really had before in print; a Twenty First Century Superman.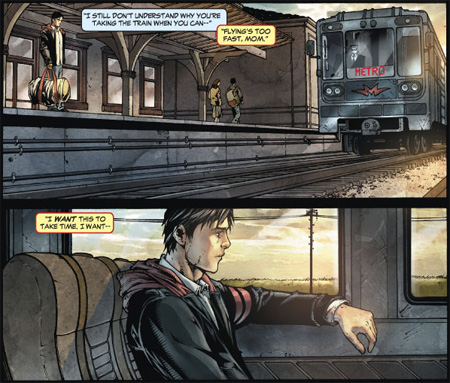 The story begins with a young Clark Kent making his journey from Smallville to Metropolis, but he's not flying, he's traveling by train. This Clark Kent, twenty years old and fresh out of Smallville Junior College, has a lot of thinking to do and traveling by train allows him time to think that he wouldn't have if he flew from his old home to his new one. This Clark Kent… doesn't know what he wants to do with his life.
Sometimes in our lives, we end up in places that are dictated by our resources and our circumstances. Sometimes in our lives, we're forced to choose a path from a limited number of options, and breaking out of those circumstances so that you have new options to choose from can be the greatest struggle you'll ever face. This Clark Kent has the opposite problem: he has every chance and option that the world could possibly give. How do you choose what to do with your life when there's nothing that you can't do?
In the space of just a few pages, Straczynski shows Clark trying to find his place in the world, trying to find a place that will let him help his fellow man as well as ensure that his mom can live a life of comfort. But there's really only one thing that Clark's mom wants, and that's for her son to be the hero that he's capable of being — it's the same thing that Jonathan Kent wanted before he died. They both wanted Clark to be Superman. Martha doesn't need anything material from Clark; she says that "I've got all kinds of gifts from folks, most of 'em trying to make up for something that they feel guilty about." This suggests a different version of Smallville that I hope we see more of in the just-announced sequel to Superman: Earth One that DC are fast tracking, possibly at the expense of two monthly books that JMS is working on.
We see Clark try out for jobs in football, baseball, Applied R&D, the Stock Market, architecture, chemistry and The Daily Planet. This Clark Kent is as smart as he is strong, and is more than once offered instant employment, even being offered a job as one of the highest paid researchers on the planet based on a two-minute conversation and equations quickly scribbled on a piece of paper. The only place that Clark doesn't seem to be able to instantly make his mark is in The Daily Planet, but it's more to do with The Daily Planet's ailing fortunes than any apparent lack of talent on Clark's behalf. Clark can do anything, and he does want to help people, but he doesn't want to be a public hero.
But there are some things that stay the same no what Earth you find yourself on, and Clark belongs at The Daily Planet, even if this Planet is different to any Planet that we've seen before. But more on that later.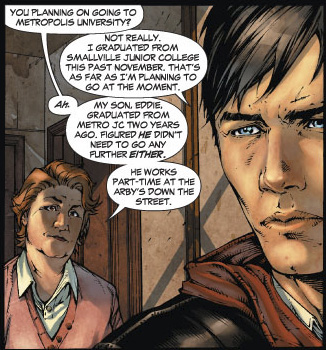 Straczynski made a brave decision in this story by veering away from any previous origin story an introducing a brand new villain named Tyrell who declares that his presence on Earth is for the single purpose of destroying the Earth, should that become necessary. He announces that he's been searching for twenty years for someone, and that someone is that sole remaining survivor of the planet Krypton. Tyrell's planet, Dheron, was a neighbouring planet to Krypton that would go to war with Krypton in an attempt to gain superiority in the race to perfect star travel. The people of Dheron, who all look like rejects from a KISS cosplay contest, were one day visited by a silhouetted stranger, ostensibly from a yet a different planet again. He offered Tyrell's people the means to destroy Krypton and thus be able to develop without the fear of war or the desire to wage war. So it was that the people of Dheron used alien technology to destroy Krypton. In the new continuity, the death of Krypton was not an accident… it was an assassination. One proviso that the silhouetted stranger placed on the deal was that not one single inhabitant of Krypton be allowed to live, so when it was discovered later that the scientist Jor-El sent his only child off the planet just before the planet was destroyed.
This is the part that makes the book less-than-perfect for me. The villain seems too clichéd, and the fulfilling-a-contract angle seems like it's been used far too many times. But I will admit to being curious as to exactly what the contract entails — what did the people of Dheron have to do or have to sacrifice in order to get the technology necessary to destroy Krypton? Whatever they had to do, the contract seems to have worked out in their favour, as the people of Dheron have seemingly mastered the art of star travel: they arrive on Earth en masse with the capability to defeat any human technology.
Tyrell's initial threat of planetary onslaught is finally what brings Superman in to our story. Clark can't stand by and watch people die just so that he can have an easy life. But it's still not an easy decision for him to make. As he's suiting up, he thinks of the words that his father said to him during one of what must have been many conversations about Clark's future. He thinks of how his father knew that Clark had a great destiny, and in a wonderful change from any established continuity, it's Jonathan who comes up with the name Superman. Clark knows full well what Jonathan knew: once Clark puts on the suit and appears as Superman, there's no going back. Some folk may feel that this is a little bit too… Marvel for a Superman story, but I like the fact that Clark chose to do the right thing and do it publicly, even though he did try to use his powers in secret to break apart a piece of one of the invading ships try to see if human ingenuity could come up with a defence against the horde. Human selfishness overcame human ingenuity though, and Clark was left with no choice but to face the enemy himself. But at least Uncle Ben didn't have to die.
When Superman finally faced Tyrell, he figured out that technology from Earth wasn't the key to defeating Tyrell's forces, it was Kryptonian technology.
We all know that baby Kal-El didn't walk to Earth from Krypton and he sure as hell didn't fly with Ryanair, he travelled to Earth in a rocket ship designed by his biological father, who was one of the few scientists who discovered the fluctuations at the core of the planet of Krypton before it was too late to do anything about it. It makes sense that if Kal-El's father was such an accomplished scientist, the rocket ship that he places his son in, which I'm assuming he built himself, would be more than just a means of propulsion and shelter during the journey to Earth.
At the start of our story, the ship that brought Kal-El to Earth is in the custody of the United States Government, or more specifically the United States Military. It's being studied at the Second Army Advanced Technology Division and has been under intense scrutiny for a little over twenty years. Through a little exposition, we find out that the ship has a somewhat organic quality to it and that it has the ability to regenerate or replace damaged parts of itself, and just as the Dheron fleet is moving towards Earth, we find out that one of the scientists who is working on the ship has discovered that the very atoms and molecules that make up the ship have information inside them. Information meant for whoever or whatever was in the ship when it crashed.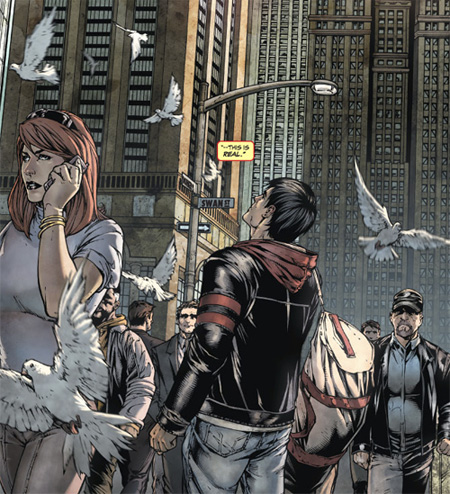 Just as the scientist is telling his superior about the discovery of the information in the ship, Clark is holding a shard of the same ship that he's had all his life and due to the fact that the shard is hot enough to cause him physical pain, he decides to look closer at the shard, at the very atoms and molecules. From a convenient bit of exposition, we know that there's information inside the structure of the ship and the shard that came from it. When he looks too closely, the information overwhelms Clark's nervous system, rendering him unconscious as he receives a vision of his parents and his home world, a vision that cuts out just as information about an apparent enemy is about to be revealed. It's after Clark regains consciousness that he tries to secretly fight the horde before revealing himself as Superman.
But the vision must have given Clark more than just information about his parents, as he seems to realise that he can summon the ship mentally and uses the ship to sucker punch Tyrell, but only after taking a bit of a beating from Tyrell and his army. The ship is big enough for Superman to board and fly, and he uses the ship to destroy the invading fleet. The absence of Krypton and the absence of war means that the people of Dheron have become quite accomplished at star travel, but the metal that the Kryptonian ship is composed of is still stronger than anything that the Dheronites would manufacture, so it's a simple matter for Superman to use his ship to tear through the fleet. Though for the second time, we get a half-uttered warning about an enemy who has yet to appear that is more powerful and more dangerous than Tyrell and the army from Dheron. From the man who teased out the Shadow War in Babylon 5 for years, the warnings are a little bit less than subtle. Readers are generally smarter than they're given credit for, and in my opinion, the appearance of the silhouetted puppet master in the flashback of Tyrell's exposition would have been enough to flag the fact that there was someone or something worse out there to challenge our fledgeling hero.
With the crisis over and Superman revealed to the world, Clark is left in much the same place that he was before he found out who he is and was forced to show the world the power that he has. He has to find his place in the world, and that place is at at The Daily Planet.
Straczynski's reinterpretation of The Daily Planet is very possibly my favourite part of this story. We see a Daily Planet that's familiar on one hand but very different on the other hand. Perry White seems to have less bluster than he's previously been shown to have, but he seems to have a million things on his plate at any one time and we get the feeling that he puts a huge amount of trust in his assistant, Debbie. But of course, he'd never say that out loud. I get the feeling that Perry would rather be a journalist and not an editor, but somewhere along the line he was asked to take control of the newspaper, possibly so that it didn't fall into the hands of lesser men.
Lois Lane seems to be very much the Lois that we all know. She won't back down from a story, she doesn't like it when Perry is bold enough to cut anything out of her stories, and she knows that the appearance of Superman is going to change the world.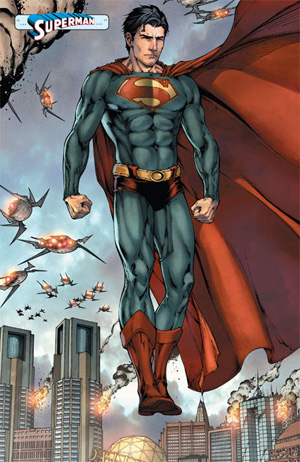 But for my money, the most profound and long overdue overhaul to any of the characters that inhabit the Daily Planet was the the change that Straczynski made to Jimmy Olsen. In regular continuity, Olsen is the greatest waste-of-space character I've ever come across, and his only role in the world of fiction seems to be to make Jar Jar Binks look better. But the Jimmy Olsen of Earth One is very different indeed. One of the biggest changes to Olsen, apart from the fact that he's called "Jim," is that he's a valued member of the Daily Planet staff, as experienced and dedicated as anyone. He's not just some kid with a camera that should have been arrested for trespass and loitering years ago. Like any real news photographer, Jim Olsen goes where the story is; he goes where the photo is. If that happens to be the undercarriage of a race car which is exploding as it goes over a guard rail, then so be it. Every bit as much as Lois Lane wants to use her words to show the people the truth, Jim Olsen wants capture the exactly what the truth looks like. If the truth happens to be a twenty megabyte photograph, then so be it. The clearer the picture, the clearer the truth.
For as much as JMS had to write a whole new Superman in a whole new universe, it was up to artist Shane Davis to bring the creations to life and put them on the page. The only times I've ever come across Davis's art before this was in a Batman annual from a few years ago which chronicled the story of the resurrection of Jason Todd, and the Rage Of The Red Lanterns one-shot that came out around the time of Final Crisis. In the Lantern book, I saw a huge leap in Davis' style. The art seemed to be cleaner somehow, more focused.
So here again, I think that Davis's art has taken another leap forward. His characters feel absolutely real, with Lois looking for all the world like Dexter's Jennifer Carpenter, Jim Olsen having more than a touch of Milo Ventimiglia about him and, best of all, in the space of four panels, Davis makes the "Clark Kent Disguise" seem like more than just a pair of glasses. His post-Superman Clark seems to stand shorter, have a slouch, look less imposing physically and have a goofy demeanour to him. But all at the same time, it's still the same Clark Kent. One of the things that I hate about being a Superman fan is that justification is constantly required for the secret identity; people just won't accept that the difference between Clark and Superman is enough to keep the secret. With the help of a flashback (all of which are beautifully illustrated with a hint of sepia) and a few words from Martha Kent, Davis totally sells the concept of the secret identity here.
Davis also gets the chance to slightly redesign the Superman costume, and possibly having learned the lessons that Superman Red & Blue taught us a few years ago, he was wise enough not to drastically alter the classic costume. Apart from some slight ribbing along the chest and inside of the legs, the biggest change to the costume is to the world famous S-Shield. The style of the S-Symbol itself is the same as the modern symbol has always been, but Davis introduces a yellow border around the edges of the pentagonal symbol that, in my opinion, actually helps to make the symbol stand out just a little bit more. In the context of Straczynski's brand new Superman, this is actually a good thing. Gone is the concept that the S-Shield is actually the logo of the House of El or an ancient Kryptonian flag. The symbol in Superman's universe is what is in our universe too, it's a big "S," and that "S" stands for nothing else other than Superman, the name that the man who raised him wanted the world to know.
Towards the end of our story, Lois Lane is pondering what the world will be like now that there's a Superman in the world. She speaks of an "It Moment," a moment that you'll measure your life by. You'll talk about your life before "it," and your life after "it." "It" is the great defining moment of your life, and after it, nothing's ever the same. Do I think that Superman: Earth One is going to be Straczynski's "It Moment"? Honestly, no. Part of the reason is that JMS already has Babylon 5 in his back catalogue and I don't think he'll ever be allowed to create anything with the scope of B5 again due to nervous executives with short attention spans. But more than that, it's because Superman: Earth One falls a little bit short of what it could be. A clichéd villain and some overhanded foreshadowing take away slightly from what is otherwise an intelligent, funny, touching and modern look at how and why Superman would exist today.