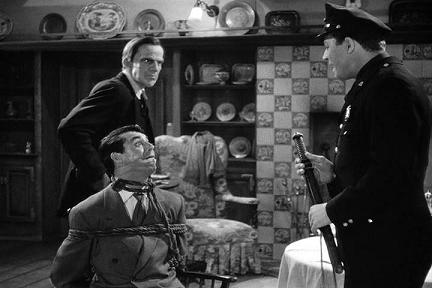 It's the most horrible deed any human being could ever commit. So why is it that murder can also be one of the funniest things we see in the movies? Is it because of the absurdity of the circumstances? Or the characters' attitudes towards the act when it happens? Maybe it's just that little demon inside us that takes a sadistic joy from watching duplicitous acts. Our next payload of comedy gold is a group of films that very well could kill you from excessive laughter.
Deathtrap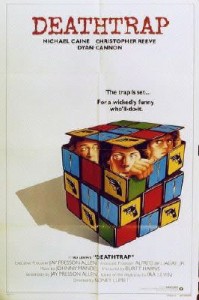 Deathtrap is, bar none, one of the most devious comedy-thrillers ever written. Fitting, really, since it was from the pen of Ira Levin (The Stepford Wives and Rosemary's Baby). Levin also wrote the original play of Deathtrap, which went on to become of the longest running smash hits in Broadway history. So a film version was inevitable. It was directed by Sidney Lumet and boasted definitive performances by Michael Caine and Christopher Reeve. Deathtrap is an intricately plotted story with more bends and twists than a bag of bendy-straws. The film starts by introducing us to Sidney Bruhl (Caine), a once prestigious playwright whose recent string of comedy thrillers have been less than successful, and that's putting it nicely. Adding insult to injury, Sidney receives a play from a passionate amateur, Clifford Anderson (Reeve). The insult lies in the fact that the play is so good "Even a gifted director couldn't harm it." Naturally hungry for another hit, Sidney decides to lure the unsuspecting Anderson to his home to dispose of the unsuspecting writer, and take the play for his own.  If you think I just gave away the entire thing, you'll be in for a surprise because the story goes in directions that you would never expect it to go. The revelations will have you screaming with laughter as it leads to a finale that's riotous in its sinister nature.
Get Shorty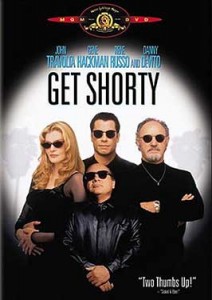 50% mob comedy, 50% Hollywood satire. Director Barry Sonnenfeld dropped his Addams Family image to direct this glitzy mafioso masterpiece about murder, manipulation, and movies. The satire of Shorty lies in the ridiculously shocking similarities between working in the mob and working in the cinema. The incredible ensemble cast is extremely game to embrace the cutthroat antics of the characters. Every kind of ethical taboo we are meant to abhor, these characters discuss and destroy with a totally cavalier attitude. Danny DeVito's character forgets that his marriage failed because of an indiscretion of his own doing, and all he can do is reflect on the fact that "that was a good party." Meanwhile, an overambitious mobster (Delroy Lindo) shoots a dealer, and he is astonished by the way the guy flies over the banister. The leader of the pack is John Travolta's Chili Palmer, a loan shark with a heart of gold who decides to make a splash in the movie business. Chili Palmer is such a great character because of the fact that he is so consistently cool throughout. He is also appealing in his astonishment in the way his tactics as a shylock apply frighteningly well in the movie business. Not to mention the character is appealing in his unwavering enthusiasm towards his new trade. Get Shorty is a glamorous attack on the not so glamorous aspects of getting a film off the ground.
Murder by Death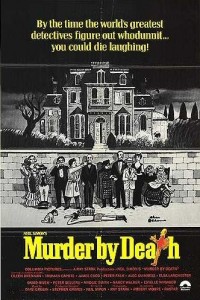 Murder by Death is Neil Simon's riotous tribute to the murder mystery. It features an all-star cast of blatant parodies of some of the classic super sleuths. Simon also dares to parody every notorious cliché that has constantly infuriated murder mystery fans — whether it be a random plot point materializing out of thin air, the constant smugness of the detectives observing things that audiences don't, or the irritatingly effortless way they dodge deadly situations. The story begins when a mysterious millionaire (Truman Capote) lures the greatest detectives to his mansion with the promise that someone will be murdered tonight. The millionaire promises one million dollars to the detective who solves it first. Thus begins a zany clashing of egos between all of these brilliant minds as they attempt to solve the murder and outwit each other at the same time. Simon proves his versatility with this film by showing that he can pull off madcap farce with the same capability he has shown with many of his definitive classics. Credit must also go to the director for being able to deftly balance the comedic talents of every member of the cast. That's a big deal considering Peter Sellers is a force of nature, and it takes a strong willed director to make sure that the balance of comedic power is never upset. Every actor in this film pulls their weight with their own singular gifts. A comedic gestalt of this magnitude is seldom seen, and it is doubtful that we'll ever see another comedy of this sort of relentless mischief again.
Arsenic and Old Lace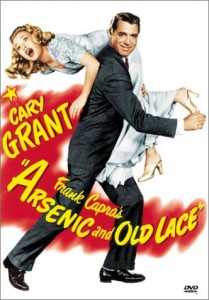 Arsenic and Old Lace has the prestige of being the very first dark comedy. When it first appeared on the Broadway stage, audiences were equal parts disgusted and delighted as they witnessed a groundbreaking comedy which features homicidal Aunties, delusional relatives, and twisted cousins. It does tend to surprise film buffs when they learn that the film was directed by Frank Capra — the man who gave us such squeaky clean, sentimental films as It's A Wonderful Life and Mr. Smith Goes To Washington. The star of this film is Cary Grant, definitely playing against type as cynical drama critic Mortimer Brewster, who (despite his beliefs towards marriage) elopes with his girl Elaine. Before embarking on their honeymoon, Mortimer visits his sweet old Aunties to tell them the good news. Instead, Mortimer is horrified to discover that his Aunties have picked up a nasty habit of killing random drifters and convincing their son Teddy (who thinks he's Teddy Roosevelt) to bury the bodies in the basement. Mortimer naturally wants to break them of the habit, but the untimely arrival of his cousin Jonathan exacerbates the situation in horrible ways. You see, Jonathan is a serial killer who seeks to reestablish himself via his Aunties' basement. For a first time viewer, you seriously aren't prepared for the demented antics which ensue in this film. We always think of 1940s comedies as having this optimistic presentation, so to see a comedy that presents dark and evil characters in a farcical vein indeed makes for a brilliant discovery for the adventurous film lover.
Clue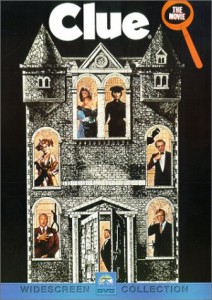 The one, the only — and I mean that in the truest way possible. Whereas so many filmmakers fail to make an outstanding film of a video game, it only took director Jonathan Lynn and co-writer John Landis one time to make an outstanding comedy based on one of the most popular board games of all time. Clue is loaded with a veritable "who's who" of comedy actors, each playing the iconic board game characters with a frantic energy that you don't get from many other comedies. The gags in this film are instantly quotable, as are the performances. Who doesn't think "Mrs. White" and not think "It flame-fla-FLAMES out of the side of my face"? Not to mention Mr. Green's classic final line "I'm gonna go home and sleep with my wife." You really can't pinpoint one laugh-out-loud moment that stands above the rest because Clue delivers one in every scene! Clue also stands alone in another respect for being the only movie to mess with the audience's perception of "whodunit." In a brilliant marketing gesture, the filmmakers made three different endings. The endings were shown on their own in various theaters, thus provoking audiences to see the film in other theaters in order to see the other endings. No other film has done this, and it makes one wish that they would do it again with another film.
NEXT MONTH: Something completely different…