Our next excavation into the mines led to us digging up some more goodies from prestigious talent in the realm of comedy. Here is another payload of comedy gold.
UHF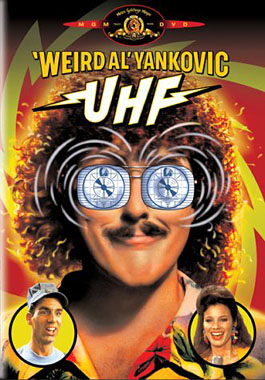 It's wacky, it's zany, It's TV according to "Weird Al" Yankovic. Watching this film, it is indeed safe to assume that "Weird Al" Yankovic comes from another planet, and he courteously invites us to make ourselves at home with UHF. Produced with his longtime collaborator Jay Levey, Al serves the same kind of parody to the world of television that he offers to his music spoofs. Though it could be apropos to dub this film "fans only" territory, it never stops newcomers from stepping into Al's warped imagination. God knows we've seen countless spoofs of Indiana Jones, Rambo, and Network, but Al is one of the few to take the spoofs to levels of sublime absurdity without a shred of worry about whether he's going too far.
Kung Fu Hustle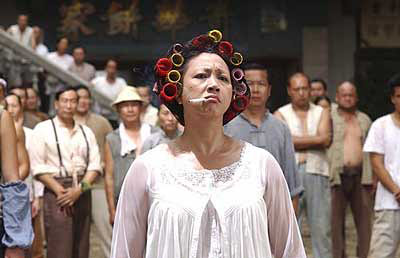 Director and actor Stephen Chow follows up his martial arts sports comedy Shaolin Soccer with another genre-bending delight that comes in the form of Kung Fu Hustle. Hustle is another rip-roaring martial arts comedy extravaganza like his previous film, but this one can best be described as "Bugs Bunny with a black belt." Spectacular fight choreography (arranged by Crouching Tiger's Yuen Wo-Ping) is paired with scenes of manic cartoon-style delights, with a sublime pop-culture sensibility. Only through the imagination of Stephen Chow are you going to see a grown man and a crotchety landlady engage in a Road Runner-style chase sequence which results in a character getting splattered onto a bill board. In spite of all this, Chow beautifully counterbalances the insanity with a fantastic cast of characters and a moving plot line about destiny.
Love and Death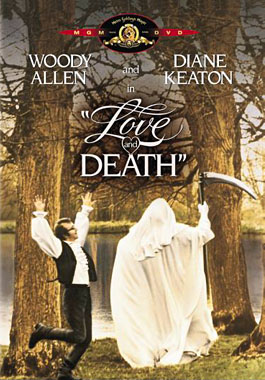 Previously, we honored Woody Allen's futuristic romp Sleeper. Now, we dig up his equally unhinged look at love in Russia during the Napoleonic Wars. This was yet another collaboration between Allen and Diane Keaton, proving once more that they were an infallible combination and, what's more, becoming a tour-de force of neurotic wit. Allen actually outdoes himself as a visual director with this film. The vistas are beautiful, and the battle scenes in the film are given Allen's comedic signature by including pratfalls that are immensely clever and very spontaneous. Then, there's the dialogue. I defy you to not want to keep quoting the "Fields of Wheat" scene over and over to yourself, thanks largely to the hysterical melodrama of the delivery between Allen and Keaton. Love and death are two things that happen spontaneously, and always unexpectedly, and Allen knows how to make both a hilarious affair.
High Spirits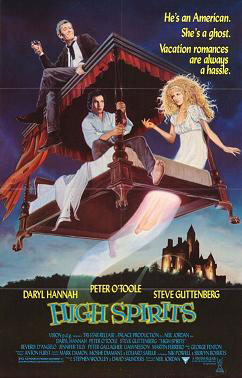 In a highly unorthodox change of pace, director Neil Jordan (The Crying Game, The Butcher Boy, and Interview With The Vampire) decided to show off his comedic side by putting his homeland of Ireland on full display in a macabre ensemble comedy about relationships from beyond the grave. The film begins with a farcical setup where a down-on-his-luck Irishman (the always-reliable Peter O'Toole) has turned his ancestral home into a hotel. In an attempt to get a slice of the tourism he decides to market his home as a haunted castle. What he doesn't realize is that the castle actually IS haunted. The first act of the film is total farce as the hotel employees go to hell and back in their attempt to make the stuck-up Americans believe the house is haunted. Soon, it transitions into something else. Jack, a hopeless romantic (Steve Guttenberg), is enamored with the castle, unlike his frigid wife (Beverly D'Angelo). He winds up finding himself allured by something else when he falls in love with the ghost of a woman (Daryl Hannah) who is condemned to relive the night of her murder every night at the hands of her husband (Liam Neeson in a scene-stealing performance). The love story is effectively developed and the obstacles in the course of the story add a level of intrigue. Yet, with all this, it never loses focus on the humor — particularly when all the ghosts come out to play.
The Jerk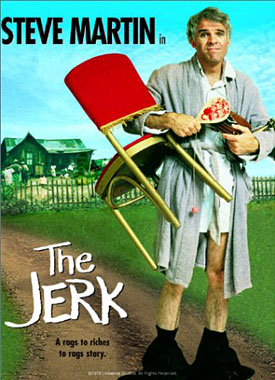 One of the quintessential classics of Steve Martin, The Jerk is a rags-to-riches (and back again) story taken to its most ridiculous extreme. It is indeed the ridiculousness that gives The Jerk its charm. It also allows the audience to embrace much of the controversial humor evident in the film. Watching a comedy like The Jerk, you do get the feeling that comedies today are tame in comparison. Nowadays, it's rare to ever see a comedy about a thirty-something white guy who was born a poor black child, laboring under the misapprehension that his ethnicity was temporary. The Jerk was an important comedic milestone in an era where many great comedic talents dared to provoke shock value to go with the hilarity. The comedy of The Jerk is also notable because of its delivery. It's never obnoxious. It never dangles the punchline in your face expecting you to take the bait. Instead, the delivery of the material is very naturalistic, making this film feel very much like the odyssey of a simple man with big dreams.
NEXT MONTH: Murder and mayhem are intermingled with movies and music.