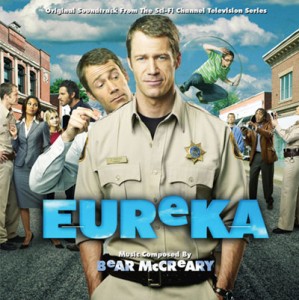 The soundtrack for the television show Eureka truly is a find.  It's a quirky compilation that would appeal to fans of the show, and to those like me who haven't seen it (but now mean to!).  Bear McCreary manages to bring in very different elements to make a fun, different, and very enjoyable soundtrack.  While this might not be the CD you put in the CD player to sing along to, for fans of the show it will be a reminder away from the TV screen of why they love the show.
One word to describe the soundtrack is "eclectic."  From the beautiful composition in "Allison's Theme" to the flamenco guitar in "The Mask of Fargo," it changes from track to track, but when you step back from it, it all seems to fit.  I've never seen the show but only became more interested to see how the jumbled bunches of music come together.  There's no chance of being lulled into complacency with this soundtrack. It's not one brooding theme after another.  It's an 8-bit percussion piece with a trombone and bass clarinet combination in "Everyone's Dumb."  But then, it's also a grumbling song, performed and written by Bear McCreary's brother Brendan McCreary.
While it's not a consistent score as it bounces from style to style, I feel it all works well together.  The different tracks are more like complementing colors of sound rather than a dissonant jumble of styles.  While most tracks can easily fade into the background, songs like "The Mask of Fargo" and "Let's Get Hitched" really stand on their own two feet.  Even for the music snob, there is bound to be a track to enjoy, whether they're a gamer, a bluegrass fan, or a fan of 80's rock.  There is definitely something for everyone.
The Eureka soundtrack is a very strong example of Bear McCreary's work as a composer.  Fans of the show will enjoy it and relive their favorite moments, and people who haven't seen it won't be alienated.  It doesn't have much for folks who want a stand alone album, as I imagine in context the songs are much more compelling.  If you are a fan of the show or a fan of Bear McCreary's work you will enjoy it and can pick it up from the La La Land Records website.  I would rate this soundtrack a solid 4 out of 5.