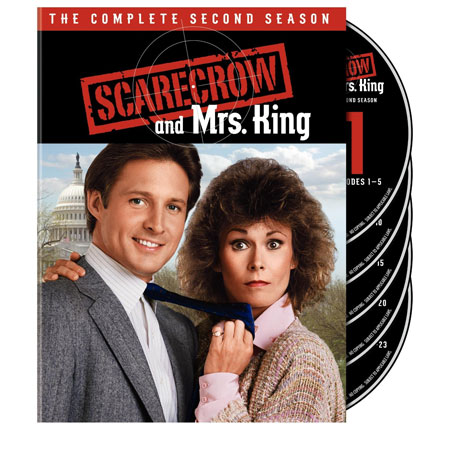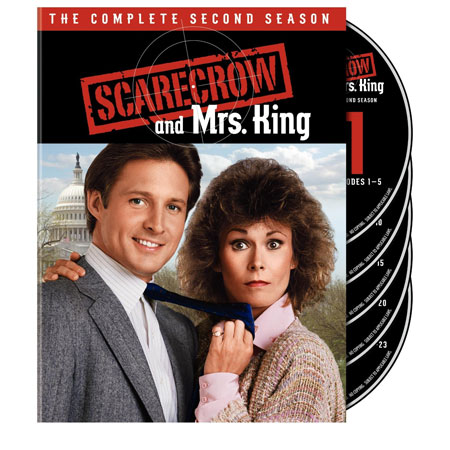 After he was Tron but before he commanded Babylon 5, Bruce Boxleitner was American secret agent Lee "Scarecrow" Stetson, paired with Kate Jackson as divorcee-turned-agent Amanda King. A second collection of their adventures releases today with The Scarecrow and Mrs. King: The Complete Second Season on DVD.
The setup for the series is a fairly bizarre one. Lee Stetson is an American spy codenamed "Scarecrow." In the midst of pursuit he happens across divorced housewife Amanda King and passes a parcel to her, telling her to deliver it to a man in a red hat. His instructions turn out to be just as obscure as it sounds, and she has no idea how to find the correct red hatted man. She ends up hanging onto the package and being drawn even farther into the world of espionage when Scarecrow shows up again to retrieve the parcel from her. Of course, Amanda proves naturally adept at thwarting criminal masterminds and finds herself in an impromptu and bizarre partnership with this mysterious new spy in her life.
As can be expected of any male / female partnership TV series, it's impossible for Lee and Amanda to be just close friends or partners, and much of the show revolves around their developing relationship and its inherent humor and tension. Season 2 sends the duo on a bunch of new perilous and unlikely covert missions, and they encounter everything from Lee's spy mentor (played by the always brilliant Jean Stapleton) to a slavery ring. This season even includes the requisite "pretend we're married" mission that is a staple of any series like this. Season 2 of The Scarecrow and Mrs. King ran for 23 episodes, from October 1984 through May 1985. All 23 are collected across 5 DVDs in this new set. The episodes include:
To Catch a Mongoose
The Times They Are a Changin'
Double Agent
The Legend of Das Geisterschloss
Charity Begins at Home
Brunettes Are In
Our Man in Tegernsee
Affair at Bromfield Hall
A Class Act
Playing Possum
The Three Faces of Emily
Ship of Spies
Spiderweb
A Little Sex, A Little Scandal
A Relative Situation
Life of the Party
Odds on a Dead Pigeon
Car Wars
DOA: Delirious on Arrival
You Only Die Twice
Burn Out
Murder Between Friends
Vigilante Mothers
As much as I jest about the inevitability of relationships in shows like this, it does work in The Scarecrow and Mrs. King, and the series performs a great balancing act between the humor, the romance, and the espionage. The show has a devoted fan following that has been waiting more than a year for the release of this second season after season 1 hit DVD in March 2010. They'll be glad to find out that all their favorite episodes look and sound great on DVD, and this is a collection worthy of a spot on their shelf.