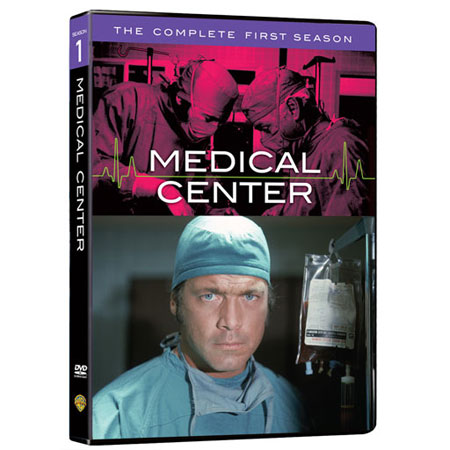 Long before House launched into his first medical investigation, there was Dr. Joe Gannon, the hero doctor of a California university hospital in CBS's Medical Center. The show debuted in 1969 and ran for seven seasons until its conclusion in 1976. The Warner Archive recently brought the first season to DVD as part of their Make-On-Demand lineup, and it's now available exclusively through WBShop.com.
Having been born in the late '70s, I missed Medical Center by a few years, but I do remember plenty of hospital dramas from my childhood in the '80s. Comparing those to more modern shows like ER provides some interesting production and writing contrasts, and then looking back at Medical Center adds societal and even production differences into the lineup. The world was a different place back in the late '60s and early '70s, and the nature of TV entertainment itself also stood in stark contrast to today's TV shows.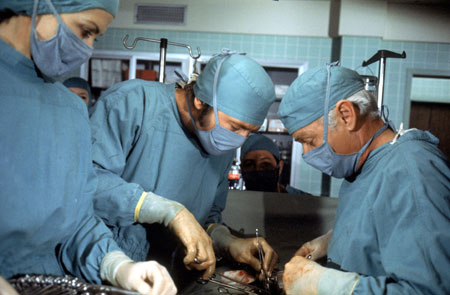 The first thing that is likely to strike new viewers who watch Medical Center for the first time in the 2010s will be the pacing. We are used to fairly brisk episodes these days, and there is a great deal of scene economy at work on most current series, allowing for a lot to happen in each episode. Dr. Joe Gannon's world moves at a more deliberate and steady pace, even though he deals with many of the same pressing issues and dramas that torment modern TV doctors. Where conflicts on modern shows might be addressed through a quick conversation followed by some action, similar situations on Medical Center will take an entire episode to reach resolution. This likely will be a deal breaker for less patient viewers, but it gives a fascinating look at how past audiences of TV dramas had far different expectations and demands of their shows than do current audiences.
Each of the 26 episodes in this first season collection tends to focus tightly on a particular issue at the hospital, whether it's a problematic diagnosis, an intriguing patient, or a disagreement among the staff. Regardless of what the problem is, Gannon (played by Chad Everett) is there to solve it. Impossibly perfect in pretty much every way, Gannon never fails to come through in a pinch, always figuring out exactly what to do in every situation. Backing him up is James Daly as the hospital's Chief of Staff, Dr. Paul Lochner. Although the clothes and hairstyles may look dated, Everett induced swoons in a generation of viewers who fell in love with his heartthrob of a surgeon. Guest stars passing through the hospital's debut season include William Shatner, Ed Asner, Martin Sheen, Tyne Daly, and others.
Even if Medical Center's writing and production are quite different from today's standards, the show makes an effort to tackle the very same sorts of societal issues we see on today's medical shows. The first season regularly brings up questions of ethics, as well as such hot button topics as abortion and STDs. It's not unusual to see these sorts of things addressed on current shows, but I can only imagine the sort of reception these topics got when this show originally aired.
The new DVD collection assembles all 26 episodes from the first season of Medical Center onto 6 DVDs. The episode have been remastered for this collection, resulting in new video and audio that look and sound great. You can find the first season set exclusively at the online WBShop.