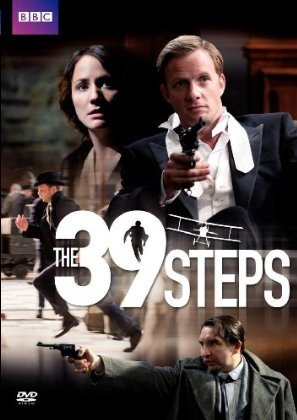 DVD: The 39 Steps (2008)
Release Date: March 2, 2010
The BBC adaptation of the classic thriller The 39 Steps was released on DVD March 2, 2010, and is, by my calculations, the fifth version of John Buchan's 1915 book.
Starring Rupert Penry-Jones (MI5, Persuasion), Lydia Leonard (Rome, The Line of Beauty), David Haig (Two Weeks Notice, My Boy Jack), Patrick Malahide (Brideshead Revisited, Sensitive Skin), and Eddie Marsan (Little Dorrit, Sherlock Holmes), this version was shot as a "modern-day mystery," so why it features period cars and clothes, while interesting to see, is quite beyond me. The incredible landscape of Scotland, vivid colors, and gentle acting performances give credence to director James Hawes's decision to follow Buchan's book more closely than any other film adaptation.
The story begins while the seeds for World War I are being sown. Richard Hannay (Penry-Jones) returns to London from Africa, when he encounters Scudder (Marsan), who's being hunted down by German agents, hiding in Hannay's apartment. Scudder confronts Hannay with a wild story about being a spy trying to get crucial secret information to the only man in the British government who can be trusted. German spies rush in and shoot Scudder dead, but not before he passes his encrypted notebook to Hannay, who manages to escape. Now he's a wanted murderer on the run from the cops. He jumps on a train to Scotland where Scudder had been headed to uncover a German espionage ring and save the country. Hannay hooks up with Victoria Sinclair, a feisty suffragette. These two must decipher the secret code in Scudder's notebook and bring the villains to justice.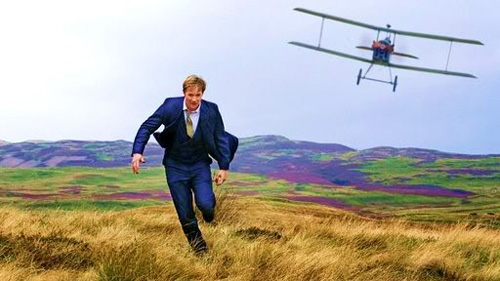 Maybe this DVD is truer to the book than any other adaptation, but I also viewed Alfred Hitchcock's 1935 black-and-white film version, which purportedly deviates considerably from the book. It's also much more entertaining as a Hitchcock thriller than any of the other versions and it's easy to see why Hitchcock is not only considered Britain's greatest director, but a director whose first U.S. movie, Rebecca, won Best Picture. He uses sinister shadows and comic relief to equally stimulating effect, and some pretty racy dialogue doesn't hurt either. Hitchcock actually used a helicopter in his 39 Steps, most unusual back in 1935.
Interestingly, the new DVD features a biplane chasing our running man (Hannay) in an uncanny replication of Hitchcock's own crop-duster scene in NXNW. Perhaps this is homage to Hitchcock.
You should get this DVD if you're a fan of The 39 Steps and are familiar with the other versions: Alfred Hitchcock (1935); Ralph Thomas (1959); Don Sharp (1978); and a theatrical adaption which ran from 2006 in London to 2010 on Broadway (garnering six Tony nominations and two wins), where it will open again March 25th. The theatrical version is based on Hitchcock's filmed interpretation.
Rating: 3.5 / 5 Stars