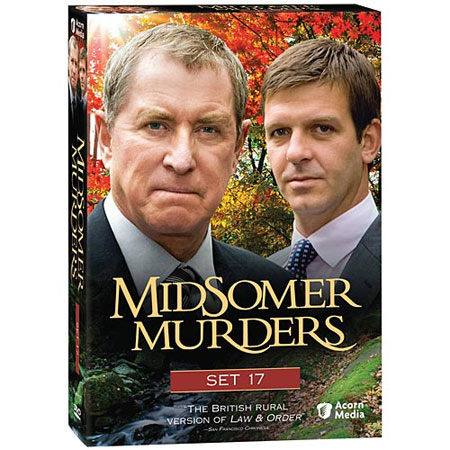 Midsomer Murders, the long-running TV adaptation of Caroline Graham's Chief Inspector Barnaby mystery novel series, wrapped its thirteenth series on British TV. Later this month a new collection of previous episodes will be released on DVD as Midsomer Murders Set 17.
Caroline Graham's book series began in 1988 with The Killings at Badger's Drift, which introduced Tom Barnaby to mystery readers and would end up at #80 on the Crime Writers Association's list of the top 100 crime novels of all time. In 1997 the book series inspired Midsomer Murders, a TV adaptation of the mysteries on ITV starring John Nettles as Barnaby. The first five episodes of the TV series were based on the first five novels, after which the TV writers began producing their own stories starring Graham's characters. The series is still running on TV now, having aired more than 80 feature length episodes and two Christmas specials.
The newest DVD set collects four mysteries that originally broadcast in 2009 as the first half of Midsomer Murders's twelfth series. The show follows Chief Inspector Barnaby as he investigates crimes in Midsomer, a fictional English county. Detective Sergeant Ben Jones (Jason Hughes) assists him in this series of stories. The four cases included in this collection feature intriguing murder and some guest stars that will be recognizable to fans of sci-fi:
The Dogleg Murders – This first mystery of the twelfth season has Barnaby investigating an exclusive golf club where a body has been found bludgeoned on the thirteenth green. As he digs into the workings of the club and its village, another body appears on the course, raising the stakes.
The Black Book – A local art auction turns bloody when the owner of a particular painting is brutally murdered just after selling the painting for £400,000. Barnaby investigates the artist after a second painting goes missing, and Susannah Harker (House of Cards, Chancer) guest stars as an art teacher.
Secrets and Spies – Peter Davison, Doctor Who's Fifth Doctor, guest stars as Nicky, the son of former spy Sir Malcolm Frazer (Benjamin Whitrow). Nicky, his wife Jenny (played by Alice Krige, Star Trek's Borg Queen), and his father run a safe house for secret agents in Midsomer. Barnaby arrives to investigate when a visiting agent dies mysteriously after a cricket match.
The Glitch – Barnaby goes to Midsomer University to investigate a hit and run in which a local scientist might have been the intended victim after he threatened to expose problems with his invention that could cause problems for an American businessman.
Each of these four episodes runs over an hour and a half in length, essentially providing four full movies in the box set. Each mystery comes on its own DVD, all encased in a slipcover that matches the rest of the sets released by Acorn Media. The bonus features on the discs include cast interviews and production notes for the episodes.
Midsomer Murders Set 17 releases on DVD on February 22, 2011, for a suggested price of $49.99.