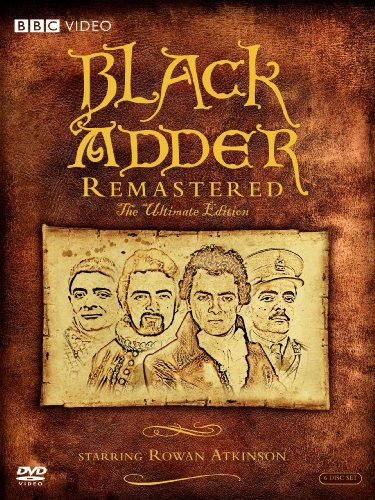 If you only know Rowan Atkinson as Mr. Bean, you're missing out on his portrayal of Edmund Blackadder, the bumbling and insufferable title character in the classic BBC sitcom Blackadder. This week the BBC has collected the entire Blackadder series, along with the specials and a bunch of extras, in a new and remastered DVD set that they were kind enough to send over to us.
The concept of Blackadder is a unique and surprisingly clever one for a comedy series. Edmund "the Black Adder" Blackadder (Rowan Atkinson) is the anti-hero of each of the four seasons (or series, since it's a Britcom), accompanied by his faithful gofer, Baldrick (Tony Robinson). Each series is set in a different monumental period of English history, however, so each incarnation of Blackadder is different, all descending from one family dynasty throughout the ages. The stories follow Blackadder through his bumbling schemes as he interacts with (and occasionally inadvertently kills) significant historical figures. Despite the madcap humor, if you're not careful you just might learn something about British history along the way.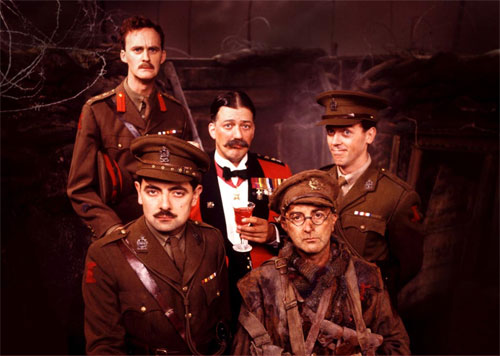 This Blackadder DVD set is, as advertised, the ultimate edition of the TV series. It's a six disc set that features each of the four series on the first four discs. The fifth disc, titled The Specials, spotlights some of the non-series adventures of the characters, including:
Blackadder's Christmas Carol is a 45 minute holiday special set mostly in Victorian England and centering around Ebenezer Blackadder in a reverse telling of Dicken's classic novel.
Blackadder: Back & Forth, beginning at the turn of the 21st century, is a story from 2000 about a modern Blackadder accidentally tumbling back through time.
Blackadder: The Cavalier Years is a 15 minute episode produced for Comic Relief and set during the English Civil War.
Baldrick's Diary is a video diary chronicling the making of Back & Forth.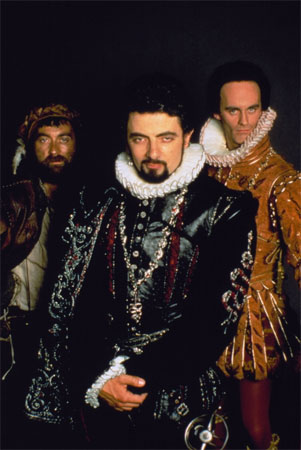 The sixth and final disc consists mostly of interviews, and the selection of interviewees is impressive, including Rowan Atkinson, Stephen Fry, Richard Curtis & Ben Elton, Tony Robinson, Miranda Richardson, Hilary Bevan Jones, Hugh Laurie, and Rik Mayall. On that final disc there's also a featurette called Costumes Revisited that has cast members returning to the BBC archives for a nostalgic look back at their props and outfits from throughout the TV series.
In addition to all the extras on the fifth and sixth discs, all four series of Blackadder are delivered with new digital restorations from the original master recordings at the BBC, and new commentaries have been added from Rowan Atkinson, Stephen Fry, Richard Curtis, Ben Elton, Tony Robinson, and Tim McInnery. Perhaps my favorite of the newly added features is a special section on each of the four series DVDs, as well as on the fifth Specials DVD, called Footnotes to History. Included in each Footnote area are brief audio documentaries about the various historical figures and events around which the episodes or specials on that disc are based. I wasn't kidding when I said you really might learn something from this set!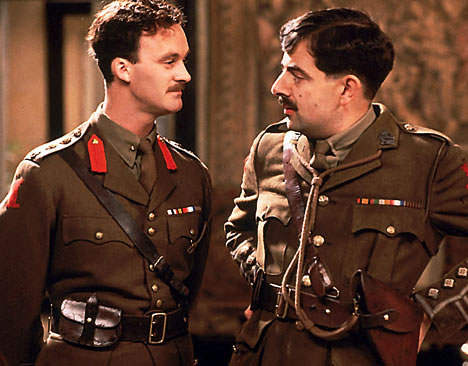 Whether you're new to Blackadder or a longtime fan, this ultimate edition DVD set has something fantastic to offer you. The remastered episodes look and sound great, and the interviews and footnotes make each of the historical periods more accessible for those not schooled in British history. It's hard to imagine anything that should be included in this set and isn't, and I have no hesitation in giving it a huge recommendation, especially at the current price point.
Pick up Blackadder Remastered: The Ultimate Edition at Amazon, and you'll be helping us out!
Rating: 5 / 5 Stars