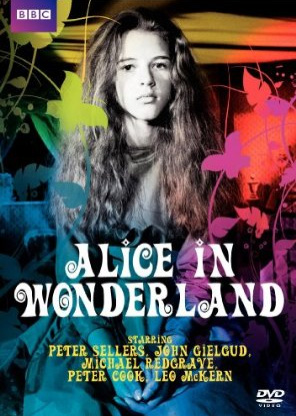 DVD: Alice in Wonderland (1966 BBC Television Play)
Release Date: March 2, 2010
At a time when Tim Burton's Alice in Wonderland is expected to gross $75 million from its opening Friday, March 7th through the first weekend, I spent time viewing the 1966 BBC version. Don't get me wrong, there's no way anyone could expect any competition with the dynamic duo of Burton and Depp. But this 44-year-old Alice in Wonderland (she doesn't look a day over 13) does feature British stars like Peter Sellers, Michael Redgrave, John Gielgud, Peter Cook, and Malcolm Muggeridge, with scene-stealer Leo McKern as The Duchess.
This production, directed by Jonathan Miller, is dark, surreal, and frequently haunting, possibly due as much to the oddly incongruous music of Ravi Shankar as to the black-and-white screen images. Alice doesn't smile and doesn't seem curious about anything — just critical, and even bored. Miller transitions scenes to make you feel as though you were walking through someone else's slippery nightmare. It's meant to be an artistic version of the Victorian classic book, though I felt it was more like Alice was a drugged up somnambulist.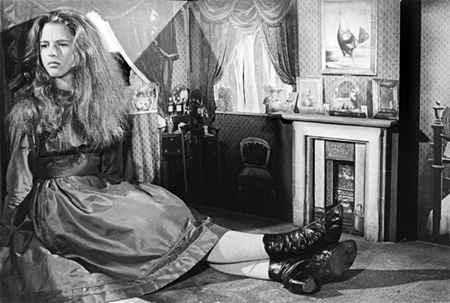 But wait, the extras are great! There's an 11-minute short of Alice in Wonderland that was filmed in 1903, and it's fascinating to see how this iconic book was translated to the screen 107 years ago.
Even better than that was the extra movie, Alice, the story of the real people: Charles Dodgson (1832-1898), who used the pseudonym Lewis G. Carroll for his books, and Alice Liddell (1852-1934), daughter of the Dean of Christ Church, Oxford, where Dodgson was a mathematician, logician, and photographer. At 6 feet tall, half deaf, and with a lifelong stammer, Dodgson formed an obsession for little Alice Liddell reminiscent to my mind of the feelings Humbert Humbert had for Lolita. Note: It has never been proven that Dodgson's strong feelings for Alice were anything but unrequited.
Dodgson had always entertained Alice and her sisters (8 and 13) with wonderful stories and, on a boat ride in 1862 when Alice was 10, he regaled the girls with stories of a girl named Alice who fell down a rabbit hole. A delighted Alice asked if he would write the stories down for her, and he finished the manuscript in a matter of months. When Dodgson asked a friend to read it and comment, the happy reaction of the friend's children strongly indicated it might be good enough for publication.
In 1863, the Liddell family broke with Dodgson, and we are left with only speculation as to the reason, since that page in Dodgson's diary has been cut out (possibly by his heirs).
Even though the 1966 Alice in Wonderland is somewhat of a downer, the DVD is well worth the cost ($11.99 at Amazon), just for the extras and the backstory of Lewis Carroll and Alice Liddell.
Rating: 4.5 / 5 Stars