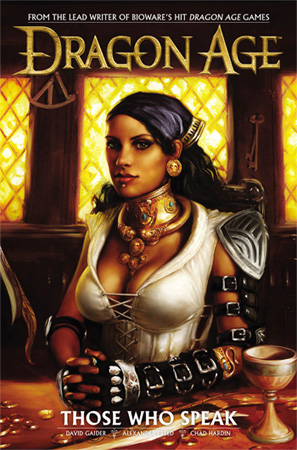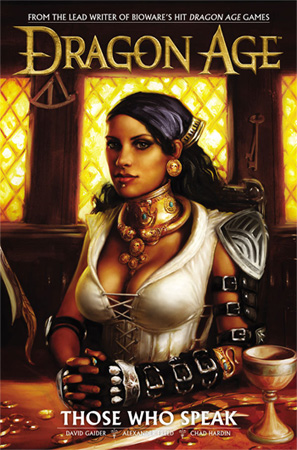 The issue picks up sometime after the first two Dragon Age games, as characters from both games are main characters here. The comic follows one ending where Alistair became king of Ferelden at the end of Dragon Age: Origins. With him are Varric and Isabela, both from Dragon Age II.
The three of them have come to Tevinter to look for Aurelian Titus, a very powerful mage who had something to do with the disappearance of Alistair's father, Maric. Alistair confronts Titus, but all hell breaks loose and the mage manages to get away from them. Alistair, Varric, and Isabela fight through Titus's minions, killing them one by one. However, they need one alive to find out where Titus has gone. The living minion talks and the trio set out to the Island of Seheron, where Titus has a house. On the way, the Qunari, who hold a grudge against Isabela, attack the ship and capture everyone on board.


Isabela is held away from the others and interrogated, during which we find out more about her past and how events in Dragon Age II came to be. Alistair and Varric, meanwhile, are relatively comfortable. They aren't being kept in cells like Isabela, but they are still prisoners, unable to find out anything about why they were captured. Finally, they manage to speak the Arishok and find out that Titus is in charge of a Dragon cult and he wishes to see the rise of the Old Gods once more, which would prove dangerous for everyone. This has something to do with Alistair, and even his father, but the Arishok will not give any more information. Isabela manages to escape and free Alistair and Varric. They split up so Isabela can rescue her crew and so Alistair can find Titus. In the end, the three join up with the Qunari to put an end to Titus.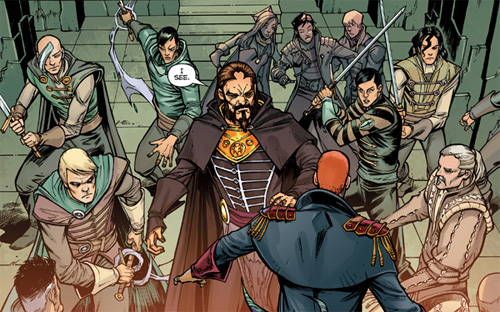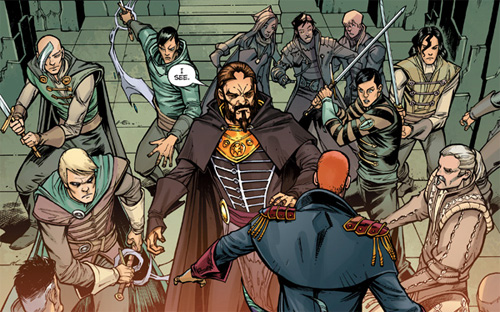 I enjoyed this comic very much. As a fan of the game series, I thought the backstory was interesting and I loved seeing all the characters interact. Things like this really build the world beyond what the game shows you, which is just great. The characters you already know and love still have their voices; they are just like they are in the games, which helps keep continuity. Like the games, the comic is pretty violent and definitely leans towards mature readers. If you enjoy the Dragon Age game series, then I think you will like this comic and I urge you to check it out.