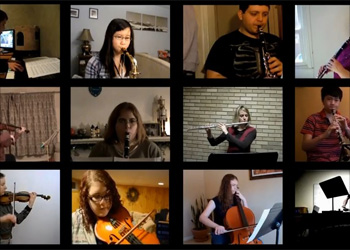 The Doctor Who Fan Orchestra is a group of musically inclined Doctor Who fans who have come together to celebrate the music of their favorite show by collaborating on recordings of some of the key themes composed by Murray Gold. Each fan records their part separately and submits it to coordinator Stephen Willis, who mixes them all into a cohesive performance. Their first piece featured 36 perfomers and their second, 78. The third, which just released yesterday, boasts an amazing 154 participants, ranging in age from 11 to 57, and hailing from 18 different countries. All three performances can be found below for your enjoyment.
DWFO #1: "I Am The Doctor"
DWFO #2: "This Is Gallifrey / Vale Decem"
DWFO #3: "Rose's Theme / Doomsday"
Their next collaborative piece will be "Dalek Suite" and they'll have details about how you can get involved in an upcoming promo video!