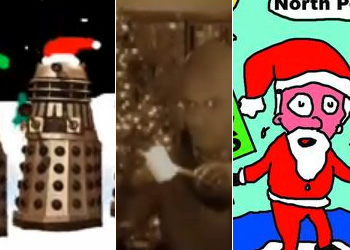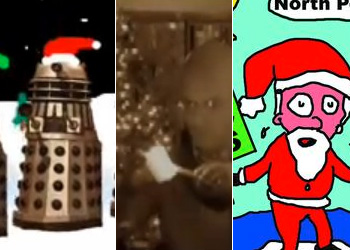 So, it's that time of year again. The time when the weather doesn't quite know what it wants to do. Will it be cold, will it be hot? Who knows? Oh, wait, you live up north? Oh, then I suppose it's snowing for you, huh? I definitely don't miss that, although I do have to admit that it doesn't quite feel like Christmas when the weather is in the 60s. I'm beginning to get used to it, though. And, of course, I always have music to help put me in the Christmas spirit.
1. "I Don't Believe in Christmas" by George Hrab
This one was released after I published last year's list or it would have been included. If you've ever wondered how atheists celebrate Christmas, check out this track. We may not believe in the "reason for the season," but we can certainly get behind the idea of being nicer to each other and spending time with family.
2. "Santa Claus Is a Vampire" by Dr. Noise
Well, that certainly explains why he keeps track of the naughty kids — he made a deal with Jesus that he would only drain their blood. Why didn't anyone notice before now?
3. "The Night Before Christmas" by Random
Random's Christmas album uses the music from the Charlie Brown Christmas special as the basis for the beats. This particular track uses "Skating" with a slightly modified version of "A Visit from St. Nicholas." Random should've listened to his instincts, but Steve Jobs saves the day!
4. "Christmas Wish" by ALL CAPS
For this year, all Luke wants is a perfect girl. Too bad she's going to disappear at midnight.
5. "I'm Gonna Spend My Christmas with a Dalek" by The Go-Gos
Um, no, not those Go-Gos… The title pretty much says it all. Oh, and a Dalek says "Merry Christmas" among other things. Yeah, this is pretty ridiculous (but awesome!).
6. "Mr. B's Christmas Song" by Mr. B
Adultery for Christmas? Well, if the old trouble and strife feels like her husband is a bore, she just might end up drinking sherry with someone else.
7. "Gimme Stuff for Christmas" by Rappy McRapperson
Rappy has the modern Christmas spirit. He just wants a whole lot of stuff for Christmas. Who doesn't?
8. "Batman Smells (A Rebuttal)" by John Anealio
The rest of the JLA doesn't think that Batman smells; it's just that some kids decide to ruin the song every year. Besides, if he did smell, you wouldn't be able to tell (presumably because you'd never get close enough to him to find out).
9. "A Christmas Carol" by Molly Lewis
It's Molly on her ukulele performing Tom Lehrer. What more do you need to know?
10.  "I'm Dreaming of a Green Christmas" by MC Lars
Santa's going green because Global Warming will destroy the world. Makes sense to me!
11.  "Christmas at Hogwarts" by Ginny and the Weasleys
I haven't really featured much Wrock (Wizard Rock — rock about Harry Potter) on any of my lists. I'm not really sure why that is, exactly, but here's one track to begin to rectify that.
12.  "White Wine in the Sun" by Tim Minchin
And rounding out our Christmas list is the rock 'n' roll nerd himself, Tim Minchin. I'm actually not quite sure why I didn't include this last year since it's such a beautiful song. I can particularly appreciate the sentiment since Florida, like Australia, isn't exactly the winter wonderland of the traditional Christmas song. (My wife thinks that the baby in this animated version of the song is too creepy to include on the list. I like it, though. What do you think?)
christmas
,
doctor who
,
dr. noise
,
George Hrab
,
harry potter
,
john anealio
,
Lists
,
MC Lars
,
molly lewis
,
Mr. B
,
music-
,
Tim Minchin