Deliverance debuted on Blu-ray in 2007, but now that the film's fortieth anniversary has rolled around it's getting a shiny new Blu-ray book treatment from Warner Bros. The new Blu-ray release of Deliverance hit stores on June 26 and makes canoeing seem every bit a bad idea as it was in 1972.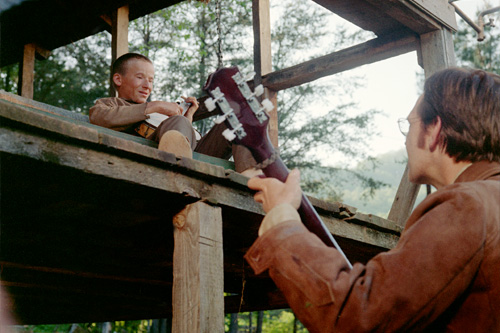 Originally based on James Dickey's 1970 novel, Deliverance is a dark and disturbing classic that embedded several memorable scenes into our popular consciousness. One such scene is the most innocuous "Dueling Banjos" rendition toward the beginning of the movie. Another is a deeply troubling encounter between Ned Beatty's character and some grotesque hillbillies. The film came early in the careers of a number of leading men, including Burt Reynolds, Jon Voight, and Ronny Cox, and its success would propel them into career defining roles. Deliverance also garnered several Oscar nominations, including nods for Best Picture, Directing, and Film Editing, alongside a number of Golden Globe and film critics' nominations.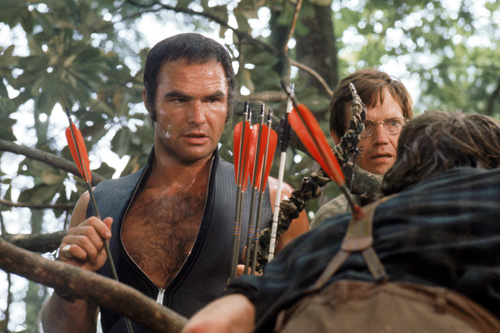 The movie introduces us to Ed (Voight), Lewis (Reynolds), Bobby (Beatty), and Drew (Cox), a group of businessmen and friends from Atlanta. They decide to canoe down and camp along the banks of the fictional Cahulawassee River in the Georgia mountains that is about to be flooded and destroyed when a dam is installed at the head of its valley. Normally city folks and urban weekenders, the four want to experience this slice of nature before it is demolished in the name of progress. Lewis is the most experienced outdoorsman of the group, and Ed has accompanied him on camping excursions. Bobby and Drew both lack experience and are new to this kind of outing. The four guys arrange to take two canoes down the river to Aintry, a small town that also will be wiped away by the impending damming.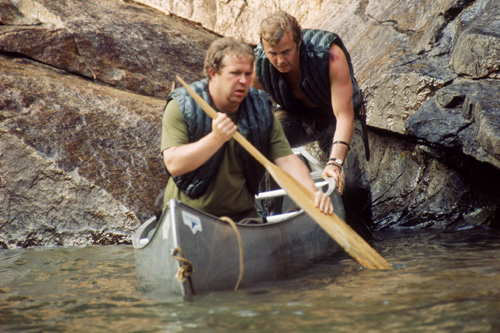 The trip begins well, albeit with some uncomfortable encounters with the local residents. There's some tension between the city boys and the hillbillies, despite an unforgettable banjo duet from Drew and a strange local kid named Lonnie. It's not long before the guys get their vessels into the water and row their way into the wilderness. The first day of the journey provides all the nature and outdoor basking the guys were hoping to find, but the second day is when their lives change forever. The group becomes separated in the river, and Bobby and Ed decide to temporarily beach their canoe while they figure out where they are. Shortly after reaching the river bank they encounter two potential moonshiners, and everything goes horribly wrong. The remainder of the movie is a tense and dreadful thriller that is made more intense and believable by the deliberate and slow pacing of the story and direction. This sort of moviemaking fell out of fashion in favor of quick-cut action sequences, but Deliverance reminds us of just how effective and personal the slow and wide shots can be.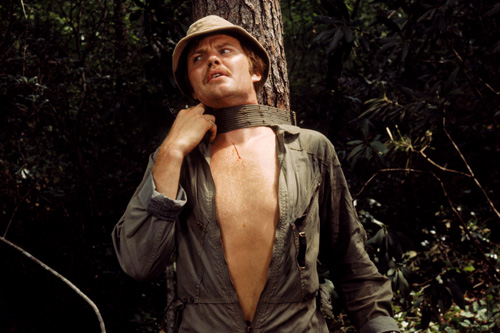 The new fortieth anniversary edition Blu-ray comes in special Blu-ray book packaging like many special edition releases have featured over the last few years. The cover flap features a 44 page book full of photos and notes about the film and its production. There's also a hefty helping of on-disc content that will be sure to satisfy fans of the movie:
Deliverance: The Cast Remembers – A retrospective featurette featuring all four of the main actors from Deliverance. It's an excellent piece full of discussion and recollections that runs around a half hour long. This is the only new feature that was not included on the previous Deliverance Blu-ray, but it's a great addition that is included in HD.
Audio Commentary with John Boorman (director)
Four-Part Retrospective – An hour long SD feature in four parts that explores the origins of the film as a book up through its adaptation, production, and release. This segment was included on the original Blu-ray and is a welcome return for the anniversary edition.
Vintage Featurette: The Dangerous World of Deliverance – A ten minute behind the scenes feature.
Theatrical Trailer
Deliverance never has been an easy movie to watch, and it likely has become even more brutal and difficult over time. As movies have become glossier and less personal, the '70s-era classic Deliverance still manages to evoke dread. Longtime fans will want to add this gorgeously mastered version of the film to their libraries, even if only to get the newly shot cast retrospective. New fans can check it out for their first viewing in HD, but they should be prepared for a distressing and feel-bad classic. In the words of Burt Reynolds' Lewis, "You don't beat it. You never beat the river."