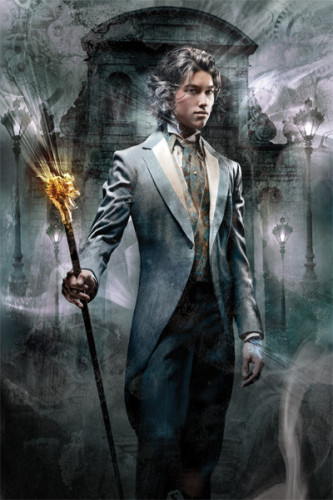 I like the way Cassandra Clare writes. She is always very detailed and did create Magnus Bane — I mean, many wonderful characters. The Mortal Instruments is a popular series nowadays. However, I will admit I loved her Infernal Devices trilogy the best. To me, it was so much better than TMI. I actually teared up a little at the end of the books. I also developed an unexpected crush on one the main characters. I say unexpected because I don't usually go for his type at all. This week, I give you Jem Carstairs.
Stats:
Full Name: James Carstairs (Chinese Name: Ke Jian Ming)
Age: 17 (At the beginning of the series)
Occupation: Shadowhunter, Silent Brother
Who is He?
Jem is part of the main character triad in the Infernal Devices series. He is on the cover of second novel, Clockwork Prince. He is the parabatai, warrior brother, of Will Herondale. He was born into a family of Shadowhunters in China, where he grew up until his parents were killed by demons. He is very close to Will and the leading lady of the books, Tessa Gray. He later becomes Brother Zachariah for 133 years until he regains mortality.
Fun Facts:
Jem's hair and eyes were originally black. They turned silver due to the demon blood he takes to stave off dying.
Jem is very good at playing the violin.
Jem gave Tessa a jade pendant instead of an engagement ring.
Jem rescues and names the cat known as Church.
Tessa convinces Jem's uncle Elias to marry someone and carry on the Carstairs name.
Why So Crushworthy?
"Whatever you are physically, male or female, strong or weak, ill or healthy — all those things matter less than what your heart contains. If you have the soul of a warrior, you are a warrior. Whatever the color, the shape, the design of the shade that conceals it, the flame inside the lamp remains the same. You are that flame. That's what I believe." -Jem Carstairs, Clockwork Princess
Gundam Wing was a big anime favorite of mine. I was a Heero Yuy fan all the way. My best friend's pick was Quatre Winner. Quatre was the sweet, violin playing, love and peace gundam pilot on the show. Jem reminds me so much of Quatre. Will is usually more my style for book characters, yet Jem captured my heart, violin and all. Jem is beyond a good guy. There isn't anything he wouldn't do for Will and Tessa. He's determined to fight the dark forces of evil though his body was failing him just a little everyday. He's the nice guy in this story. While Will is living like a daredevil, Jem tries to keep him back from the edge. The bromance these two have makes the whole book. Yes, there's all that lovey dovey stuff with Tessa, but the feels are with Will and Jem. They are best friends and blood brothers. This bond gives Jem a reason to keep staying alive each day. He knows Will needed him. Jem is the outward manifestation of everything good in Will, the heart of the two. Jem has tremendous inner strength. He does his best to keep up with Will when they slay demons. He always shows so much spirit in the books. Jem is mostly calm and kind throughout the books. He has his moments where he turns into a tiger (not literally). He has his bursts of passion that really raised my esteem of him. It shows that he has fire in him. I had first likened him to a still pond in the forest. Nope, not true of Jem at all.
I was on edge when I was getting closer and closer to end of Clockwork Angel. I wanted things to turn out well for Jem. He went through so much and deserved a happy ending. No spoilers, I promise. Let's just say I needed a hug after the end and it wasn't because I was sad. Actually, I really wanted to step into the story and give Jem one. Jem proved to me that not all of my fictional crushes had to be snarky badasses. They could be a silver haired, violin playing shadowhunter. Thinking of Jem now makes me want to read the book series again.