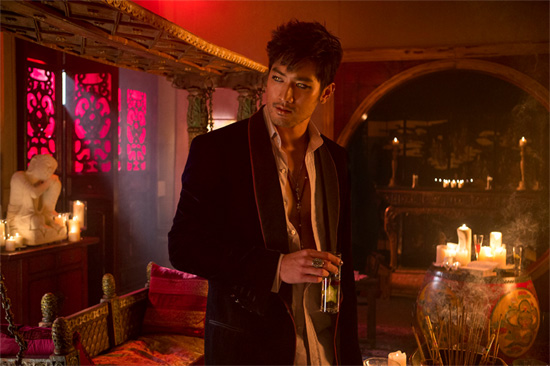 The idea for this series popped into my head after seeing the awesome Fangirl's Guides. There are so many fictional characters that are drool-worthy. My first fictional crush was Chiba Mamoru, a.k.a. Tuxedo Mask, from Sailor Moon. My teenage self was enthralled. He was just so cool with his cape and roses. Growing up, I've had several fictional crushes since then, so in order to highlight crushes from all forms of media I decided to start this series. I hope you enjoy the eye candy and will check out whatever series they are from. Oh, and beware of fainting fits.
Full Name: Magnus Bane
Age: Around 800 years old
Job: High Warlock of Brooklyn
Website for Fans: TMI Source
Who is He?
Magnus Bane is the shining character in Cassandra Clare's The Mortal Instruments series. He was also present in the prequel series, The Infernal Devices. His character is so popular in the series that Cassandra Clare began writing a monthly serial called The Bane Chronicles. Magnus is the dazzling warlock that helps out the Shadowhunters in the series. He will be portrayed by Godfrey Gao in the Mortal Instruments movie coming out this August.
Fun Facts:
He first met the other characters of Mortal Instruments while hosting a birthday party for his cat.
Warlocks are children of humans and demons. The co-mingling of species leads to the child bearing a warlock mark. In Magnus's case, it is a pair of vertically slit eyes, the color of a cat's.
Magnus steals tea and coffee magically from a shop near his apartment.
Magnus is pansexual.
Magnus is banned from ever entering Peru again… for many reasons.
Why So Popular?
"I was alive when the Dead Sea was just a lake that was feeling a little poorly." -Magnus Bane, City of Ashes
Magnus Bane is like a rainbow in a gloomy world. The Mortal Instruments series is not exactly a happy story. Magnus provides the smiles you need to get through the novel. His penchant for glitter and scarves is a contrast to the black worn by Shadowhunters. He makes sure you notice him. If you are a fan of Captain Jack Harkness from Torchwood and Doctor Who fame, you will love Magnus. Magnus has a feline-like personality to match his cat eyes. He likes being admired and showered with attention, until he doesn't. He is handsome in an artsy, "don't bring home to your mother" way. His popularity is also attached to his relationship with Alec Lightwood, a Shadowhunter. People are crazy about shipping these two. I think their relationship is more popular than that of the main couple's. Tumblr is littered with pages dedicated to "Malec".
Why Do I Love Him?
I usually go for the stoic, butt kicking characters in just about any form of media. Magnus was a change from that pattern. I was endeared to Magnus purely for his awesome personality. Okay, I do like looking at beautiful Asian men. Magnus's charisma could be turned into an energy that could power the world. He meets every disaster with humor and dresses beautifully for the occasion. The Mortal Instruments can get pretty serious. Magnus makes me laugh. He can also kick serious butt when he wants to. He has rescued the Shadowhunters many times with his powers. Magnus never discriminates and pretty much flirts with anything that moves. He is very romantic. This is very refreshing in comparison with the often straight-laced Shadowhunters. I also love a man who adores his cat.