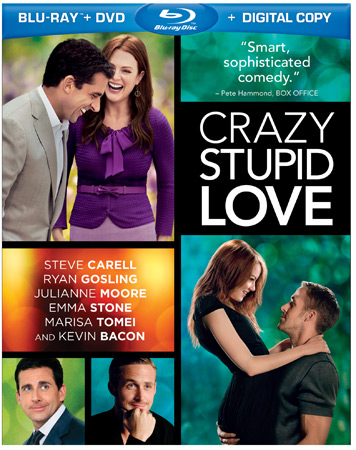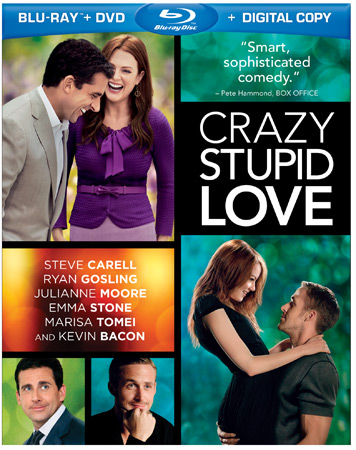 On the surface, Crazy, Stupid, Love looks like it would be a drop in the bottomless lake of cookie cutter romantic comedies. It has a quirky and / or pithy title, it collects several popular actors and puts them into silly relationships and situations, and it blatantly tries to straddle the gap between saccharine sweetness and downright dirtiness. It seems like it's just one Heigl short of dropping headfirst into the irredeemable depths of vapidity. And yet, it really isn't any of those things, and it succeeds in winning over even a jaded rom-com-phobe who never would have expected to like it like me.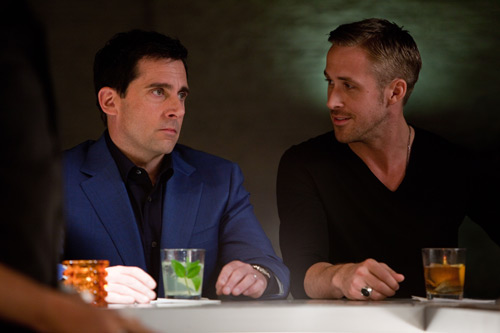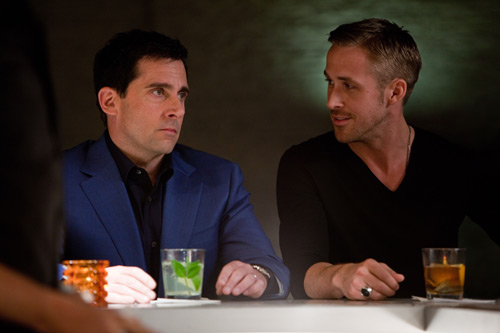 Much of the movie's success is thanks to the outstanding cast. The Office's loss is Hollywood's gain, as Steve Carrell sunk his longtime NBC ship to jump over to sturdier vessels like this one. Here he plays Cal Weaver, a middle aged husband and father married to his high school sweetheart Emily (Julianne Moore). In the opening scene, they are sharing a romantic dinner at a fancy restaurant when she drops a bombshell: She's been having an affair with her coworker David Lindhagen (Kevin Bacon), and she wants a divorce. Cal's world spins off its axis as he tries to accommodate her while figuring out what he's going to do with himself.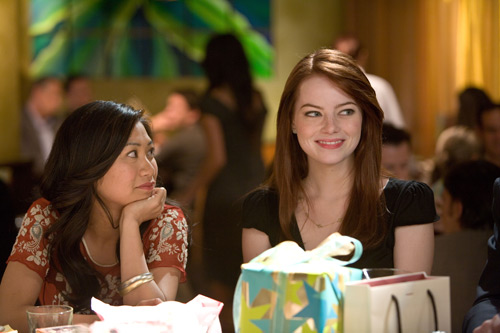 It's not long before Cal finds himself propping up the local bar each night, having been abandoned by his family and their shared friends. That's where he crosses paths with ultra ladies' man Jacob Palmer (Ryan Gosling). Jacob cruises the bar scene each night to pick up new conquests, and he's rarely turned down for a trip back to Casa de Palmer. The only woman who has declined his advances is Hannah (Emma Stone), a rookie lawyer who is dating her goofy potential boss, Richard (Josh Groban). Jacob takes pity on Cal and sets out to redesign his image and life so that Cal can "reclaim his manhood."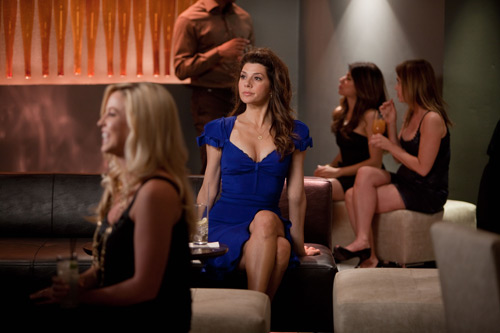 Cal's life takes a bizarre turn at that point as he works under Jacob's questionable but effective tutelage to up his womanizing factor. Even as he pursues woman after woman (including Marisa Tomei as an especially unusual schoolteacher), Cal pines for his lost love and tries to figure out where things went wrong with Emily.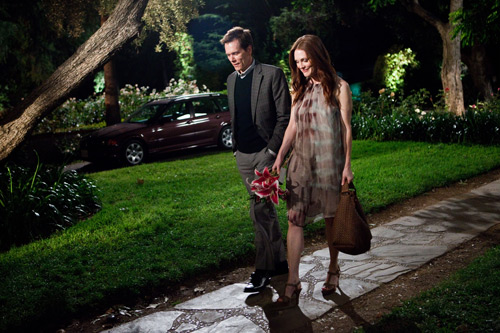 While romantic comedies tend to telegraph every plot turn and rarely present anything unpredictable, Crazy, Stupid, Love actually manages to pack in a few twists to keep things interesting. The jokes land well, and Cal is pathetic enough in his quest to be an endearing, if accidentally sleazy, hero. His desire to get back with his wife is the only place where the movie doesn't work, and that's a shame since it's so central to the plot. The first time we see Emily Weaver, she's ending her marriage pretty brutally, and we haven't been given the chance to see anything positive about her. All her good points are narrated to us later through Cal's unabashedly biased view of her. Without a positive frame of reference for her character, Emily comes across rather negatively through most of the movie, and there's just not much to make the audience sympathetic with Cal's wanting to patch things up with her. That quibble aside, Crazy, Stupid, Love is a fun movie with some clever writing and a lot of great talent involved.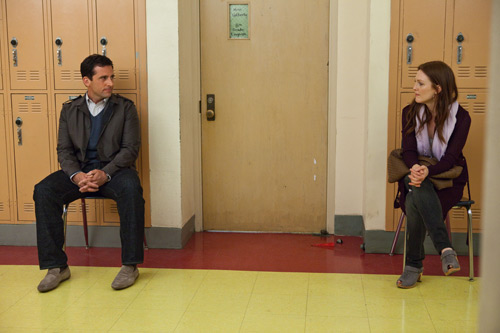 Crazy, Stupid, Love released on November 1 with a Blu-ray combo pack from Warner Bros. As with all the combo packs like this one, the movie comes with both DVD and Blu-ray editions, as well as a code for getting a downloadable digital version of the film in standard definition. The DVD includes the movie, as well as a collection of deleted scenes. Those deleted scenes also are on the Blu-ray, alongside a couple of brief featurettes. The first is The Player Meets His Match, a behind the scenes bit with Ryan Gosling and Emma Stone that runs around 6 minutes in length. The second, Steve and Ryan Walk into a Bar, is just that: Steve Carrell and Ryan Gosling sit at a bar and discuss making the movie for about 7 minutes. Neither feature is essential viewing, but they could be fun supplements for fans of the movie or the actors.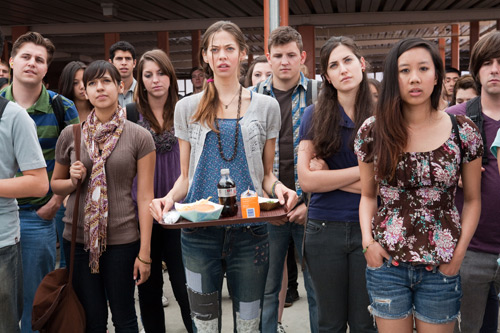 As someone who usually is adamantly opposed to and unaffected by romantic comedies, I found quite a bit to like about Crazy, Stupid, Love. Less by-the-numbers than its compatriots, the film blatantly pokes fun at the tropes of the genre without losing sight of its story and without tumbling into any of the pitfalls that make me cringe. It walks a fine line and ends up being a sincere and enjoyable movie about a relatable guy dealing with the destruction of his relationship and the disassembly of his life. It stands tall in the comedy genre and is worth checking out, even if you typically avoid movies like this one.