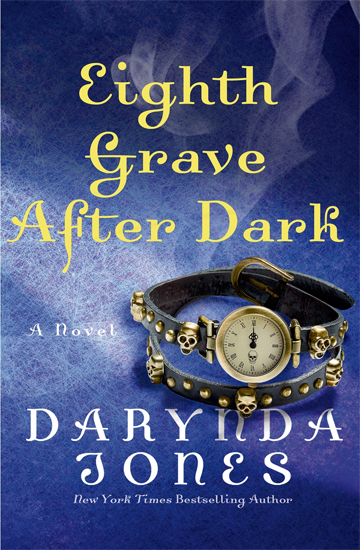 Charley sees dead people. That's right, she sees dead people. And it's her job to convince them to "go into the light." But when these very dead people have died under less than ideal circumstances (i.e., murder), sometimes they want Charley to bring the bad guys to justice. Complicating matters are the intensely hot dreams she's been having about an Entity who has been following her all her life…and it turns out he might not be dead after all. In fact, he might be something else entirely.
Eighth Grave After Dark, the eighth book in the ongoing Charley Davidson series by Darynda Jones, is in stores now, and we're celebrating its release with a new giveaway! This week you can grab a full set of the entire Charley Davidson seires, along with a $25 Visa gift card. One lucky winner will bring home this great prize pack, and it could be you if you enter between now and midnight Eastern time on the night of Monday, June 15, 2015.
You can find out more about Darynda Jones and the Charley Davidson series by checking out any of these official links:
Check out the form below to see all the ways you can enter. Good luck!