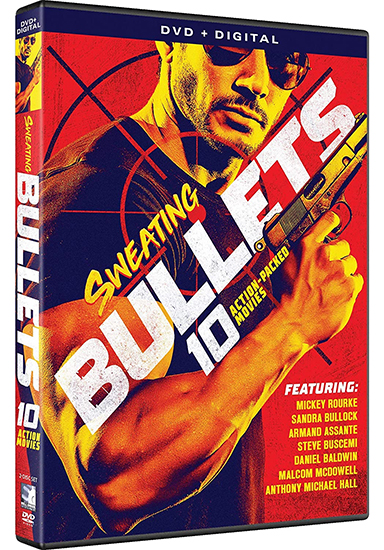 Prepare to set your adrenaline to overdrive! The high-octane SWEATING BULLETS collection is stacked with the stars you love (Bullock, Buscemi, Baldwin, Rourke) for a maximum assault on your senses. The collection includes:
Across the Line – 2000 – A small town sheriff falls in love with a Latina illegal immigrant who witnessed a murder on the Texas border.
Fatal Combat – 1995 – Master martial artist John Stoneman is kidnapped by Houston Armstrong, a psychotic billionaire who runs a bizarre fighting ring, where combatants must either win or die.
Inner Action – 1997 – John Ryan ends his life of crime to become a detective and repay society for his past misdeeds. He is hired by a mysterious woman to protect her from her possessive ex-husband, who is not only a powerful crime boss, but also John's ex-friend Vincent.
Fugitive Rage – 1996 – After a botched attempt to avenge her sister's death, Patricia Ray is locked up for attempted murder of a notorious drug lord. In prison, federal agents offer her a deal that turn her from convict to assassin…until they betray her trust.
Maximum Revenge – 1997 – Terrorists infiltrate Innsmouth, a new maximum security prison, and inmate Mace Richter is the only one who can foil their plans before they detonate a nuclear bomb inside of the prison. Richter is a former CIA operative who was unjustly sentenced for the wrongful death of a terrorist that helped hijack a plane.
Me and the Mob – 1994 – A struggling writer takes a job for his mobster uncle in order to obtain first-hand material for a book on conspiracy plots and the JFK assassination.
The Night Never Sleeps – 2012 – A detective and his partners hunt down the murderers of one of their task force leading them to a drug dealer and his psychopathic killer. But the cop begins to realize the killer may be getting help from inside the police department.
Rapid Assault – 1997 – In a hijacked seabase thousands of feet below the ocean's surface, freelance terrorist Lars Rynark threatens to release a dangerous biotoxin that will destroy the entire undersea ecosystem.
Shades – 1999 – In this film within a film, a Belgian serial killer escapes prison and finds that a filmmaker is making a movie about his life.
Yesterday's Target – 1996 – Telekinetic Paul Harper is stuck thirty years in the past, with little memory or control over his abilities. He runs from a group of agents that's trying to kill him, while locating and helping others that are in similar predicaments.
Sweating Bullets: 10 Action Packed Movies is available now, and we have one copy of the DVD to give away to a lucky winner! You have from now through midnight Eastern time on the night of Monday, June 22, 2020, to get your entries in. Take a look at the form below to see all the ways you can enter.
Good luck!
Legal Stuff: This giveaway is not sponsored, endorsed, administered by, or associated with Facebook. When you enter our giveaways, Fandomania is the only organization that receives your information. We do not share any of your information with our sponsors or any other companies.