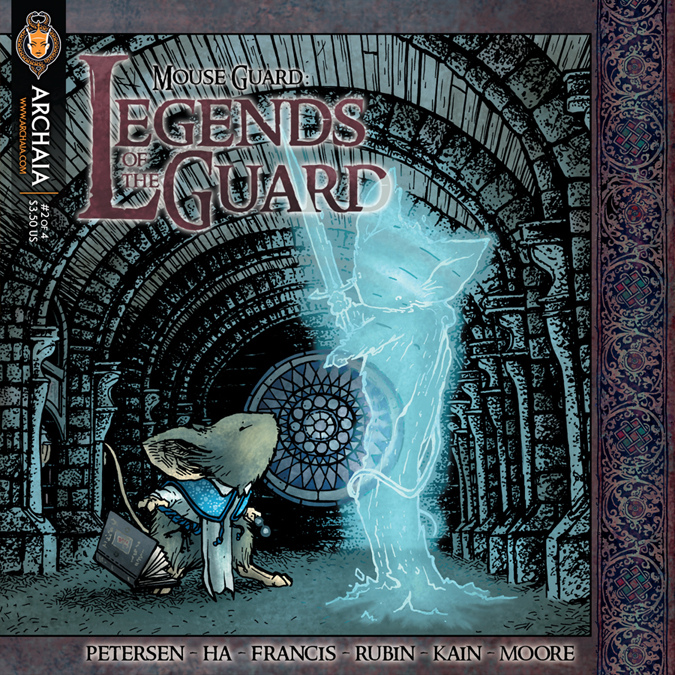 Issue: Mouse Guard: Legends of the Guard #2
Release Date: June 23, 2010
Additional Pages: David Petersen
Publisher: Archaia Comics
Issue #2 of the promising Mouse Guard: Legend of the Guard miniseries is out: a compilation of short stories written and drawn not only by creator David Petersen but also various special guest contributors. This time around, it's art and stories by Sean Rubin, Alex Kain, Terry Moore, Gene Ha, and Lowell Francis.
The second installment of Legend of the Guard continues the exposition provided in the first issue: various mice are gathered in a local tavern trying to win a contest to clear their bar tab by telling the best story — a noble cause if I've ever heard one. To give you an idea of how the comic read — imagine if Brian Jacques's Redwall somehow mated with The Canterbury Tales. Legend of the Guard mixes elements of both into a wonderfully entertaining, beautifully drawn love child.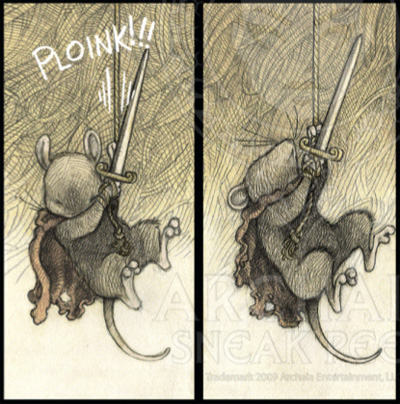 Story 1: "Potential"
Art: Sean Rubin
Story: Alex Kain
The first story, "Potential," features art by Sean Rubin (who's an artist for Redwall.org) and story by Alex Kain. The story focuses on what it takes for a mouse to be a member of the Mouse Guard, and how important even the smallest of communities is to their society's entire survival. It's not an overly word-y tale, choosing to focus more on powerful images and action scenes than lengthy paragraphs to describe the story. It's quite effective, and makes for a very nice introduction piece which will get readers excited about the issue. Some of Rubin's artwork is simply stunning, and it reminds me of something I might see on the cover of a Victorian almanac or illustration book.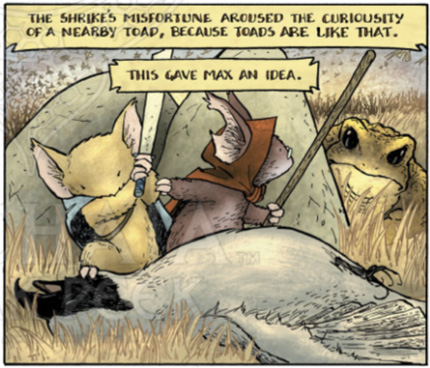 Story 2: "The Shrike and the Toad"
Art & Story: Terry Moore
The second story, "The Shrike and the Toad," features art and story by Terry Moore, who's probably more recognized as the creator of the comic Strangers in Paradise. This light-hearted tale describes how two Guards, Sasha and Max, were able to fight off a flock of birds while traveling through a field, and how they came up with a clever plan to cross it in record time with the help of one unfortunate toad. Moore's story telling is done in a very charming manner with a good blend of action and humor. The art is bright, colorful, and clean — a great contrast from Rubin and Kain's previous tale. While being the shortest of the stories, I must say I enjoyed this one the most.

Story 3: "Worley & the Mink"
Art: Gene Ha
Story: Lowell Francis
The last story, "Worley & the Mink," features art by Gene Ha (who's done cover art for both Marvel and DC alike) and story by Lowell Francis (who's apparently done more stuff than I have time to research, along with writing for Fantasy Magazine, among other things.) The longest of the three tales, "Worley & the Mink" tells of an unlikely hero by the name of Worley whose profession as a stubborn, but honest, banker hides a more brave and adventurous soul. When mice from another town run off with Worley's loaned goods without repayment, Worley uses an unexpected turn of events, along with his wits and clever tactics, to turn the tables on the thieves. Gene Ha's style of art fits very well with the Mouse Guard world and his depiction of the stereotypical "paunchy banker" Worley I found to be very enchanting. Lowell Francis's story is by far the most detailed and involved of the three. It's like the cherry on top of the sundae, or in this case, the cheese on top of the lab-block.

Overall, Mouse Guard: Legend of the Guard is a great addition to the Mouse Guard series… so far. It adds a certain amount of depth to the original Mouse Guard stories but doesn't add so much back-story and additional plot arcs readers will feel lost and uninterested if they're not regular buyers. While the comics themselves are relatively short reads (running about 28 pages total) the art is beautiful and the premise is a refreshing change from the overabundance of superhero titles which litter comic stores shelves these days. Admittedly, this comic isn't for everyone. I'd say if you're more into gore, super powers, and women with physics-defying physiques, you'll probably find this book a little on the bland side. However, if you're a fantasy fan who enjoys tales of friendship, loyalty, and adventure, give this one a try. Don't let the fact that its protagonists are cute li'l furry mice deter you from what really is a beautifully executed comic.
Rating: 4.5 / 5 Stars