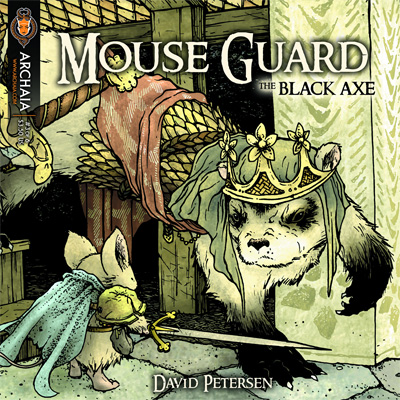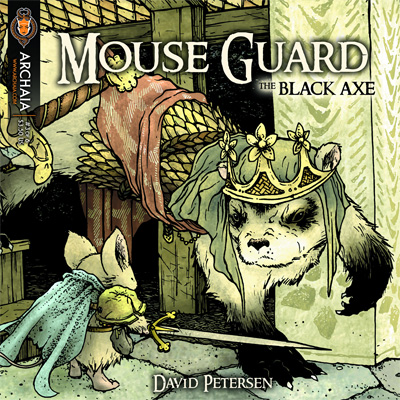 Issue: Mouse Guard: The Black Axe #3
Release Date: November 30, 2011
Written and Illustrated by: David Petersen
Publisher: Archaia Comics
Following the end of Issue #2, Celanawe and Em awaken on a beach after a storm smashed their ship to pieces. While searching for Conrad, Em discovers the remains of her brother, which leads them up a hill to a large, seemingly empty hall. Turns out the place isn't so empty as they thought and is the home of a weasel king.
Some posturing between Celanawe and King Luthebon eventually gives way and the king begins to tell them of a mouse whose legend grew over the king's land until he showed himself during the weasels' feast. Luthebon then defeated the mouse and swallowed him whole, keeping the Black Axe for himself. He refuses to give it to Celanawe, who attempts to offer his services to Luthebon only to be refused.
No sooner does the king refuse the mouse than other weasels burst in bearing Luthebon's dead son. Seems a fox who hides in a briar maze on the island is no longer content to remain there, and now Celanawe has his chance. Offering his services again to Luthebon, the king grudgingly accepts, permitting Celanawe to use the Black Axe in exchange for Em remaining behind as collateral. Celanawe then marches into the twisted blackness of the briars to find the fox and fulfill his promise.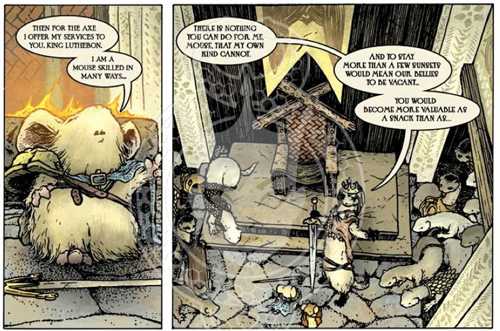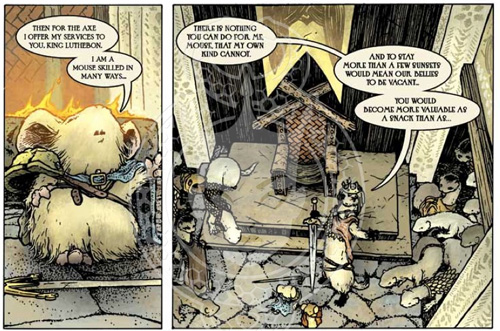 Despite Archaia being plagued with delays, David Petersen once again shows that his work is worth the wait. This miniseries continues to read like a great quest of Celanawe not only for the legendary Black Axe, but also of himself. As the story develops, becomes clearer that this is not just a tale of Celanawe finding the Black Axe, but of him becoming worthy to wield it.
As with his storytelling, Petersen's art continues to display an attention to detail that makes this book a consistent best-seller. Whether it's the fur on Luthebon's face or the straw on the floor his hall, Petersen is meticulous in crafting locations and characters so lifelike that you expect them to come alive on the pages.
I can't wait to read the next chapter of Celanawe's tale, and I hope that the publisher won't make us wait so long for Issue #4.
Rating: 4.5 / 5 Stars