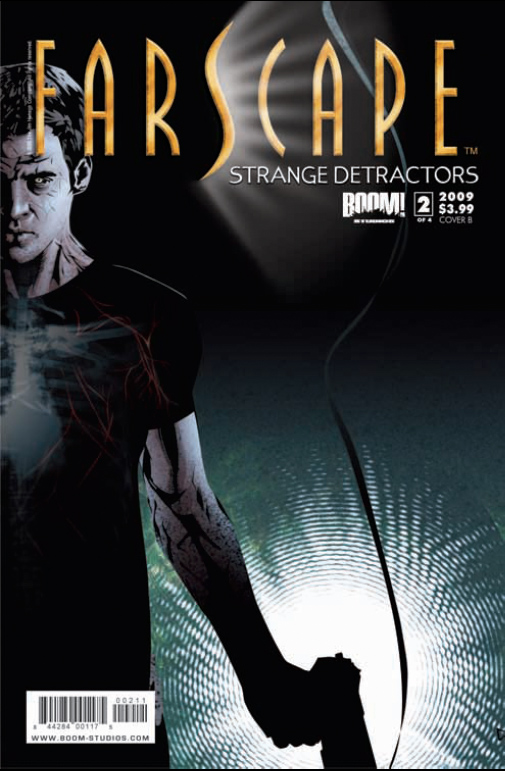 REVIEW: FARSCAPE: STRANGE DETRACTOS, PART 2: ONE BIG HAPPY FAMILY
Release Date: 6 May 2009
Writers:  Rockne S. O'Bannon, Keith R.A. Decandido
Artist:  Will Sliney
Covers:  Joe Corrong, Dennis Calero
Colours:  Zac Atkinson
Letterer:  Ed Dukehire
Publisher: BOOM! Studios
It's friend vs. friend as the strange wave of violence that took over the commerce planet from issue 1 starts to spread through the crew of Moya in this continuation of the Farscape series.  Will John figure out what's going on with his friends before they end up killing each other?  Happening sometime after the events of the Peacekeeper Wars, I think this miniseries also ties in with BOOM!'s four issue series simply titled Farscape. Despite being a huge fan of the television show, I think reading that previous run would have helped me figure out what was going on here.  Or I just totally forgot what happened at the end of the TV show.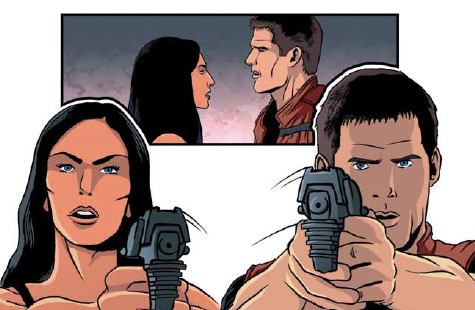 So, we pick up right where we left off with issue 1 – everyone's back on Moya after narrowly escaping the commerce planet (where everyone just started throwing down with each other).  There's a little tension between Aeryn and John (when HASN'T there been) that quickly escalates in true Farscape fashion. As it should, since we have the original series creator (Rockne S. O'Bannon) scripting out the story.  We also find out that this violence isn't just on the commerce planet and Moya, but it's also spread to the planet of Hyneria (where Rygel has been re-established as the rightful dominar).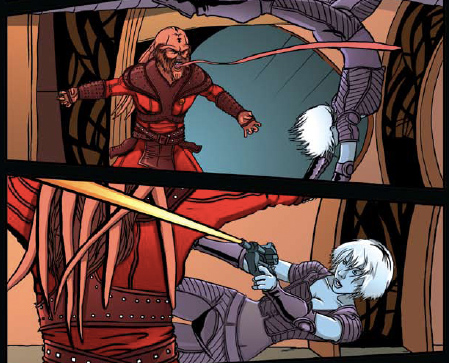 That's right, the story is blowing through the action and exposition like gangbusters! This is something, I feel, that every Farscape comic will and should have in order to say it's a continuation of the original series. The crew of Moya goes from one OMG moment to the next almost as fast as Moya herself can starburst, and the comic adventures shouldn't be any different.  That being said, I have no frelling idea what was going on here.
First, I obviously don't remember what happened at the end of the television series because I was not only surprised that John and Aeryn had a child together, but that D'Argo was dead and his estranged son Jothee was shacking up with his ex-girlfriend Chiana, and that Rygel had been returned to his throne on the planet Hyneria!  So if I'm confused about what's going on, the average reader who has no knowledge of the show isn't going to pick up on a lot of what's being dropped here.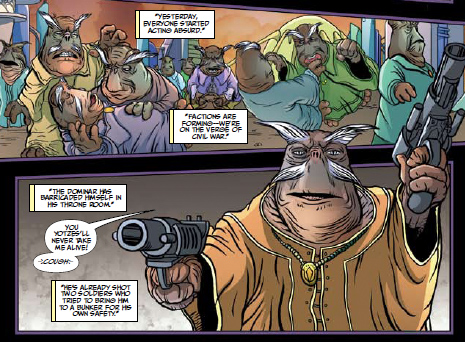 Because everything is moving at a speed of at least warp 5, some of the moments that are supposed to be high tension don't really achieve that.  I can't say it's all because of the fast-paced writing; it has a lot to do with the art as well.  During certain scenes, the art feels stiff.  I think it has to do with the fact that everything (everything) has a black outline, and without some kind of mechanism to indicate movement the characters feel static and heavy.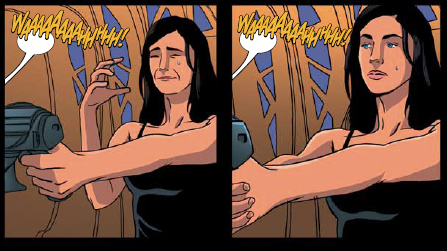 As an already established fan, I'm digging the story so far and want to see how it ends.  I can't say that this is going to be the issue that brings newbies into the fold.