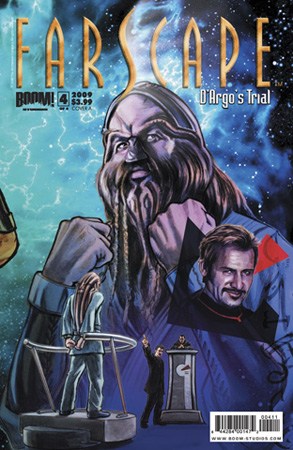 Issue: Farscape: D'Argo's Trial Part 4: Error and Trial
Release Date: November 11, 2009
Writer(s): Keith R.A. DeCandido
Artist(s): Caleb Cleveland
Cover(s): Jason Palmer, Caleb Cleveland
Colors: Caleb Cleveland
Letterer: Ed Dukeshire
Publisher: BOOM! Studios
What starts with "S" and ends in "Oilers"? No, not that football team. SPOILERS below.
Poor Ka D'Argo. He just can't get a frelling break.
Thrown into Peacekeeper custody for killing his wife – a heinous crime actually committed by her brother Macton – he faces a tribunal lead by a xenophobic old Admiral who thinks less of him than a speck of mud on his boot.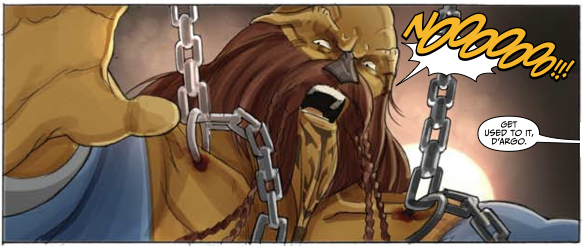 Let's be honest, it's not going to end well for D'Argo. And really, I didn't find anything overtly surprising or shocking in this issue. Macton is a lying piece of dren, D'Argo is handed own the sentence you expect, and the storyline is woven into what we know of the Farscape lineage.

Alright, so there's one thing that surprised me – the presence of Bialar Crais, the notorious captain who made ponytails fashionable again. And, much to my bewilderment, he ends up being the single dissenting voice on the tribunal. He doesn't buy Macton's story, as he shouldn't, but his ultimately his vote doesn't count in the grand scheme of things.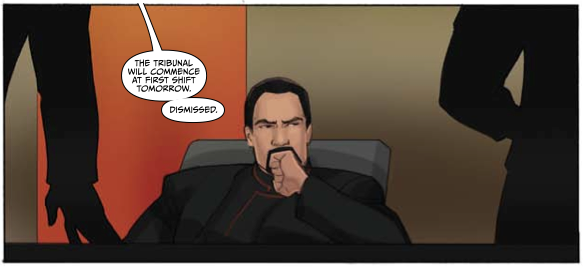 Questionably, why does he feel this way? It's not really answered clearly. I don't buy his motives being just a power play. But who knows. Admittedly, he's a character I'd love to see some more back story on.
All in all, I felt that this was a decent wrap-up of the D'Argo's Trial series, but didn't have quite the punch I was hoping for. I'm not sure what I was expecting, but with the exception of issue #3, my feelings towards the D'Argo's Trial series have been lukewarm.
I don't think the story was amiss or bad in any way, but as I've said before I just feel like much of the exposition was previously inferred for fans of Farscape. I also think that there is more to be told, given the interwoven bits of the present timeline where D'Argo is hunting down Macton. And, lo and behold, Boom! Studios is continuing this story in the upcoming D'Argo Quest series, due out later this year.

Isolated from prior knowledge, this series might hold more weight. But if you like Farscape, and particularly love Ka D'Argo, I'd recommend this series to you. Just be warned that you're not going to be shocked at the outcome of anything. You can pretty much read issue #3 in itself and get the brunt of the emotional impact without all the filler.
Rating: 3.5 / 5 Stars