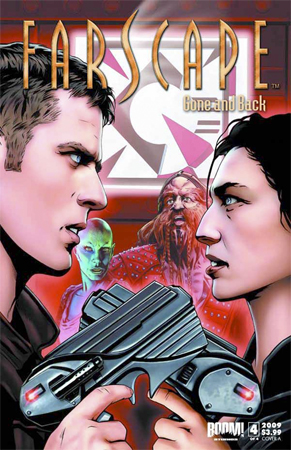 Issue: Farscape: Gone and Back Part 4: All Fall Down
Release Date: October 21, 2009
Story: Rockne S. O'Bannon
Script: Keith R.A. DeCandido
Artist(s): Tommy Patterson
Inker(s): Nick Schley, Juan Castro, Tommy Patterson
Colors: Zac Atkinson
Letterer: Ed Dukeshire
Cover A & C: Joe Corroney
Cover B: Dennis Calero
Publisher: BOOM! Studios
Though it's no excuse not to read the series, which I highly, highly recommend, this review has a few SPOILERS. But, frell, it's entertaining if nothing else, and I don't think it ruins anything…
Welcome back to the John Crichton Unrealized Reality and Variety Hour. It's the last episode, folks. All the cards are in play, and John is making a last-ditch effort to track down the Aeryn Sun of this universe in hopes that she'll somehow point him back through the rabbit hole.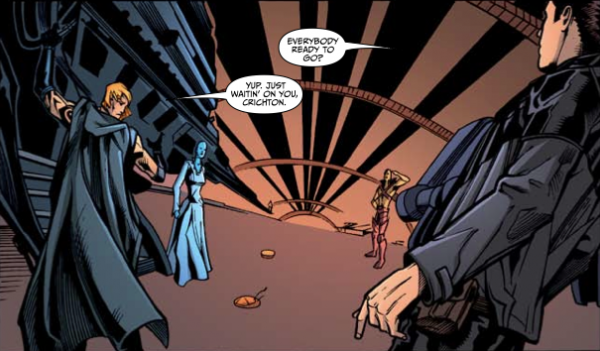 His elaborate plan involves boarding a Peacekeeper Command Carrier, fighting his way through heavy resistance, tracking her down, and telling her… well, something. He doesn't quite know what. He'll figure it out. Maybe?
As I predicted in my review of Gone and Back #3, Roiin is actually kind of a nice guy. He offers not only to let John stay on Moya with Katralla while he runs a snatch-and-grab for Aeryn, but asks John out for a beer sometime. He wishes to partake in the sacred ritual known as the "bromance." And through this story, his striking similarities to John are fleshed out. In fact, he basically is John Crichton – albeit having gone down an entirely different crazy yellow brick road.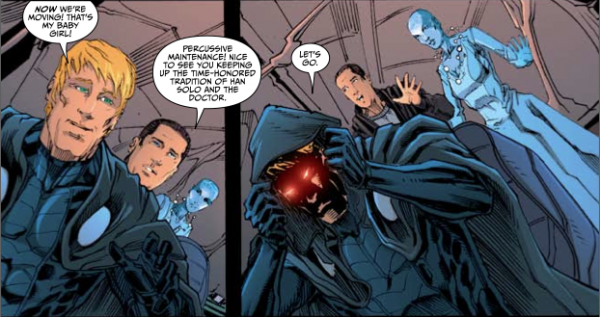 The good ol' motley crew partakes in a classic frelling "shot at by everyone" scenario, and they board the Command Carrier in a Death Star-like fashion. I laughed for a couple minutes at one of John's lines, and hereby plan to use the term "percussive maintenance" at least 5 times in the forthcoming week while I hit the backside of my laptop to get it to boot.
So, after the harrowing action and relatively easy infiltration, John finally gets his moment with Aeryn. The defining point in which he either finds a way back to the home he knows, or ends up uncomfortably stuck in this alternate universe where everything is… well, not that bad.
"Aren't you a little short for a Sebacean?" Aeryn sarcastically remarks upon meeting her ponytailed Luke Skywalker.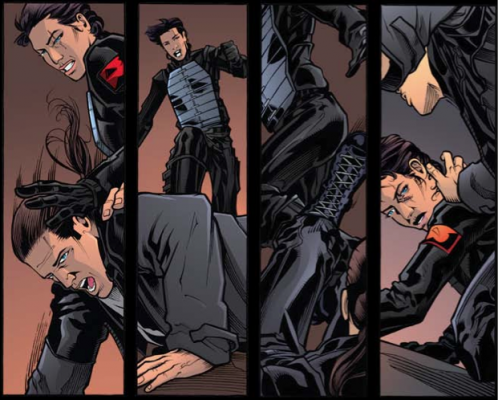 OK, not really. But John does mount her in the ever-effective bended-knee crotch-lock maneuver that Aeryn has pulled on John many times, in and outside the bedroom. What can I say? They enjoy that musky leather aroma.
John works effective verbal Je ne sais quoi, and Aeryn starts to believe him. She's had some perception, a sense of something, ever since he popped out of his reality and into a bad ponytail. Which makes me wonder – is the John that's supposed to be in this universe being held against his will by a malevolent hologram with a handheld computer named Ziggy?
John runs out of time. It's always about time with those two. He wants her to come with him. But Aeryn won't leave without her son. And oh, wait, what's this? The little tyke has a gland in his brain, just like Deke. Well isn't that interesting. That must mean…
Oh, hello Graza, you boob-pheromone producing minx you! She's like the ultimate Peacekeeper cougar. This tiger is showing her claws and wants everyone dead, except for the potentially-useful cub. It's a cat-tastrophe!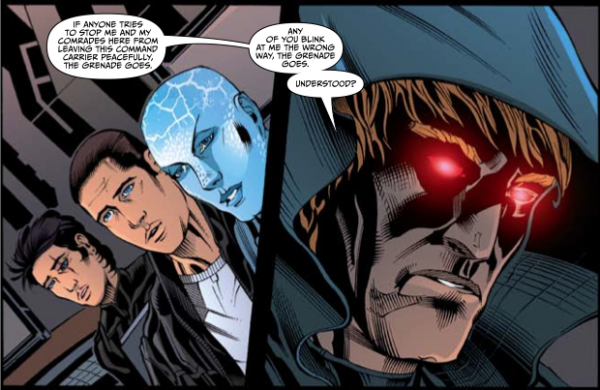 But Roiin, the hero of the arn, shows his hand. And it's a wildcard. He's holding a thermal detonator (I can't stop with the Star Wars references) that's linked to his heartbeat. He dies, and so doesn't everyone else. Sounds familiar, doesn't it? It should, because John pulled the same trick on Emperor Staleek not that long ago.
Aeryn panics. She wants to save her son. John intervenes – then BAM! A slight brush with the child sends John whirling back home. And he wakes up right where he was, with the family he knows surrounding him.
So kids, what did we learn? Don't produce offspring with time-and-space manipulating cranial glands. But on top of that, Crichton has enough dirt on Roiin to make their future interactions a bit more interesting, and Aeryn is presented with some curiously troubling insight.

Consummately, the Gone and Back issues are geared towards the Farscape devotee, providing juicy morsels spawned from the series itself, and an excellent setup for the upcoming continuing series. That's why it makes my Fandomania Must Read List – even though it's the only thing in the list so far.
Rating: 5 / 5 Stars