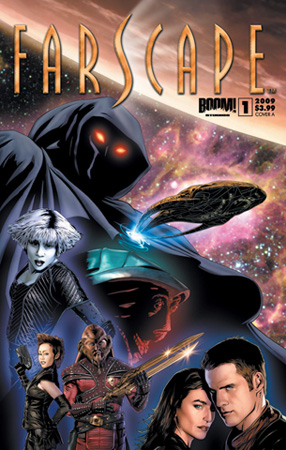 Issue: Farscape: Tangled Roots Part 1: In Search Of…
Release Date: November 18, 2009
Story: Rockne S. O'Bannon
Script: Keith R.A. DeCandido
Artist(s): Will Sliney
Colors: Zac Atkinson
Letterer: Ed Dukeshire
Cover A & C: Joe Corroney
Cover B: Dennis Calero
Publisher: BOOM! Studios
Farscape #1, the first issue in the new ongoing series by Boom! Studios, starts out firing on all cylinders. More so than any of the previous iterations of the Farscape comics, reading this was like watching an episode of the series.
Picking up where Gone and Back left off, Aeryn Sun embarks on a personal quest for answers about her son, while John Crichton tracks down the man who's been trying to kill their child.

I'm very happy to say that Rockne and Keith have finally found their groove. It's been a rocky start, as would be expected in attempting to translate any series into comic form. Some of the initial joy I felt from reading The Beginning of the End of the Beginning wore off in later series, such as Strange Detractors.
But I believe one of the biggest challenges has been trying to contain the stories in four issue runs. In some cases, it didn't seem there was enough time to fully flesh out the plotlines and character development. The freedom of the comic format that Rockne has alluded to wasn't really free when you only had four issues to tell it in.

By the Goddess, that's not the case anymore. And it really shows. This issue manages to balance solid story elements, big revelations, and all the things we've come to love about Farscape. This is no more prevalent than the game of Tadek (read: space chess) that Sikozu and Jothee decide to playing. To me, it is analogous to the time they finally have to strategically outline some epic storytelling.
Let me also say that the art in this issue is frelling amazing. Will Sliney really nailed the facial expressions and complex architecture seen throughout. And the Cover A art by Joe Corroney is absolutely beautiful. I had the pleasure of meeting him at San Diego Comic Con this year and buying a few prints. In a completely unsolicited promo, check out his pieces at JoeCorroney.com.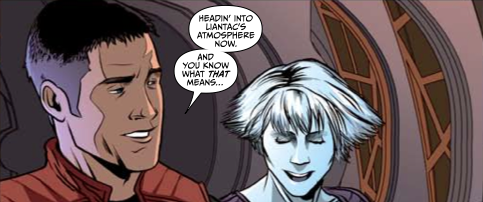 So, unlike I usually do, I'm not going to end up spoiling this one for you. It's chock full of goodies, and the path it lays down leads to a very bright future. We proud, we few Farscape fans may have never gotten a movie like Serenity. Or an actual (debatable) ending like Battlestar Galactica. But what we do have now is a spectacular continuing comic series, written by the creator of a show that ended well before its time.
And that's something to celebrate.
Tip: If you're just starting out with Farscape #1, previous miniseries The Beginning of the End of the Beginning, along with Gone and Back are required pre-reading. You can throw in Strange Detractors if so inclined, but it's not as crucial.
Rating: 5 / 5 Stars